Battle 2: AMD vs. AMD
Next up on the fight list for today is AMD, competing against themselves. AMD has gained quite a bit of popularity over the past year and needless to say it is because of their extremely strong showing with the Athlon 64. That being said, with three different flavors of Athlon 64s (Socket-754, Socket-939 and FX) and a lot of users still hanging onto their Athlon XPs, AMD's performance breakdown is an important one to look at.
We know by now that Doom 3 is very cache intensive, which in turns means its very memory intensive - bringing us to our first evaluation: Athlon 64 vs. Athlon 64 FX. The Athlon 64 FX once held two advantages over the Athlon 64, a larger 1MB L2 cache and dual channel memory controller. Now with the introduction of Socket-939, the Athlon 64 also has dual channel capabilities but only on newer chips, not the older Socket-754 offerings. As you can guess, there are two comparisons we'd like to make here: Dual Channel vs Single Channel as well as the impact of cache size on performance.
First we'll tackle dual vs single channel memory interfaces; for this test we used a Socket-939 Athlon 64 FX-51 (2.2GHz/1MB L2) as our Dual Channel platform, and a Socket-754 Athlon 64 3400+ (2.2GHz/1MB L2) as our Single Channel platform. You can see that other than the sockets, the two chips are identical, making this the perfect single vs dual channel memory comparison: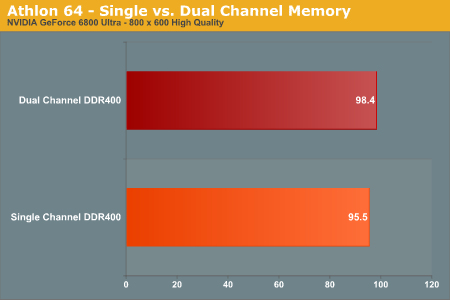 Memory bandwidth doesn't seem to be something that the regular Athlon 64 needs much more of, as the move to dual channel DDR400 only offered a 3% increase in performance. At higher resolutions, the performance advantage would become even smaller. We didn't really expect anything different here, as the dual channel memory interface never really helped the Athlon 64 - definitely not as much as it did the Pentium 4.
Next, let's see how cache size influences Athlon 64 performance under Doom 3. For this comparison we have four chips to compare in two separate sets. We use an Athlon 64 2800+ and a Sempron 3100+, both clocked at 1.8GHz but feature a 512KB and a 256KB L2 cache respectively. We also have an Athlon 64 FX-53 and an Athlon 64 3800+, both clocked at 2.4GHz but feature 1MB and 512KB respective cache sizes. While the four numbers are not directly comparable to one another, the two comparisons do give us an idea of improvements due to cache size varying from 256KB up to 1MB on the Athlon 64: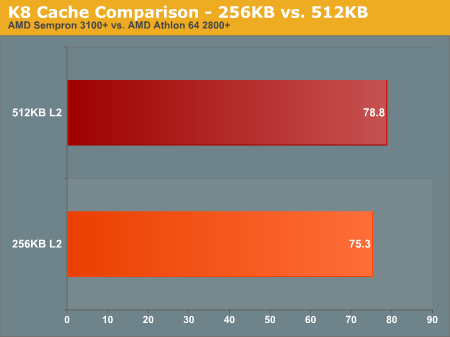 Looking at the Athlon 64 vs Sempron we see that there's barely a 5% performance difference between the two identically clocked chips, indicating that although a 256KB L2 cache isn't big enough for Doom 3 a 512KB L2 cache doesn't help out that much more. The on-die memory controller helps ensure that despite the small cache size, performance remains very competitive with the competition as we will soon see in our fourth battle.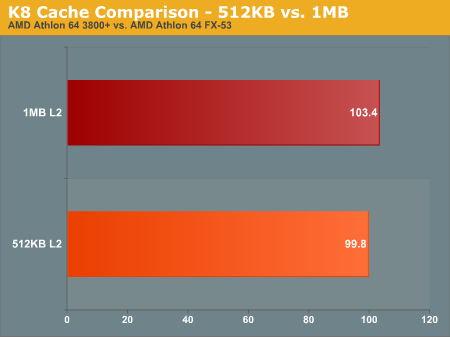 Our 512KB vs. 1MB L2 cache size comparison reveals something interesting: it's not that a 512KB L2 cache isn't big enough for Doom 3 (which is the case with the Pentium 4), it's that the Athlon 64's on-die memory controller effectively masks the need for a large L2 cache in Doom 3. Going to a 1MB L2 cache results in less than a 4% performance improvement, much less than what we saw with Prescott vs. Northwood.
Bottom line: cache size is far less important for the Athlon 64 than on the Pentium 4 as you would expect thanks to the on-die memory controller.