Battle 1: Prescott vs. Northwood
The first battle of our Doom 3 CPU Comparison occurs between the two Pentium 4 cores: Prescott and Northwood.
You may remember from our review of Prescott that the new 90nm core was hard pressed to outperform its 130nm Northwood predecessor. Although Prescott featured twice the cache of Northwood, its longer pipeline and similar clock speeds held it back in most performance tests. However, Prescott does have one major advantage over Northwood - twice the L1-D and L2 cache. In other games the added cache has not been able to do much for Prescott, but let's see how that changes under Doom 3: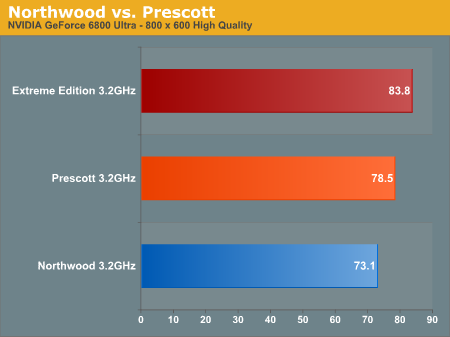 How the tables have turned - Prescott is actually faster than Northwood for a change, and at the same clock speed. A 7% performance advantage over the regular Pentium 4 3.2C is not too shabby for Prescott, but how can we be sure that the performance advantage is solely due to the cache size advantage? Look at the Extreme Edition.
The 3.2GHz Extreme Edition shares the same core as Northwood, but features a 2MB on-die L3 cache, and manages to outperform Northwood and Prescott by 15% and 7% respectively. These first benchmarks foreshadow what is soon to come and bring about a realization that Doom 3 is quite possibly the most memory/cache dependent game we've ever benchmarked.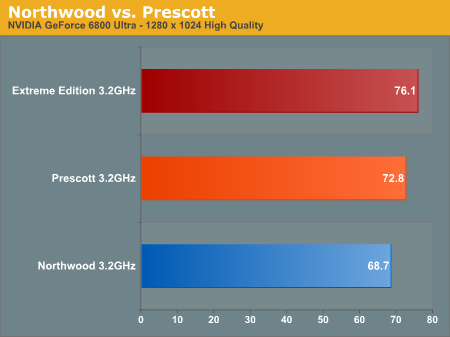 The standings remain the same at higher resolutions, but as we've see the 6800 Ultra becomes mostly GPU limited at 1280x1024, reducing the impact of these processors. The Extreme Edition still manages to be 10% faster than Northwood, and Prescott continues to hold a lead over Northwood, just not as much at the higher resolution.
The last thing we wanted to look at in the Northwood vs. Prescott battle was how the two CPUs scaled - as we mentioned in our original Prescott review, we expected Prescott to do a better job scaling with clock speed than Northwood and we are beginning to see examples of that here in Doom 3: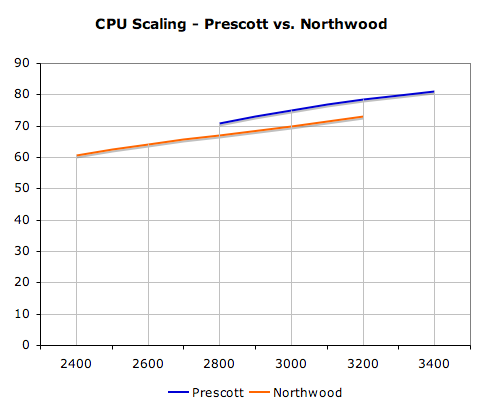 Although it's ever-so-slight, Prescott's performance does seem to scale with clock speed better than Northwood.
The winner of this battle is clearly Prescott, we're sure Intel's happy that there's finally a situation where Northwood isn't in the limelight.