In a continuation of Doom 3 Week, we're bringing you the next installment of our coverage, this time focusing on CPU performance. If you haven't already, be sure to read our guide to graphics performance under Doom 3 before proceeding with this guide.
When does Doom 3 Need a Fast CPU?
We know by now that the GPU requirements of Doom 3 are quite high; the days of ultra high resolutions bringing us triple digit frame rates on mid range cards are gone with Doom 3, even cards like the Radeon 9800 Pro are best played at resolutions as low as 800x600. But is a fast GPU all you need to get the most out of Doom 3?
Remember that while your GPU will handle all of the rendering of the scenes in Doom 3, it is the CPU that handles all of the physics, artificial intelligence and 3D setup for sending vertex data to your GPU. So in order to get the most out of a fast GPU, you will also need to pair it up with a fast CPU - but how fast? The basic rule of thumb is this: the faster your GPU is, the faster your CPU will have to be to keep up with it.
Let's take the GeForce 6800 Ultra for example; as you've already seen, the GeForce 6 series is the fastest set of GPUs for running Doom 3, making it an ideal reference point for our discussion.
Below we have a graph of frame rate vs. resolution taken on a Pentium 4 Extreme Edition running at 3.4GHz with a GeForce 6800 Ultra running at 400MHz core/1.1GHz mem. The curve on the graph is what you'll want to pay attention to. If the graph were perfectly flat, as in there was no drop from 640x480 up to 1600x1200, our test system would be completely CPU limited (or bound by something other than the GPU). On the flip side, if the graph showed a clearly negative slope then we would have a much more GPU limited scenario, where the burden of rendering more pixels was not masked by an overly slow CPU.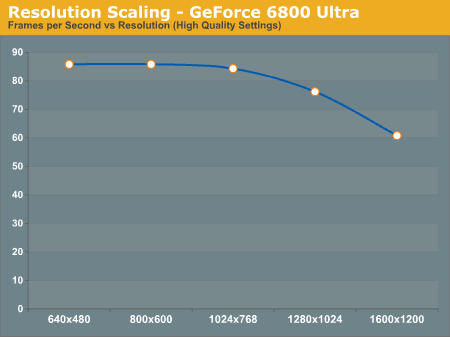 In this particular case we see that at resolutions below 1280x1024 the GeForce 6800 Ultra is primarily CPU limited, making all of the lower resolutions perform identical to one another. It isn't until we hit 1280x1024 and 1600x1200 that there is a significant performance drop off. So it's clear that if you have a GeForce 6800 Ultra, pairing the chip up with a fast CPU is quite important. But what about on a slower card like a Radeon 9800 Pro?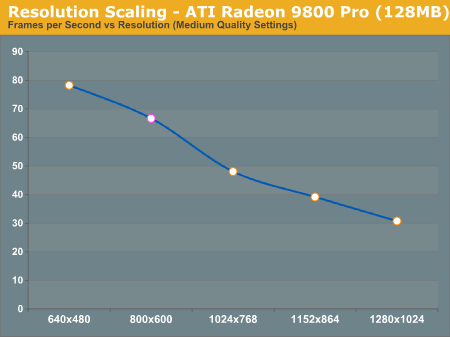 Here we have a completely different graph, where not even at 800x600 is the card CPU bound. With a Radeon 9800 Pro, having a fast CPU doesn't help as much since you are mostly GPU limited, especially at higher resolutions. This doesn't mean that you can pair up a Radeon 9800 Pro with a 1.4GHz Celeron and be fine, but it does mean that a Pentium 4 Extreme Edition is going to be overkill for your 9800 Pro.
When investigating CPU performance under Doom 3 it's clear that we'll want to use a GeForce 6800 Ultra to put as much stress on the CPU as possible, but we've also looked at how slower cards like the Radeon 9800 Pro react to CPU speed improvements as you'll see on the next page.