Dell Dimension XPS: XPS Chassis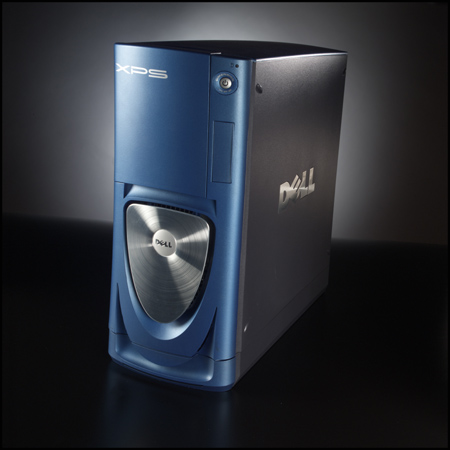 Dell's XPS chassis is a heavy-duty mid-tower finished predominately in blue with dark gray sides. The large 460-watt power supply is located at the bottom of the chassis with 2 small fans exhausting hot air to the rear from the power supply.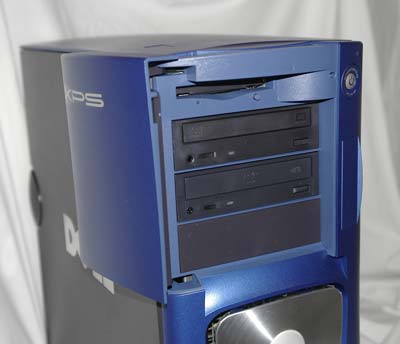 The floppy and 3 external drives bays are concealed behind a door. The door design is very clever and is hinged so that it can be stored conveniently on the side of the machine if you prefer constant access to the optical and floppy drives. Our test machine had both the latest 8X DVD+RW and a high-speed 48X CD-RW in black to match the system accessories.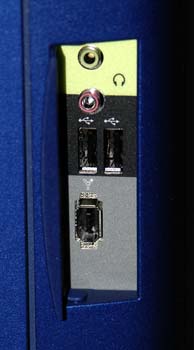 Inside a front slide-open door are the front jacks, which include 2 USB, firewire, and headphone jacks.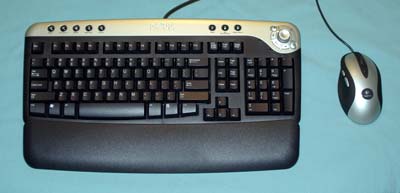 While the chassis is blue, Dell's theme on the peripherals is black or black with silver trim. This is carried though to the keyboard with volume control. A Logitech Optical scroll mouse, also a matching silver and black, was included with the test system.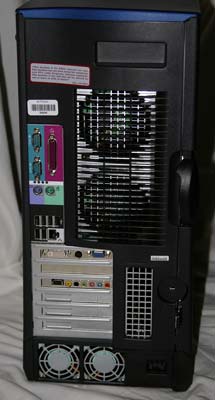 I doubt anyone could complain about the ports on the Dimension XPS rear panel. You get 6 more USB 2.0 jacks, the full complement of Audigy 2 audio I/O, digital and analog outputs on the ATI 9800 XT, 2 modem ports for those still using dial-up for the Internet, LAN port, parallel, 2 serial, and PS2 mouse/keyboard ports. There is
not
an old-style game port, but if you are buying a new gaming system, you are likely buying new USB game controllers as well. Through the slotted grill, you can see two large fans that exhaust hot air from the heat-duct that contains the CPU.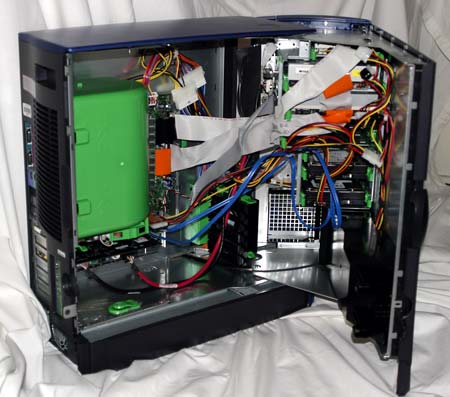 Getting into the Dell XPS case is as simple as pushing a large catch at the back of the left side. The entire left side and front of the chassis swings out to give you complete access to the motherboard, slots, and drive bays. This is certainly one of the slickest designs that we have seen in a case from
any
manufacturer.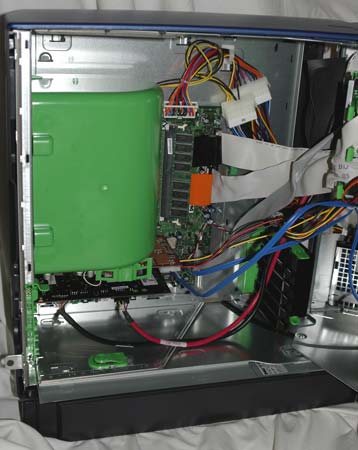 With the case open, you get a good view of the green cooling duct that covers the 3.2GHz CPU in our test machine. Hot air from the CPU is directed to the rear of the chassis by this duct and exhausted by two large fans. Most people who buy a gaming system really aren't particularly concerned about noise, which is why we did not measure Sound Levels in our evaluation. However, with all the fans that are active in the XPS, we found it to be a very quiet computer. We doubt that noise from the computer will be an irritation for XPS users.