Dell Dimension XPS: XPS Motherboard
 Motherboard Specifications
CPU Interface
Socket-478
Chipset
Intel 82875P (North Bridge)
Intel ICH5R (South Bridge)
Bus Speeds
Fixed
AGP/PCI Speeds
Fixed
Core Voltages Supported
Fixed
AGP Voltages Supported
Fixed
DRAM Voltages Supported
Fixed
Memory Slots
4 184-pin Dual-Channel DDR DIMM Slots
2 DIMMs (2 x 512MB) installed provide 1 GB of DDR400 memory at 3-3-3-6 timings
Expansion Slots
1 AGP 8X Slot
4 PCI Slot
Onboard Graphics
None — ATI 9800 XT installed
Onboard RAID
Intel SATA RAID
2 x 250GB SATA Drives Installed in Raid 0 configuration
Onboard USB 2.0/IEEE-1394
Eight USB 2.0 supported through ICH5
FireWire Controller on Audigy 2
Onboard LAN
10/100
Onboard Audio
None — Creative Audigy 2 5.1 Digital Audio installed
Onboard Serial ATA
Two Standard SATA connectors ICH5R
Used by SATA RAID 0
The proprietary Dell XPS motherboard uses Intel's top 875P chipset, and even includes the top ICH5R South Bridge with Intel SATA RAID support. All of the current top features are certainly here, but there are no means at all to overclock or tweak the motherboard settings. This is not a surprise, as Dell has never advocated overclocking or tweaking their systems.
Dimension XPS fully supports all of the Intel chipset and CPU features, including PAT (Performance Acceleration Technology), Dual Channel DDR400 memory, and Hyper-threading. While you cannot tweak FSB or memory timings, you can be assured that these performance-enhancing features are all working properly. We checked operation of the Dell motherboard with CPU-Z, and found that both Hyper-threading and PAT were identified as working properly.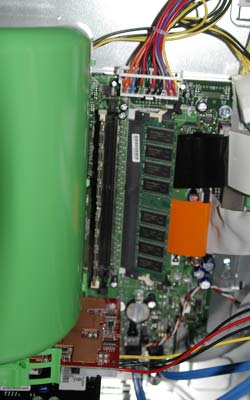 Dimension XPS, like other 875P boards, fully supports 2 pairs of Dual-Channel DDR400 memory. It is very easy to add an additional pair of Dual-Channel DDR400 memory with the easy access to the 4 DIMM slots.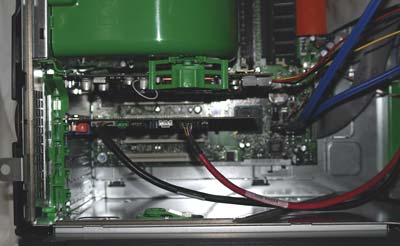 Dell provides an AGP 8X slot plus 4 PCI slots on the XPS motherboard. With a space skipped between the ATI 9800 XT and the Audigy 2, there is effectively one PCI slot left for expansion. You could install 2 additional cards in a pinch. Keep in mind that the XPS is already loaded with top-end video, audio, firewire, USB ports, LAN, etc., so the need for additional expansion is minimal.