Mining
Sapphire has introduced one the industry's first Radeon RX 570 graphics cards that carry 16 GB of GDDR5 memory onboard. The board is designed primarily for cryptocurrency mining, but it still has a display output and therefore can theoretically be used for other applications too. Officially, the manufacturer positions its Sapphire RX 570 16GB HDMI Blockchain graphics card for Grin coin mining, as Grin's underlying algorithm benefits from the amount of onboard memory. This gives a 16 GB video card a distinct advantage on Grin. The card consumes 175 W (±10%) of power and has an 8-pin PCIe power connector, which is 25 W higher when compared to "regular" Radeon RX 570 GPUs that are rated for a 150 W TDP. It uses an...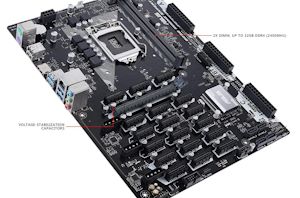 Cryptomining frenzy of the recent 18 months have encouraged computer component manufacturers to develop hardware tailored for mining infrastructure. At some points earlier this year, these components retailed for...
30
by Anton Shilov on 12/28/2018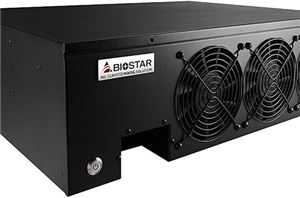 Just in time for this week's dive in cryptocurrency prices, Biostar has started selling its specially designed all-in-one rig for mining. The iMiner A578X8D is a complete black box...
27
by Anton Shilov on 9/11/2018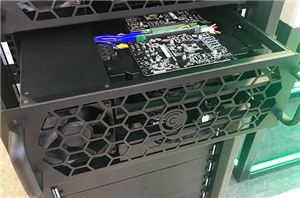 Cryptocurrency mining has made quite a dent in the hardware industry in the last couple of years. Motherboard manufacturers have built special platforms for mining rigs, video card vendors...
59
by Anton Shilov on 6/27/2018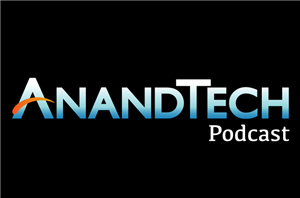 Wrapping up Computex 2018 with discussions about AMD's Threadripper 2 with 32 cores, Intel's new limited edition Core i7-8086K, and that really odd 28-core 5 GHz demo where Intel...
13
by Ian Cutress on 6/15/2018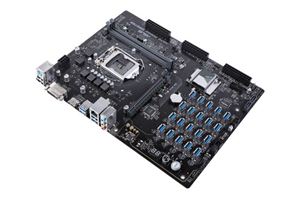 ASUS has announced the latest addition to its mining motherboards with the H370 Mining Master. This ATX sized board will support up to a mind-boggling 20(!) graphics cards via...
16
by Joe Shields on 6/1/2018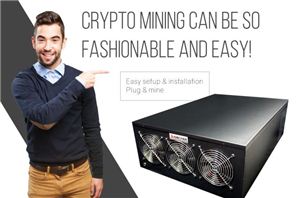 Biostar has this week released new iMiner systems specifically designed for crypto coin mining. The systems are stuffed with AMD RX 500-series video cards in a "space black" server-like...
36
by Joe Shields on 5/17/2018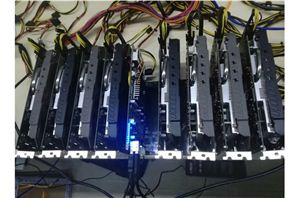 This week Colorful has introduced a uniquely designed motherboard, created specifically for the professional miner. One of the first things most will notice is this doesn't look like most...
31
by Joe Shields on 11/10/2017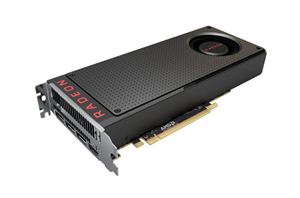 This week, Jon Peddie Research (JPR) reported significantly higher discrete GPU shipments for Q2 2017, attributing the historically unprecedented increase to cryptocurrency mining, specifically to Ethereum mining. As opposed...
47
by Nate Oh on 8/25/2017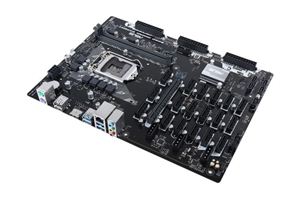 ASUS has teased their first cryptocurrency mining board, the B250 Expert Mining. It's full of expansions slots, with 19 to be exact, to pack in the most GPUs on...
32
by Joe Shields on 8/22/2017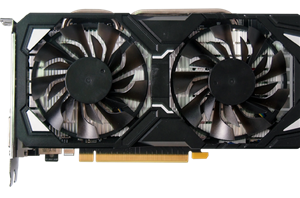 Although ASUS and Sapphire cryptocurrency mining cards were officially outed last week, other pieces of evidence have suggested other vendors were also producing cryptomining cards. Both the GPU manufacturers...
11
by Nate Oh on 7/6/2017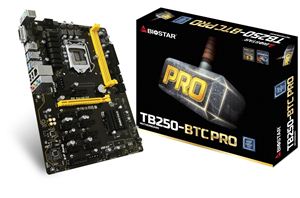 With cryptocurrency mining specific motherboards and even graphics cards becoming the new normal for certain manufacturers in their offerings, Biostar has thrown two new products into the ring: the...
21
by Nate Oh on 7/5/2017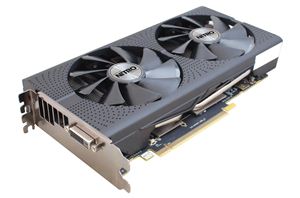 Even during the most bullish Bitcoin days, video card partners had shied away from creating specific SKUs for the purpose of cryptocurrency mining, and that has remained the case...
30
by Nate Oh on 6/27/2017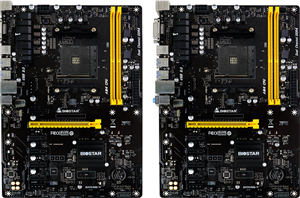 Although largely overshadowed by more efficient ASIC rigs, there are still people using GPUs to accumulate digital currencies and/or create cheap OpenCL based systems. It is with those users...
24
by Patrick MacMillan on 5/10/2017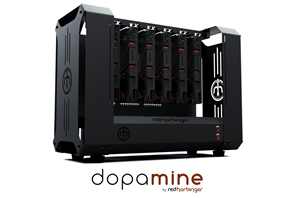 With the ups and downs of cryptocurrencies like Bitcoin, Litecoin and Dogecoin now part of the zeitgeist; notable trends are starting to happen. The software is being probed...
27
by Ian Cutress on 2/19/2014