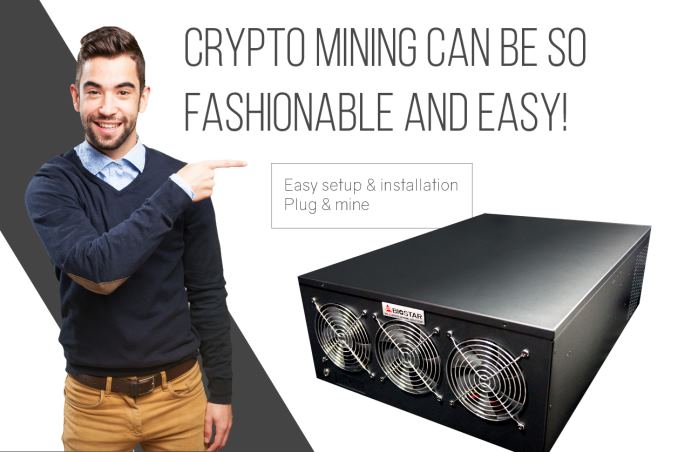 Biostar has this week released new iMiner systems specifically designed for crypto coin mining. The systems are stuffed with AMD RX 500-series video cards in a "space black" server-like chassis. Biostar positions the iMiner Multi-GPU Mining rigs as "fashionable and easy" along with dapper-looking young gentlemen in the promotional materials who look like they cashed in on the bitcoin bubble already.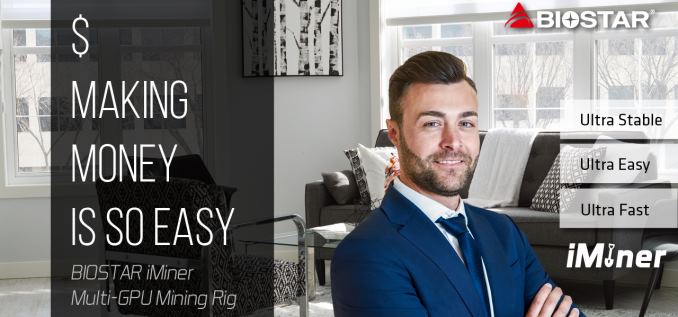 The new devices include an aluminum chassis with a "space black" coating along with all the necessary hardware already inside needed to start mining crypto coins such as ETH, ETC, XMR, and ZEC among others. The iMiner lineup will include Biostar's esoteric mining motherboards - the ones that have 9-12+ PCIe slots for as many GPUs as you can physically fit with riser cables. Also included in the pre-built systems is an Intel CPU with DDR4 RAM, an SSD, a power supply, and exclusive Mining Doctor software. Biostar's intent here is to plug and play these devices to get users up and mining quickly by providing an ecosystem driven off of consumer level parts as opposed to dedicated ASICs. Apparently an expensive suit and a rough shave is part of the culture Biostar is hoping to cultivate.
Biostar has released a total of three iMiners - the A564X12, A578X6, and the A578X8D, each with their own different parts and hash rates. The A564X12 and A578X6, for example, will use the Biostar TB250-BTC Pro motherboard able to support up to 12 video cards through its 12 PCIe slots coming from the chipset. The motherboard is based on the B250 chipset making all the slots from the chipset without additional switches, which Biostar asserts as being more stable for mining.
The slots are arranged in a manner to use PCIe to USB risers and that different arrangement is said to also avoid potential short circuits. The board includes two Molex and two PCIe 12V 4-pin power connectors in order to handle the power draw of multiple GPUs.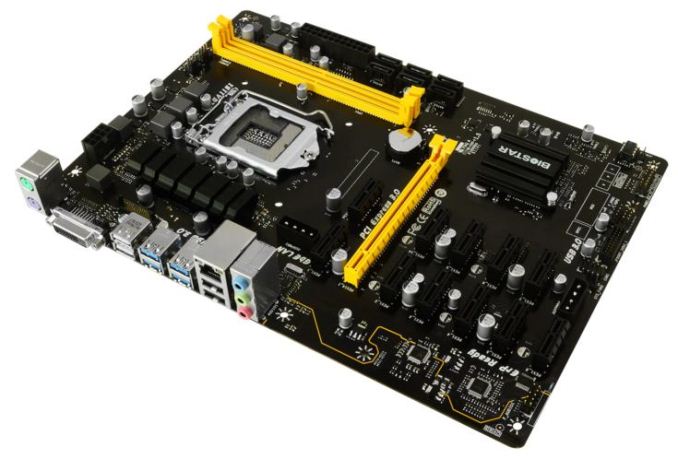 The A578X8D, on the other hand, uses Biostar's latest mining board, the TB250-BTC D+. The D+ board doesn't offer users quite as many PCIe slots (total of 8), but they are full-length slots and forgoes the need for riser cards saving a bit of money and potentially lowering the ROI time. The board has a total of 16 6-pin PCIe power connectors in order to handle the power draw of multiple video cards.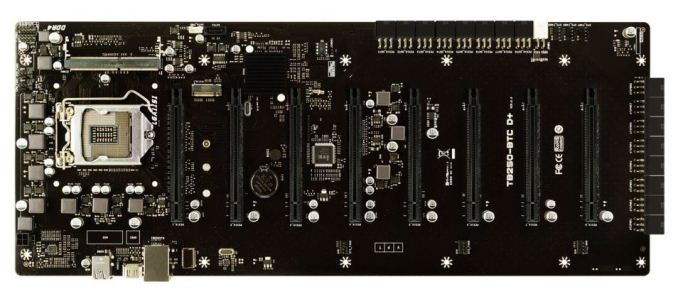 With a board of this length, ensuring tracing integrity is a key factor, so it is likely that these slots will run in PCIe 2.0 mode which affords a longer trace length without repeaters.
All boards include 4GB of DDR4-2400 (D+ board uses a SO-DIMM) and an Intel Celeron 3930 dual-core processor running at 2.9 GHz with a 51W TDP. The A564X12 and A578X6 include a 90GB SSD while the while the A578X8D comes with a 120GB SSD for storage.
The A564X12 comes with 12 AMD Radeon RX560 4G cards with ethOS preinstalled on the drive, good for around 148 MH/s on ETH. This system comes witha 1200W >88% power supply using a single rail design, and five fans for airflow.
The A578X6 includes six Radeon RX570 8G cards (with the necessary risers cards), with ethOS, and is good for 165 MH/s on ETH. The power supply for this is 1300W, again with five fans for airflow.
The flagship A578X8D includes eight Radeon RX570 8G cards along with a 1600W power supply that Biostar states was designed for crypto mining. This model is able to reach an ETH hash rate of 220 MH/s (±5%). In other words, the A578X8D will get users 'fashion forward' and buying skinny jeans by earning cryptocurrency the quickest of the bunch. Cooling this unit is a total of seven fans with four intake and three on exhaust duty.
Pricing nor availability was listed, but we do expect to see these on the market soon.
Biostar iMiner
A564X12
A578X6
A578XD
Motherboard
TB250-BTC Pro
TB250-BTC D+
CPU
Intel Celeron G3930
Dual Core
2.9 GHz
51W TDP
Memory
4GB DDR4-2400
4GB DDR4-2400
SSD
90GB
120GB
Video Card(s)
12x RX 560 4G
6x RX 570 8G
8x RX 570
Power Supply
1300W, ≥88% efficiency
1600W, ≥88% efficiency
Chassis
Black, 5x 120mm fans
Black, 7x 120mm fans
Hashrate (ETH)
148 MH/s (±5%)
165 MH/s (±5%)
220 MH/s (±5%)
Dimensions (LxWxH)
N/A
19.8" x 13.58" x 5.84"
Cost
FIAT
Only
Sorry
We are planning to ask for samples for comparison.
Related Reading:
Source: Biostar