CDNA 3
Alongside their EPYC server CPU updates, as part of today's AMD Data Center event, the company is also offering an update on the status of their nearly-finished AMD Instinct MI300 accelerator family. The company's next-generation HPC-class processors, which use both Zen 4 CPU cores and CDNA 3 GPU cores on a single package, have now become a multi-SKU family of XPUs. Joining the previously announced 128GB MI300 APU, which is now being called the MI300A, AMD is also producing a pure GPU part using the same design. This chip, dubbed the MI300X, uses just CDNA 3 GPU tiles rather than a mix of CPU and GPU tiles in the MI300A, making it a pure, high-performance GPU that gets paired with 192GB of HBM3 memory. Aimed...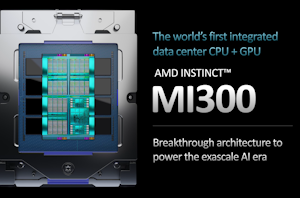 Alongside AMD's widely expected client product announcements this evening for desktop CPUs, mobile CPUs, and mobile GPUs, AMD's CEO Dr. Lisa Su also had a surprise up her sleeve...
38
by Ryan Smith on 1/5/2023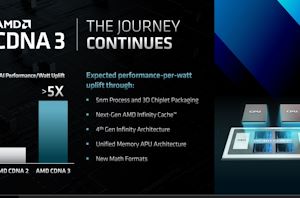 Alongside their Zen CPU architecture and RDNA client GPU architecture updates, AMD this afternoon is also updating their roadmap for their CDNA server GPU architecture and related Instinct products...
16
by Ryan Smith on 6/9/2022