Broadwell
Even if you've been keeping track of Intel's Xeon family lines, the Xeon D family could probably give you cause for confusion. The same 'generation' of products spans a wide range of processors, from the dense ECC-enabled server all the way through to a big bustling cryptography and a network acceleration chip, when in actual fact each of these products is built on different internal microarchitectures. Today Intel is at it again, with the new Xeon D-1600 family.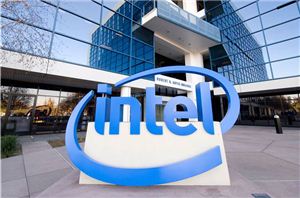 The next twelve months are set to be exciting times for the desktop space for Intel. While the current fifth generation mobile processors are coming to market, and the...
78
by Ian Cutress on 3/5/2015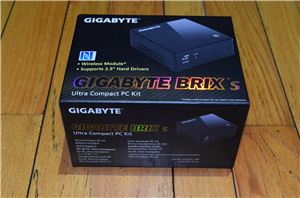 Over the last couple of years, the ultra-compact form factor (UCFF) has emerged as one of the bright spots in the troubled PC market. Intel's NUC and GIGABYTE's BRIX...
53
by Ganesh T S on 1/29/2015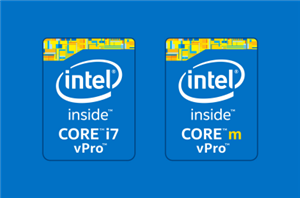 While Intel formally announced availability of Broadwell-U processors at CES this year, vendors did not actually have any devices available for purchase containing Intel vPro technology. Today that changes...
16
by Stephen Barrett on 1/29/2015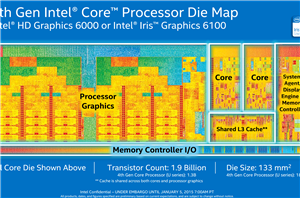 As part of the CES cavalcade of announcements, after launching Core-M back in September, Intel is formally releasing their next element of the 14 nanometer story: Broadwell-U. As the...
85
by Ian Cutress on 1/5/2015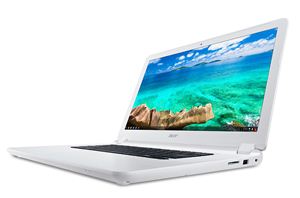 CES officially starts this week, which means announcements are going to start pouring out. Every year it seems the pre-CES stuff starts earlier, and for 2015 Acer is kicking...
23
by Jarred Walton on 1/4/2015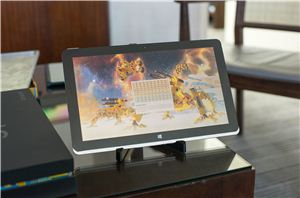 Today, Intel showed off a reference design codenamed Llama Mountain, which is an incredibly thin tablet running Intel's Core M 5Y70. While we've covered Core M previously it's worth...
81
by Joshua Ho on 9/10/2014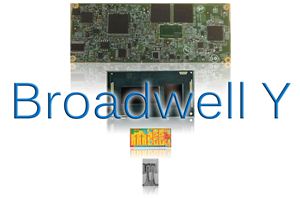 Intel has slowly been feeding us information about their upcoming Broadwell processors for a couple years now, with the first real details kicking off almost a year ago at...
31
by Jarred Walton on 8/12/2014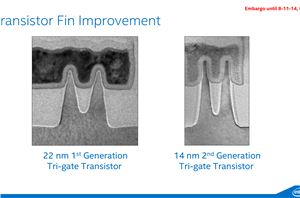 Much has been made about Intel's 14nm process over the past year, and admittedly that is as much as Intel's doing as it is the public's. As one of...
38
by Ryan Smith on 8/11/2014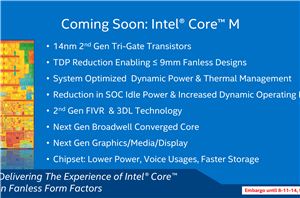 Typically we would see Intel unveil the bulk of the technical details of their forthcoming products at their annual Intel Developer Forum, and with the next IDF scheduled for...
158
by Ryan Smith on 8/11/2014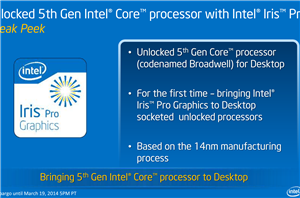 In a somewhat uncharacteristic turn from Intel, we were hooked up and loaded in to a press conference call this week regarding the announcement of some exciting new products...
64
by Ian Cutress on 3/19/2014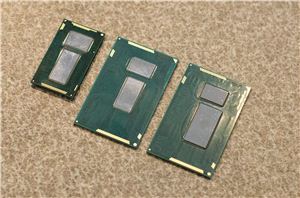 First, a quick recap. There are four different Haswell versions: D, M, ULT and ULX. D is for desktop, M is for mobile, ULT is for Ultrabooks and ULX...
18
by Anand Lal Shimpi on 9/11/2013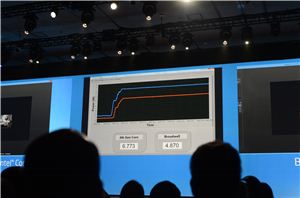 Intel just demonstrated 14nm Broadwell ULT (Y-series) silicon, normalized for performance against 22nm Haswell ULT (Y-series) silicon running a multithreaded Cinebench test. Intel was monitoring SoC power during the...
38
by Anand Lal Shimpi on 9/11/2013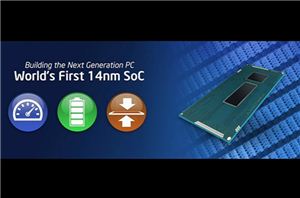 Continuing our IDF 2013 keynote coverage, Intel is also using this morning's keynote to announce progress updates on previously announced 14nm products. Intel's plans here remain unchanged, with Intel...
36
by Ryan Smith on 9/10/2013