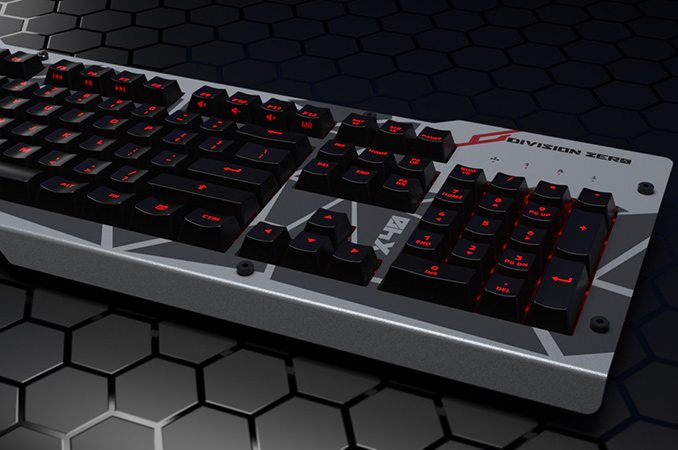 The Das Keyboard trademark is best known for mechanical keyboards designed for the combination enthusiast and professional. For many years Metadot, the owner of the brand, has been going through the process of improving its keyboard design in a bid to bolster comfort for those who type a lot. However, the rising popularity of PC gaming and growing popularity of high-end gaming peripherals means that companies are developing solutions for this market segment. This week Metadot introduced Division Zero by Das Keyboard, the family of products designed for gamers.
From Pro to Gaming
The history of Das Keyboard began in 2005 when Daniel Guermeur, the owner of Metadot, decided to create a keyboard with blank keycaps in order to speed up his typing and remove the imbalance of printed or embossed keys. The first version of Das Keyboard resembled IBM model M keyboard and did not feature mechanical switches. Nonetheless, it became relatively popular among enthusiasts. In 2006, the second iteration of Das Keyboard emerged: it featured similar design with blank keycaps, but mechanical switches with tactile feedback. At the time, mechanical keyboards were rare, so the second-gen Das Keyboard turned out to be more popular than the first. The third version of the Das Keyboard was launched in 2008 and it was vastly different from its predecessors. The new keyboard sported a minimalistic X40 design, a built-in USB hub, blank or marked keycaps as well as Cherry MX switches (originally introduced in 1984) with improved tactile feedback. The third iteration of Das Keyboard appealed to gadget gurus, gizmo elitists, touch-typers as well as average professionals searching for quality hardware (i.e., the higher-end of the mass market). The keyboard is still commercially available, which is a testament of its commercial success.

The Das Keyboard III gave the brand a voice among broader audiences, but also popularized Cherry MX switches among gamers and professionals by showing advantages of such switches over then popular dome and buckling spring switches. One could argue that the Das Keyboard III largely rejuvenated mechanical keyboards on the mass market. Since 2010, many makers of accessories for gamers have released their keyboards with Cherry MX switches. Moreover, both Razer and Logitech have even developed their own mechanical switches for keyboards. However, even in its fourth generation released in early 2014, the Das Keyboard itself remained an item for professionals. With the introduction of Division Zero by Das Keyboard, Metadot enters a new territory.
The initial product lineup of Division Zero consists of the X40 keyboard, the M50 mouse, a gaming mouse bungee (cord management), mousepads, top panels for keyboards as well as a bag. The inclusion of a mouse bungee as well as mousepads into the family implies that the lineup is designed for users who want not only advanced functionality, but 'stylish design' too.
The Division Zero X40 Keyboard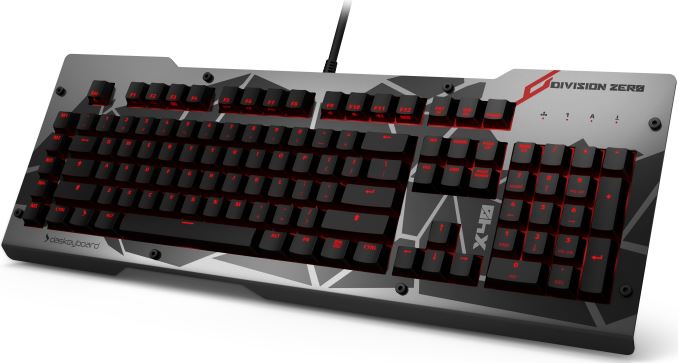 The Division Zero X40 keyboard uses Metadot's own Alpha-Zulu switches developed, according to the company, specifically for gaming keyboards. The AZ switches have different specifications than the Cherry MX as well as the Razer Green: they have higher actuation point (1.7 mm) and slightly longer advertised lifespan (60 million switches compared to the 50m of Cherry MX linear ones), which, makes them slightly faster and more durable compared to rivals on paper. The differences may seem noticeable (23% shorter actuation distance in theory means 23% higher typing/striking speed), but the real-world benefits of the Alpha-Zulu switches compared to competing switches are yet to be found (which is not an easy thing to do given how fast gamers press keys).
Comparison of Mechanical Keyboard Switches
AZ Linear
AZ Tactile
Razer Green
Cherry MX
Actuation Point
1.7 mm
1.7 mm
1.9 mm ± 0.4 mm
2 mm/2.2 mm ± 0.6 mm
Actuation vs Reset Point
no data
no data
0.4 mm
no data
Total Travel
4 mm
4 mm
4 mm
4 mm
Actuation Force
45 g
45 g
50 g
45-55 g
Actuation Feel
linear
soft tactile
soft tactile
linear/tactile
Switch Lifecycle
60 million
60 million
60 million
50 million
Switch Color
olive
mustard
green
red/brown/
black/blue
Since there are two different types of Alpha-Zulu switches, and gamers will be able to choose their keyboards based on their preferences.

Just like competing keyboards for gamers, the Division Zero X40 is also equipped with adjustable red LED backlighting, five programmable macro gaming keys, a special 2 meter long braided fiber USB cable combined with audio and mic cables, a USB port (with pass through support) as well as audio-out/mic-in jacks. The keyboard also supports full n-key rollover, features media controls via Fn keys, as well as interchangeable aluminum top panels.
The X40 keyboards are available for $149, a custom cover costs another $39.
The Division Zero M50 Mouse
Metadot is not known for mice, but if you want to compete for gamers, you have to offer a complete product stack, not just one keyboard. Specifications of the M50 are comparable to those of other mainstream gaming mice and the company does not reveal whether the part utilizes any specially-developed hardware.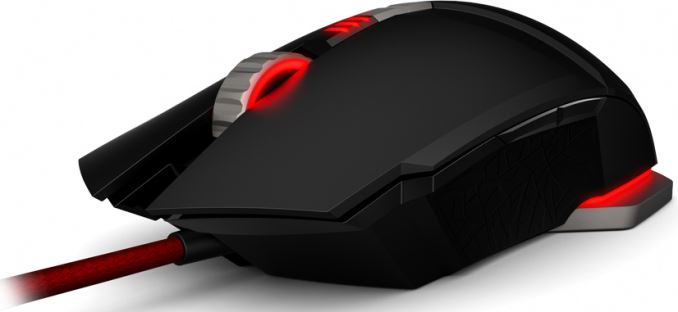 The Division Zero M50 is an ambidextrous mouse with an adjustable 6400 dpi 4G laser sensor, a metal tilt wheel, 1000 Hz polling rate, nine programmable buttons and red LED lighting. The pointing device has its own microcontroller and memory that can store presets. The M50 Pro can handle up to 300 clicks per minute and has a 20-million primary buttons click life cycle. The mouse comes with a 2.1-meter long cable, which can be managed with Division Zero's bungee cable management.
Comparison of Mainstream Gaming Mice
Division Zero M50
Razer Taipan
Corsair M65
ROCCAT Kova
Sensitivity with Overdrive
6400 dpi
8200 dpi
8200 dpi
7000 dpi
Polling rate
1000 Hz
1000 Hz
120 - 1000 Hz
1000 Hz
Acceleration
unknown
50 g
unknown
20 g
Programmable Buttons
9
9
8
12
Number of Profiles
6
unknown
unknown
unknown
Dimensions (L*W*H)
129.8*70*34.8mm
124*63*36mm
118*72*39mm
131*66*38mm
Weight
132 grams
95 grams
135 ± 20.5 grams
99 g
Adjustable Weight
no
no
yes
no
Click Lifecycle
20 million
unknown
unknown
unknown
Cable Length
2.1 m
2.1 m
1.8 m
1.8 m
LED Lighting
three red LEDs
two green LEDs
three RGB LEDs
two RGB LEDs
Price
$79
$79.99
$74.99
€69
The M50 is made of plastic with a hydrophobic coating and a fingerprint resistant coating of primary buttons and a metal bottom. The mouse has low-friction metal Teflon feet, similar to competing products from other manufacturers. The mouse weighs 0.38 lbs/172 grams. The weight of the mouse cannot be adjusted.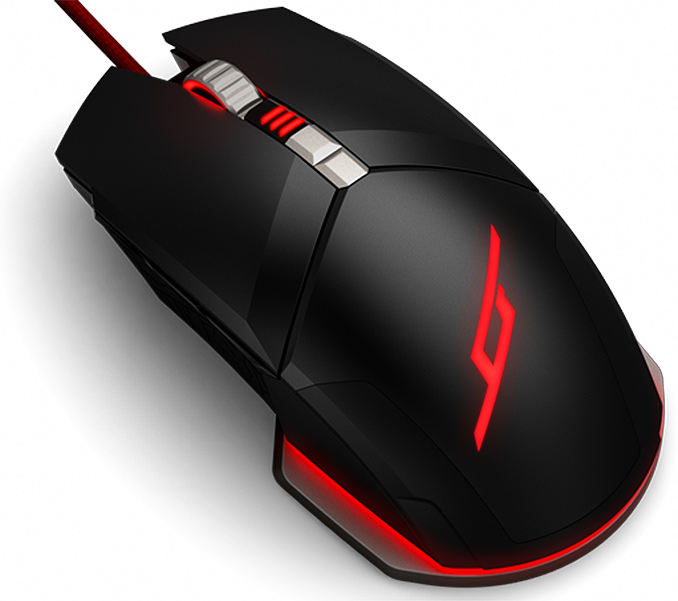 The design of the M50 resembles that of Razer's Taipan, but since Metadot's product has dissimilar dimensions and weight as well as a different sensor, the M50 does not seem to be a rebadged mouse developed and made by another manufacturer, but a product designed in-house.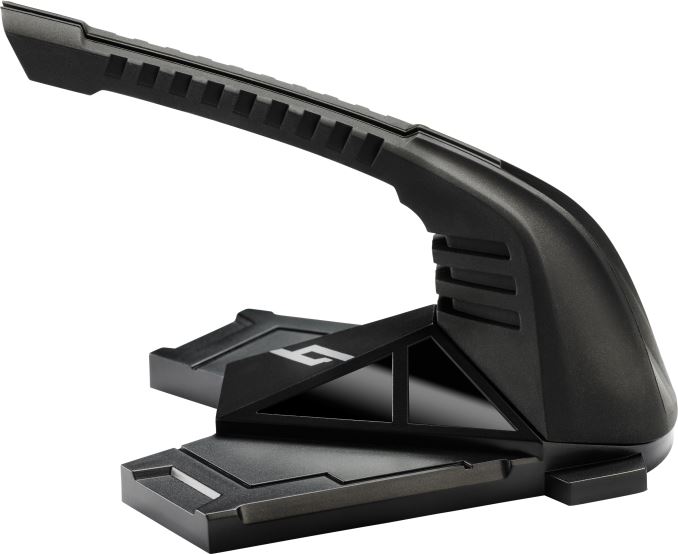 The bungee for cable management
The Division Zero M50 costs $79, the bungee is available for $19 and mouse pads are priced at $19 or $29.
Only The Beginning
The market of gaming peripherals is highly competitive, making it very diverse in order for individual firms to find a niche. Companies like Razer and Logitech offer a lot of different products to meet requirements of different users as a result. Metadot recognizes this and has been offering various versions of Das Keyboard with different types of switches and with different designs for some time now. The Division Zero product lineup consists of essentially three products: one keyboard with two types of switches, and a mouse. It will be interesting to see whether the Division Zero family will expand. It remains to be seen whether the Division Zero by Das Keyboard family will actually make Metadot a viable competitor to Corsair, Razer, Logitech and other on the market of gaming peripherals. Nonetheless, I find it nice to see a well-respected producer of professional keyboards entering the market of gaming devices.
The new models will filter through distribution to etailers such as Amazon over the coming weeks, or can be found on the daskeyboard.com website directly.