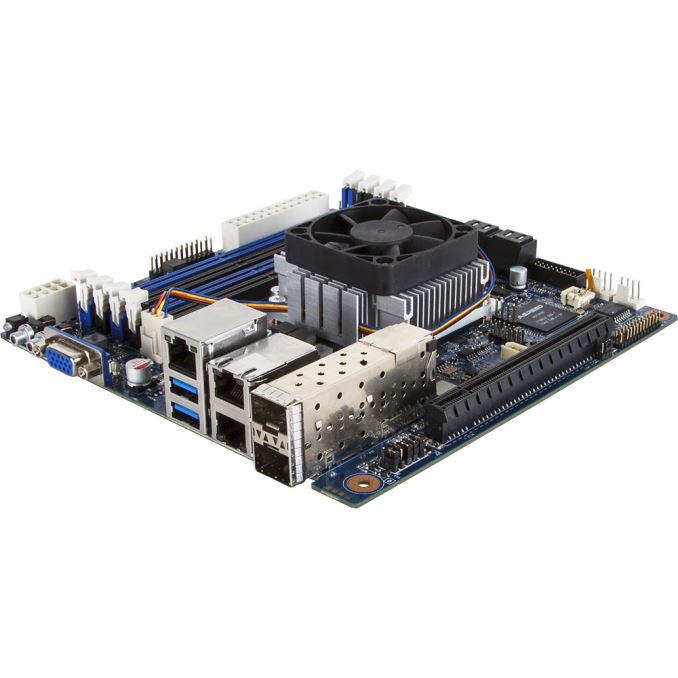 The Xeon D platform, as reviewed by Johan back in June, put together eight Broadwell cores, 24 PCIe 3.0 lanes, dual 10 Gbit Ethernet and USB/SATA control all into one SoC within a 45W TDP design. It almost sounded too good to be true (I've run some benchmarks my side, to be in a review later), as this is the only real way to get eight 14nm cores into a single die. Even at 2 GHz, Johan's piece showed that the Xeon D based on Broadwell aims to fit between the Xeon E3 and Xeon E5 in terms of performance and power efficiency, and to quote Johan 'Xeon D is probably the most awesome product Intel has delivered in years, even if it is slightly hidden away from the mainstream'. There is interest both server side and NAS side for this, and with the next wave of Xeon D parts being introduced GIGABYTE Server is one of the first to announce some new models.
Technically, the four motherboards being launched are a single base design, but with either a different SoC or different networking: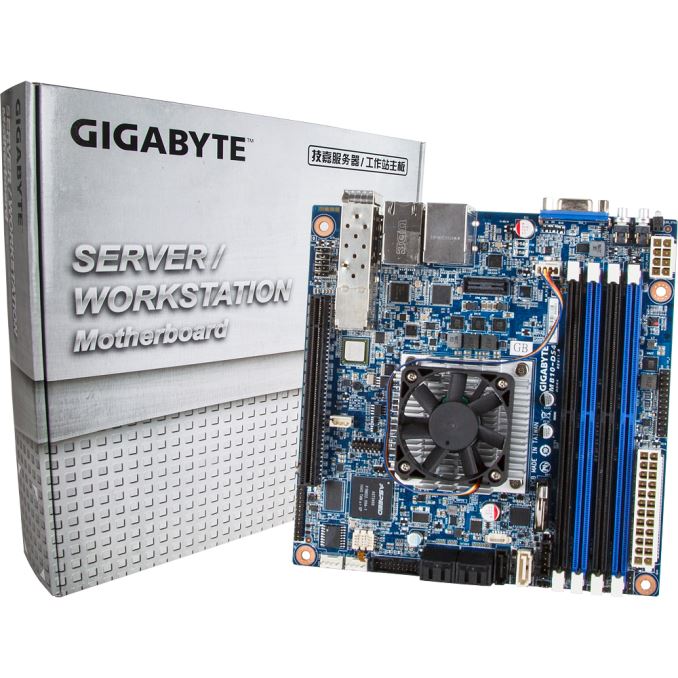 The image above is the top end MB10-DS3 model, featuring the Xeon D-1541 processor with 8 cores, 16 threads, running at 2.1/2.7 GHz for base and turbo frequencies. This is a mini-ITX board aimed at the typical 1U chassis, with four RDIMM/UDIMM DDR4 slots for up to 128 GB RDIMM support in ECC or non-ECC fashion. As mentioned before, the differentiator on this model aside from the SoC is the networking, and here we get dual Intel I210-V gigabit Ethernet paired with dual Cortina CS4227 10GbE SFP+ LAN ports to either route teamed to an SFP+ switch or to different switches althogther.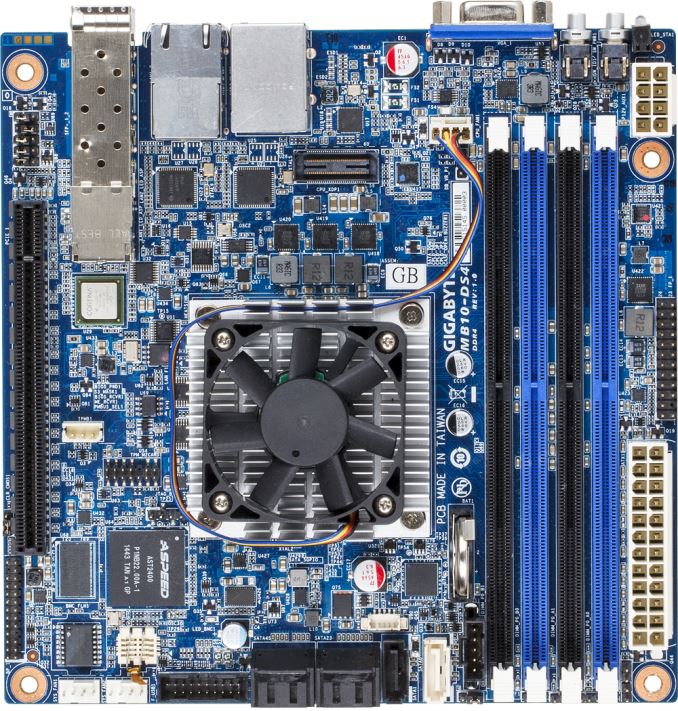 The motherboard uses a single PCIe 3.0 x16 slot which can be used for compute, and storage comes via five SATA 6 Gbps ports and another similar port that also supports SATA DOM. With it being a server motherboard, the onboard Aspeed AST2400 provides an IPMI interface for management as well as a 2D acceleration video chip. There are two extra fan headers on board, as well as a USB 3.0 header and a TPM header.
The SoC here has a list price of $581 on its own, and given that this is a server part I'm not too sure we will see these set of boards actually up at retail, although I do know that GIGABYTE Server is trying to push more product through that distribution channel. Businesses interested in the platform will have to enquire to their local GIGABYTE office to find out more information on pricing and availability.
As part of the second wave of Xeon D processors, Intel seems to be releasing a number of 35W and 45W models, from four cores to eight cores (with Hyperthreading), varying otherwise by speed and last level cache in-line with core count. I imagine that as more of these trickle through into the hands of OEMs, we will see more products through 2016.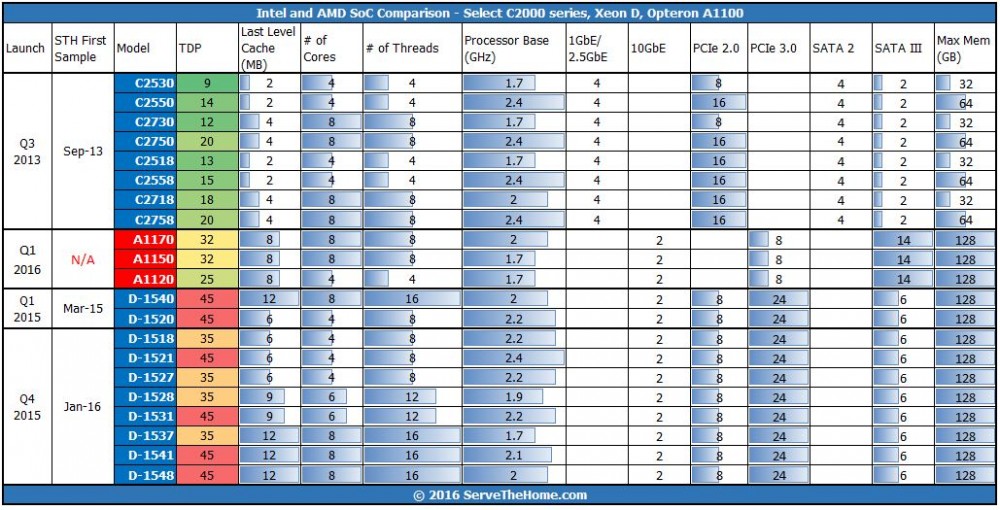 Table of Xeon-D processors from ServeTheHome