Final Words
Testing of Samsung's 950 Pro revealed some curiosities. Nevetheless, even when showing symptoms of possible thermal throttling, the 512GB sustained respectable performance and in tests that were representative of interactive use it performed extremely well. Users waiting on a full range of Skylake systems to come to the market may need a PCIe to M.2 adapter in order to put the drive in a slot that provides four lanes at PCIe 3.0 speed, but with the added benefit that such adapters can be bought with heatsinks to reduce the chance of triggering thermal throttling.
It's hard to judge pricing when there are limited options in this market segment. The Intel SSD 750 clearly needs to come down in price to be completely sidelined by the 950 Pro. Comparing against SATA drives, the 950 Pro's impressively high scores seem to make a good case for its price premium, but consider how often a particular use case will actually be able to take advantage of the peak speeds offered, which makes the 950 Pro a more prosumer oriented product. The 950 Pro isn't for everyone, and if cost is a sensitive issue then the 950 Pro should be weighed against Samsung's other offerings. But simply for a top of the line drive, the 950 Pro is priced reasonably for enthusiasts.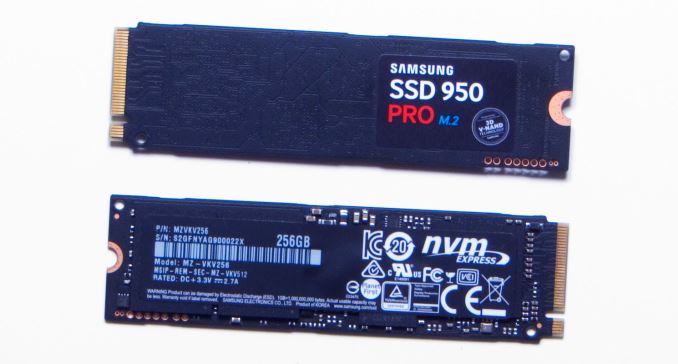 As a sign of where the SSD market is going, the 950 Pro clearly shows that SSD performance can be improved. Before too long, "high-end SATA SSD" will be an oxymoron; it's time for the transition to PCIe! The transition to NVMe seems less urgent given what Samsung was able to do with the SM951 and XP941 using AHCI, especially due to compatibility and drivers at this time. The power management issues in particular will need to be taken care of before NVMe moves beyond the enthusiast segment, especially for mobile computing.
The PCIe 3.0 x4 interface certainly gives the drive plenty of headroom. And based on the performance of the 950 Pro, it's doubtful that an M.2 drive will be able to saturate the interface before running in to thermal limits while still remaining in the same form factor. Future drives in this area will probably have to implement aggressive power saving techniques in order to keep average temperatures low enough to accommodate bursts of activity. The 950 Pro and the PCIe ecosystem in general have a lot to improve upon here.
The M.2 form factor is also constraining drive capacities to a degree. The back side of the 950 Pro is empty so a 1TB model should be geometrically possible if not economical, but the extra NAND packages would be even more susceptible to thermal problems. Samsung is instead choosing to wait for their 256Gb third-generation V-NAND before offering a larger model of the 950 Pro.
So far, Intel is the only manufacturer that has produced an enthusiast drive using the U.2 connector to provide PCIe x4 to a 2.5" drives. U.2 support is far less common than M.2, but the next time Samsung wants to introduce a major performance boost, they may go for the 2.5" U.2 option. We have already seen U.2 connectors directly on a pair of ASUS motherboards announced this week, and a number of Skylake consumer motherboards will come with M.2 to U.2 adapters specifically for this purpose.