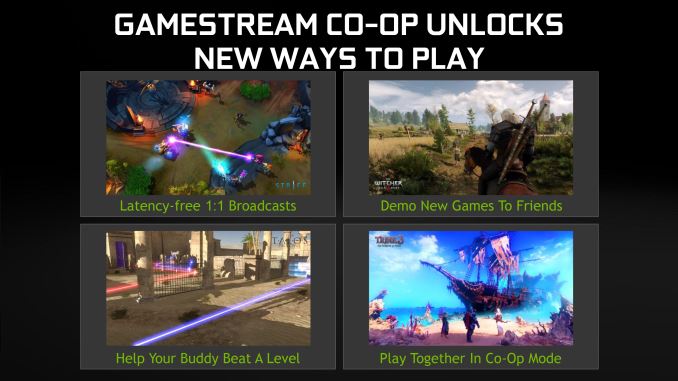 Last month alongside the release of the GeForce GTX 950, NVIDIA also announced that they would be releasing a new suite of updates for GeForce Experience called Shared. The cornerstone of this update would be GameStream Co-Op, a new GameStream feature that used the technology to allow a remote player play a local co-op game via streaming.
At the time NVIDIA announced that Share and GameStream Co-Op would be released in beta form in September, and today they've done just that with GeForce Experience 2.6. Curiously, NVIDIA calls this an "early access beta," where it isn't clear how this differs from a regular "beta." But, I suspect, the naming is marketing driven given the success of the Steam Early Access program.
In any case, along with today's release NVIDIA has also published a few more details about the feature. Co-op game streaming is fixed at 720p30, for which NVIDIA recommends 7Mbps of upload bandwidth. Host games by and large work so long as they're DX9+ and run in full screen mode, though NVIDIA has a compatibility list up with their findings for major games. Meanwhile on the client side only Google Chrome is currently supported, which is accomplished via a Chrome Plug-In.
Finally, we've also been informed that there is a 1 hour time limit on GameStream Co-Op connections. This would appear to be in place to prevent abuse of the system for non co-op purposes, such as using the tech to stream games outright to friends as a means to avoid buying a proper copy of a game.
Source: NVIDIA