Floating Point: C-ray
Shifting over from integer to floating point benchmarks we have C-ray. C-ray is an extremely simple ray-tracer which is not representative of any real world raytracing application. In fact, it is essentially a floating point benchmark that runs out the L1-cache. Luckily it is not as synthetic and meaningless as Whetstone, as you can actually use the software to do simple raytracing. That is not the kind of benchmark we like to use for the evaluations of server CPUs, but since our first efforts to port some of our favorite applications to OpenPOWER failed, we settled for something easier. We knew we would have the POWER8 system only for a few weeks, so we had to play it safe.
First we compiled the C-ray multi-threaded version with -O3 -ffast-math. To understand the CPU performance better, we limited C-ray with taskset to one or two threads (CPU 0 and 18) on the Haswell-based Xeon and one to eight threads on the POWER8. We also kept the output resolution at 768x432 to keep the render times in check. The "sphfract" file was used as input.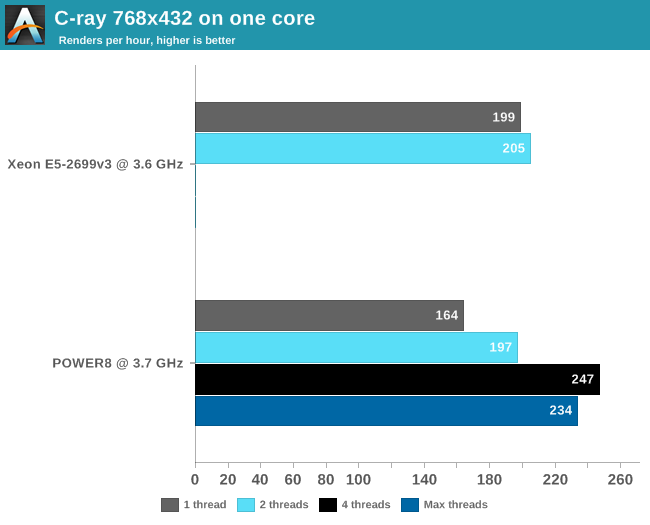 Real floating point intensive applications tend to put the memory subsystem under pressure, and running a second thread makes it only worse. So we are used to seeing that many HPC applications performe worse with multi-threading on. But since C-ray runs mostly out of the L1-cache, we get different behavior. Still, 8 threads of floating action seem to be too much: the POWER8 delivers the best FP performance at 4 threads. At this point, the POWER8 core is able to deliver 20% higher floating point performance than the Haswell Xeon.
Next we used all 160 (20 x 8 threads SMT) or 72 (36 x 2 threads SMT) threads and increased the resolution to 3840x2160.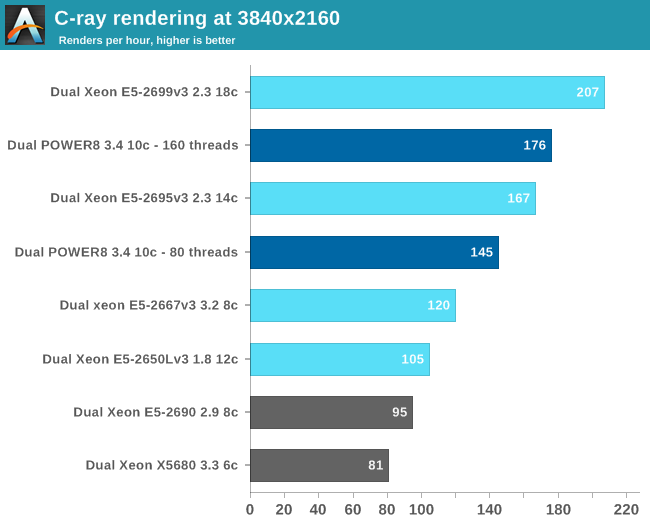 With a core count that is 80% higher, there is nothing stopping the Xeon E5-2699 v3 from taking the top spot. Still, the POWER8 delivers solid performance and outperforms the slower Xeon E5-2695 v3 by 5%. Although the real world relevance of this benchmark is small, we now have an idea of how good the "basic FP" performance is. Otherwise in real world applications, the use of AVX-2/VSX and the available bandwidth will play a role.