At IDF 2015 this year Intel has announced that their forthcoming 3D XPoint technology based products will be sold under a new brand for the company, Optane.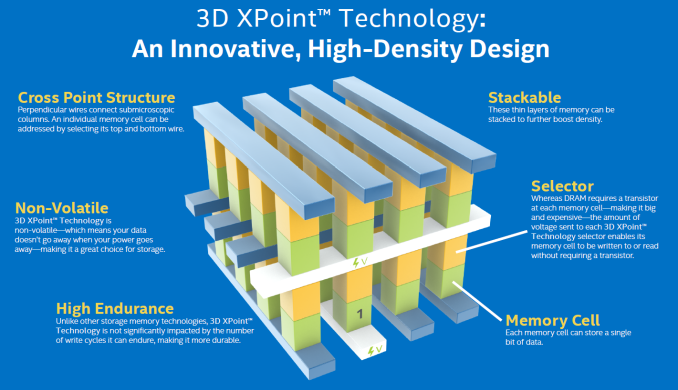 The Optane products will be available in 2016, in both standard SSD (PCIe) form factors for everything from Ultrabooks to servers, and in a DIMM form factor for Xeon systems for even greater bandwidth and lower latencies. As expected, Intel will be providing storage controllers optimized for the 3D XPoint memory, though no further details on that subject matter were provided. This announcement is in-line with Intel and Micron's original 3D XPoint announcement last month, which also announced that 3D XPoint would be out in 2016.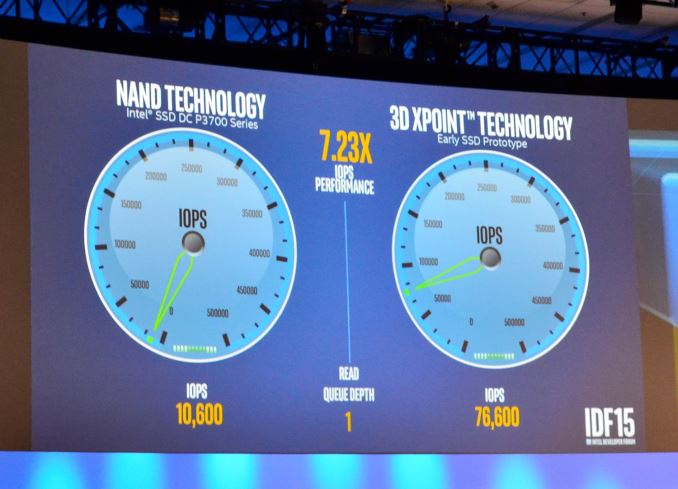 Finally, as part of the Optane announcement, Intel also gave the world's first live 3D XPoint demonstration. In a system with an Optane PCIe SSD, Intel ran a quick set of live IOps benchmarks comparing the Optane SSD to their high-end P3700 SSD. The Optane SSD offered better than 5x the IOps of the P3700 SSD, with that lead growing to more than 7x at a queue depth of 1, a client-like workload where massive arrays of NAND like the P3700 traditionally struggle to achieve maximum performance.