GIGABYTE Z170: Gaming ATX
As with most mainstream chipset launches, GIGABYTE is giving the market a thick coating in every price band to suit the needs of as many users as possible. We have information on 18 distinct GIGABYTE models coming to market, and know of several more we cannot talk about yet. Having spoken to GIGABYTE in recent years, their goal is clear – some markets around the world have different focal points. This means that some might reject anything with a VGA port, or that micro-ATX with two DRAM slots is a must. Whatever you need, GIGABYTE wants to provide it. All this being said, not all models end up in all markets – some are specifically targeted for certain regions as a result. For some models of GIGABYTE motherboards, certain regions will be part of a Heroes of the Storm bundling deal with extra in-game benefits.
GIGABYTE Z170X-Gaming G1 - MSRP $499
Sitting at the top of the Gaming line is the G1, trying to cater by providing as much of everything on the motherboard as possible. After moving away from the previous green style of gaming, GIGABYTE has combined the red/black of other gaming brands and added in a large amount of white with angled accents and a distinctive font.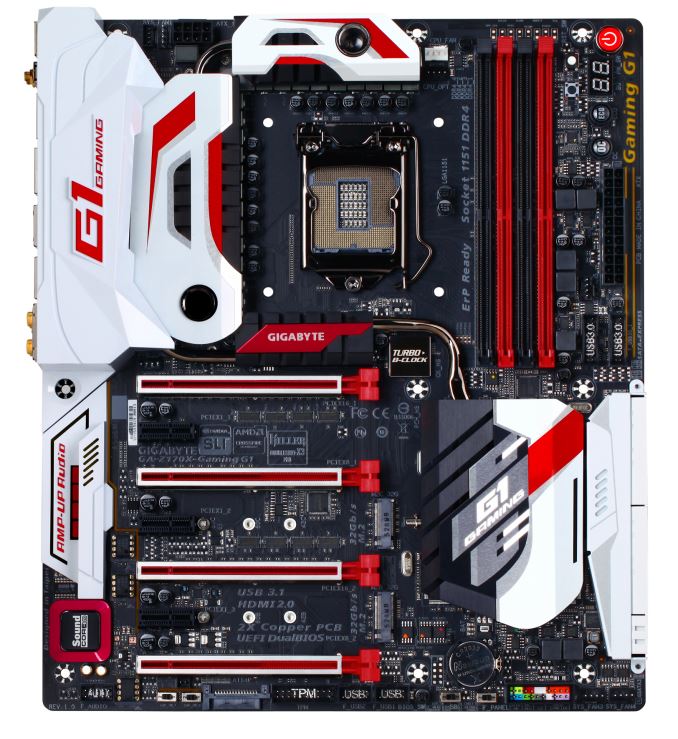 There are many things to cover here. Firstly, the Gaming G1 seems to be using what looks like a 16+4+2 phase power delivery making it one of the largest VRM packages on sale for Z170. Given GIGABYTE's past, I would assume that these are designs from International Rectifier, which do not come cheap but can provide 50A/60A depending on the exact model used. Over that power delivery is the combination heatsink arrangement, stretching over the motherboard but also has a combined air/water cooling pipe as well to allow for both types of cooling. The heatsink connector in the middle is covering a PLX chip which allows four-way SLI in the PCIe slots with x8/x8/x8/x8 support. As mentioned in the EVGA coverage, this is a more expensive chip than that used on Z77 due to the new owners.
The PCIe slots have metal shielding, and I would imagine that MSI and GIGABYTE will contest who came up with the idea first. There are major parallels between GIGABYTE and MSI's high end boards this year - both have PCIe shields, both have air/water combination cooling, both have RGB LED implementations and separate space for RGB LEDs, both are using Killer combination networking and both are using non-standard audio. Here on the Gaming G1, GIGABYTE is using the Creative Sound Blaster ZxRi solution with a Burr-Brown 127 dB DAC and three user-upgradable OP-AMPs along with the regular upgraded design on the high end stuff.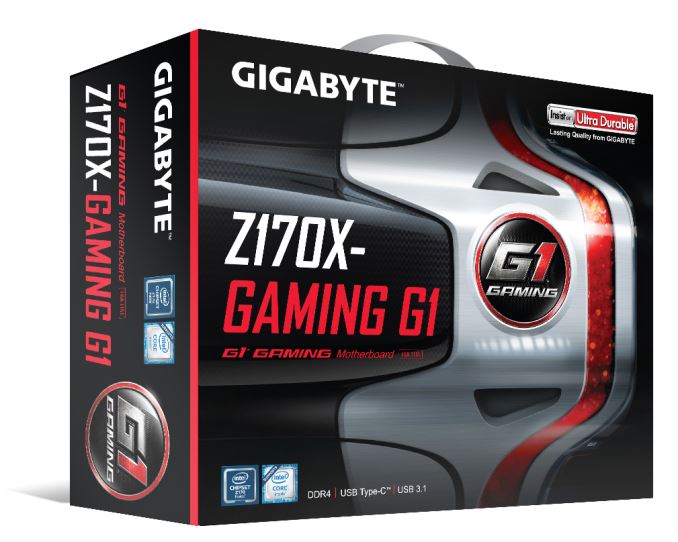 For USB 3.1, GIGABYTE would seem to have an initial exclusive of Intel's Alpine Ridge controller. This is a four-lane PCIe controller that supports full speed on two USB 3.1 ports as well as Power Delivery 2.0 support (up to 36W) on Type-C connectors. For the G1, we get a Type-A and a Type-C here. With HDMI 2.0 support through Alpine Ridge, we're at a bit of a conundrum here – on the board in white letters it explicitly states HDMI 2.0, but none of the marketing materials from GIGABYTE I have actually use it in any as a marketable point. So we're unsure if it is indeed HDMI 2.0 capable, what standard, if this is via the AR controller or if this is a separate LS-Pcon. Then again, this is a motherboard designed for discrete gaming cards rather than integrated graphics.
Edit: We can confirm that HDMI 2.0 is via a separate LS-PCon, although it will need a future firmware update before it can be used.
On the networking side, GIGABYTE pairs two Killer network ports with a Killer 802.11ac 2T2R dual band WiFi module as part of Killer's 'DoubleShot X3 Pro' branding. Similar to other multi-Killer solutions, the branding here is to funnel certain types of web traffic down different connections.
Storage is supplied by two M.2 slots between the PCIe connectors, both of which run at PCIe 3.0 x4 and Intel RST for RAID modes. Along with this, there are ten SATA ports as well as three SATA Express connectors, although it would seem that SATA Express is dead in the water. The usual other GIGABYTE features apply such as DualBIOS, a water-pump fan header, and new to the G1 is the G-Connector to aid with those awkward front panel connectors.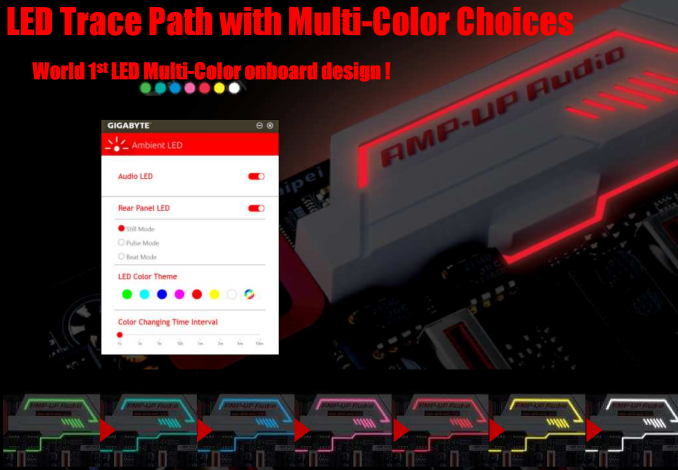 Some users might remember that for Z97, GIGABYTE introduced its ambient LED for the rear panel shield. For Z170 this moves onto the heatsink arrangement and some of the board separation traces, allowing several different RGB modes and colors. For users who just want a PC rather than a light show, it can all be switched off as well.
With a PLX chip, Alpine Ridge, all those power phases and extra options, the Gaming G1 will sit at the top of GIGABYTE's product stack, if not top of them all. $500 is a lot for Z170.
GIGABYTE Z170X-Gaming GT - MSRP $299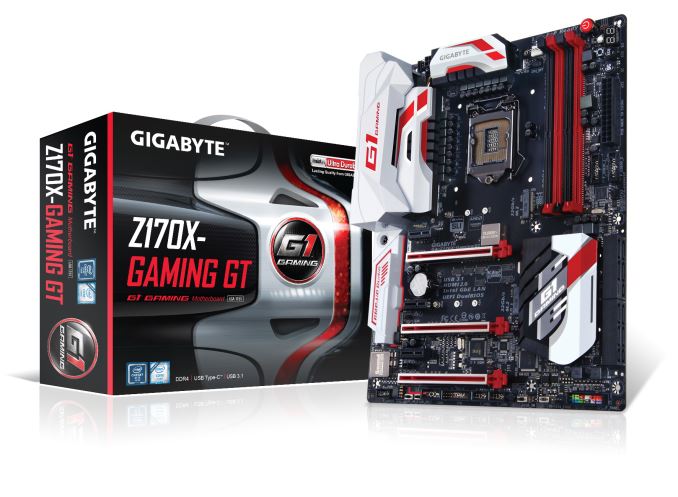 The GT scales back a number of features from the G1, namely the LEDs section near the DRAM slots, the PLX chip, the new Creative codec and the combination air/water cooling arrangement. We still have most of the power delivery as well as the Alpine Ridge controller giving Type-A and Type-C ports for USB 3.1 on the rear, the Killer networking (only one, with Intel I219V as well) and the previous high-end Creative audio solution. For audio, the upgraded philosophy still remains also, including replaceable OP-AMPs and DAC-UP USB ports.
For PCIe arrangements, GIGABYTE has used the standard PCIe 3.0 x8/x4/x4 arrangment which affords dual-SLI and tri-CrossFire, although placing a card in the bottom slot will disable SLI due to NVIDIA's 8-lane requirement per card. There is still an RGB element to the heatsink similar to the G1, and storage comes through dual M.2 x4 slots and eight SATA ports.
GIGABYTE Z170X-Gaming 7 - MSRP $219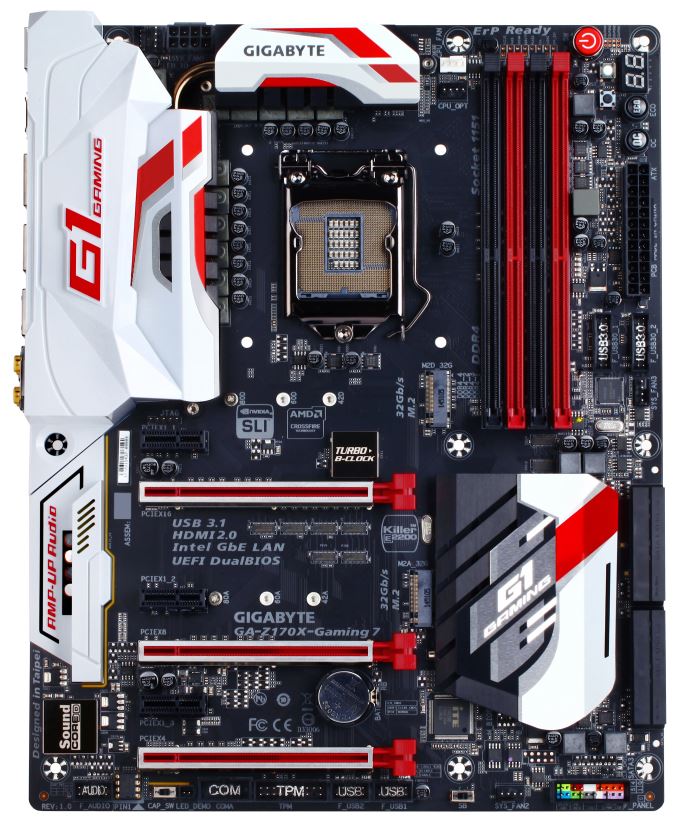 The Gaming 7 returns to a numbering system to represent features, and for all intents and purposes this is a near carbon copy of the GT but using a different power delivery system with what seems like the 60A IR chokes and a fewer number of phases overall. There are also fewer user adjustable switches for features on the bottom, but the main ones are still present.
GIGABYTE Z170X-Gaming 5 - MSRP $170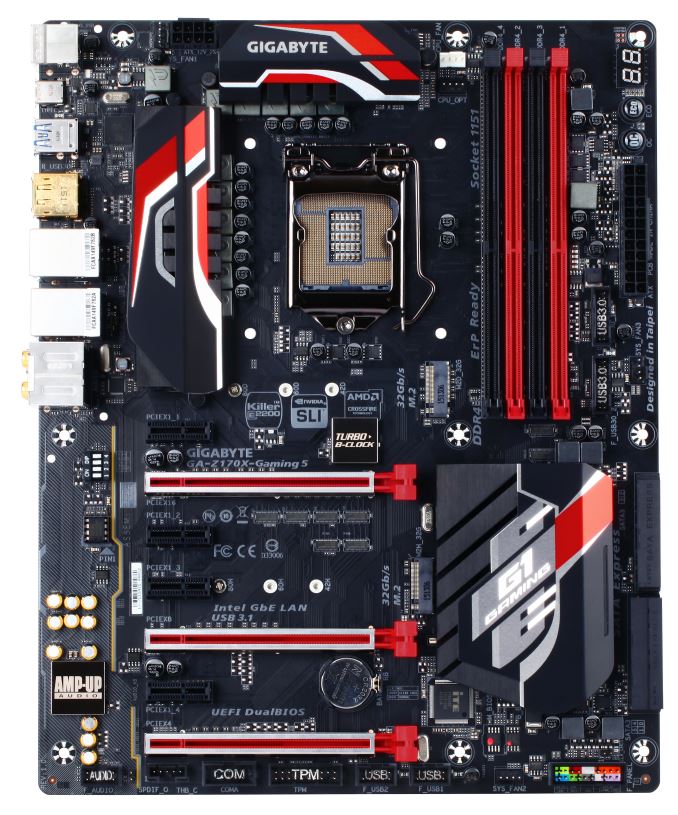 The Gaming 5 ditches the rear IO cover and dials down the audio to the more common Realtek ALC1150 upgraded solution. Power delivery arrangements seem similar to the Gaming 7, although the heatsink design has been changed due to that rear panel. We still have two network ports, one Killer and one Intel I219-V, and the USB 3.1 ports are here still being provided by the Intel controller. There is no marking of HDMI 2.0 support, suggesting that it has been removed to meet the price point. Dual M.2 x4 slots and six SATA ports for storage are present, as well as x8/x4/x4 lane arrangements for graphics cards.
GIGABYTE Z170X-Gaming 3 - MSRP - $160
The Gaming 3 moves to a single Killer network port, and brings back DVI-D/VGA connectors to the rear panel due to only having six USB ports there. GIGABYTE has stuck with the triple-SATA Express implementation, this time flanked by six SATA ports and slightly less styling on the heatsinks. The Gaming 3 typically aims for that market where tri-Crossfire still can play a role on a motherboard in a more cost-conscious bracket.