AnandTech Storage Bench - The Destroyer
The Destroyer has been an essential part of our SSD test suite for nearly two years now. It was crafted to provide a benchmark for very IO intensive workloads, which is where you most often notice the difference between drives. It's not necessarily the most relevant test to an average user, but for anyone with a heavier IO workload The Destroyer should do a good job at characterizing performance. For full details of this test, please refer to this article.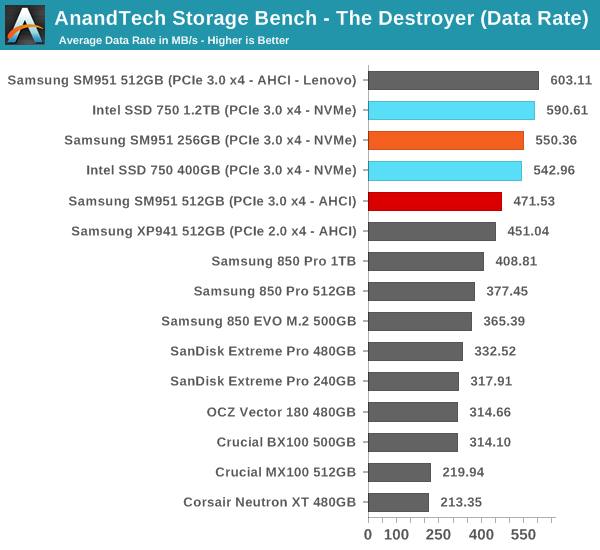 In our The Destroyer trace, the SM951 NVMe is faster than the AHCI version despite having only half the NAND, but it still gets beaten by the SSD 750 (although the SSD 750 has more NAND as well). As I mentioned in the review, the SSD 750 has excellent small IO performance under intensive IO loads, resulting in much lower latency than what the SM951 offers, but since it performs more poorly with sequential IOs the average data rate is equivalent to the SM951 NVMe. What's surprising, though, is the fact that the SM951 AHCI that was pulled from the Lenovo laptop is in fact considerably faster than the stock SM951 we received straight from Samsung. I even ran the trace twice the ensure that it's not a benchmark anomaly, but maybe there is something wrong with my sample given that even the XP941 and several SATA 6Gbps drives outperform it.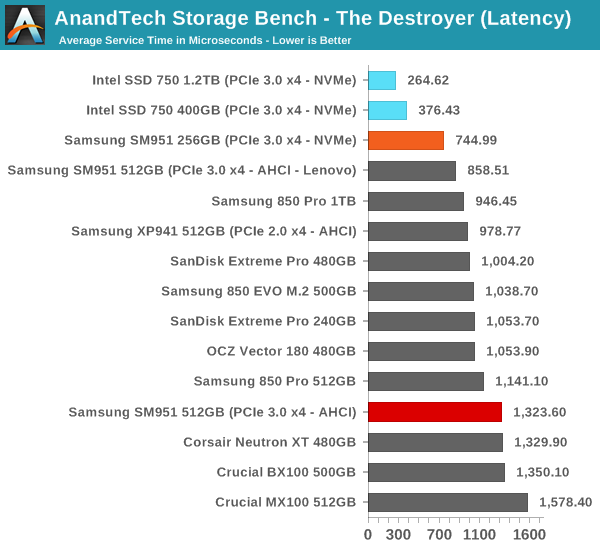 The SM951 NVMe also has a higher share of high latency IOs than the SSD 750, but that's quite typical to smaller capacity Samsung drives.