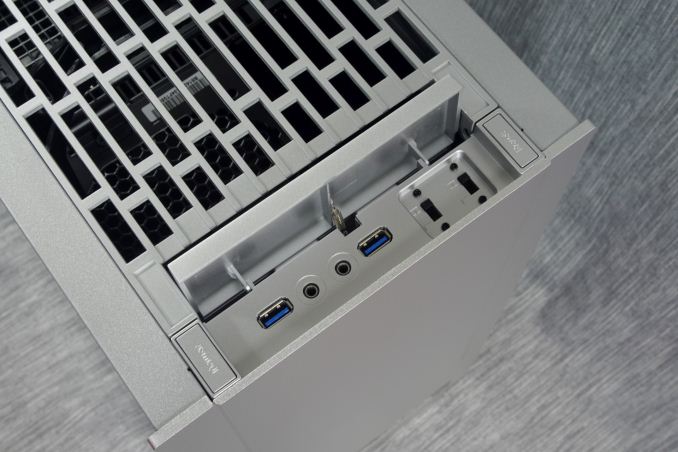 SilverStone is a well-known manufacturer, distinguished for their atypical, strange case designs. The company offers numerous enclosures that partially or completely neglect the ATX design guide. The ML04 and ML05 that we reviewed several months ago are but a pair of examples of their HTPC solutions, while the Raven RV05 with its rotated motherboard tray was a prominent specimen of their unique tower designs. Today we are having a look at the Fortress FT05, a case very similar to the Raven RV05, although not quite the same.
The latest Fortress series case also has a rotated motherboard tray, a design that is inherited from the Raven RV01, but retains the compact dimensions of the Raven RV05. SilverStone boasts that the compact Fortress FT05 offers exceptional thermal performance and easy maintenance despite its compact proportions. However, that was the case with the Raven RV05 as well and our review revealed that this design is far from perfect. The Fortress FT05 retails at double the price tag of the Raven RV05 as well, making it a rather expensive small tower case, and a bit of an uphill battle for SilverStone.
SilverStone Fortress FT05 Specifications
Motherboard Form Factor
ATX, Micro-ATX, Mini-ITX
Drive Bays
External
1 x Slim Slot Loading
Internal
2 x 3.5" (rear drive cage) 2 x 2.5" (rear of motherboard tray)
Cooling
Front
-
Rear
-
Top
1 x 120 mm (optional)
Left Side
-
Bottom
2 x 180 mm (included) 3 x 120 mm or 2 x 140 mm fans can replace the stock fans
Radiator Support
Front
-
Rear
-
Top
-
Side
-
Bottom
240 mm / 280 mm
I/O Port
2x USB 3.0, 1x Headphone, 1x Mic
Power Supply Size
ATX
Clearances
HSF
160 mm
PSU
170 mm
GPU
310 mm
Dimensions
483 mm × 221 mm × 427 mm (H×W×D) 19 in × 8.7 in × 16.8 in (H×W×D)
Prominent Features
Aluminum wrap-around exterior with classic SilverStone Fortress styling

Revolutionary 90 degree motherboard mounting from RAVEN RV01

Breakthrough 5.25 inch bay-free design for unprecedented power to size ratio

Two Air Penetrator fans included for great performance and quietness

Positive air pressure design for excellent cooling/quietness and dust-prevention

Foam padded interior for advanced noise absorption

Quick-release latch for fast side panel removal

Exterior access to main filter for easy maintenance

Support for various liquid cooling radiator sizes
Price
$180 Including Shipping (No Window)
$206.6 Including Shipping (With Window)
Packaging & Bundle
SilverStone supplies the Fortress FT05 in a large, dark cardboard box. There is little artwork to talk about, as the company limited it to a dark picture of the case itself. Thick Styrofoam slabs and a black nylon bag protect the case during shipping.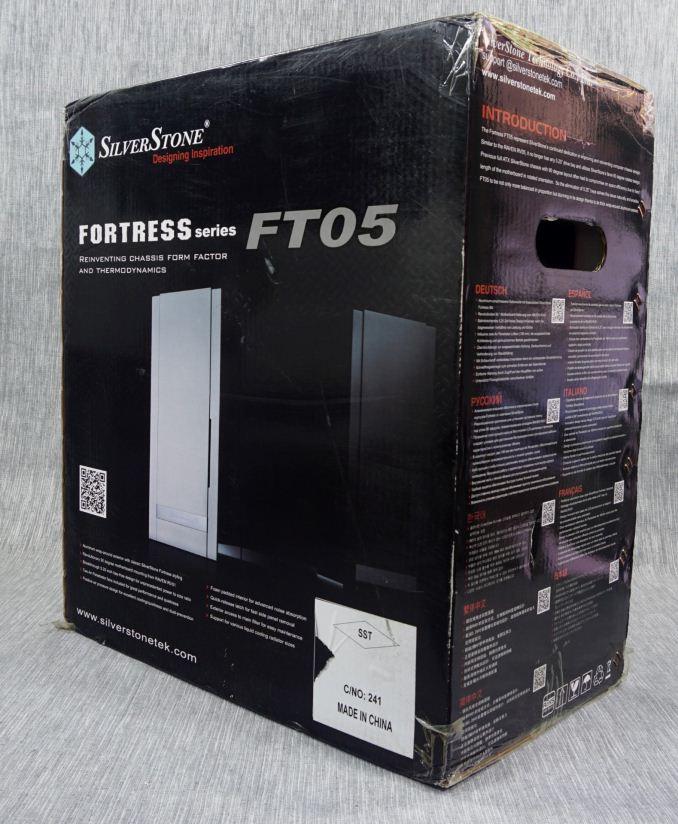 SilverStone supplies virtually only the hardware essential for the installation of the components, a few simple cable ties and a 120mm fan filter. There also is a very well written manual, but no extras such as cable straps or decorative stickers.