Things are finally winding down after a very intense few days at Computex 2002. Our thirdday of coverage comes lightly as we attempt to finish off our last few meetings and engagements before we embark on the long series of flights back home.
There's much more to come however once we get back, but to tide you over between now and then here we have Day 3 of Computex 2002.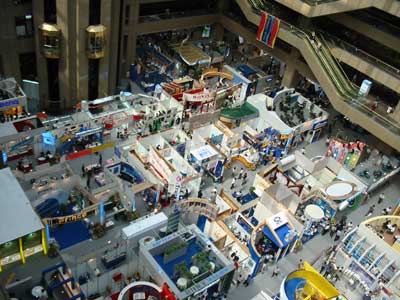 ATI's R300 - 10 Layer PCB?
This information was available first through the AnandTech Newsletter. Click Here to Subscribe.
We've been talking to a lot of the manufacturers that make boards for ATI and although there isn't a strong ATI presence on the show floor, there are a number of gems running behind closed doors. Yesterday we brought our Newsletter subscribers the first look at ATI's successor to the Radeon 8500 (R200) - the R300 chip running at VIA's suite. In that article we hypothesized that ATI's next-generation chip may indeed be built on a 0.15-micron process and today we received some interesting information that may support that theory.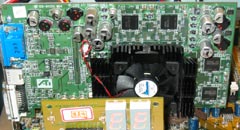 Click to Enlarge
While talking to one of ATI's board partners we were informed that they weren't keen on building R300 boards because of the fact that they are expecting the design to require a 10-layer PCB. We could not get confirmation as to whether or not ATI's R300 board running in VIA's suite was a 10-layer board or not but according to this board manufacturer, they will only be distributing R300 boards and not producing them.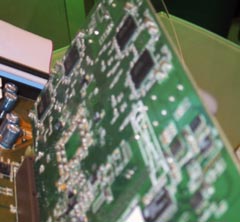 The need for a 10-layer PCB comes from increased power consumption where separating power and ground layers becomes difficult and thus requiring the use of more board layers to route traces through. With the amount of power that the 8-layer GeForce4 Ti 4400/4600 boards draw, we wouldn't expect much less from a next-generation part from ATI that is supposed to significantly outperform the GeForce4.