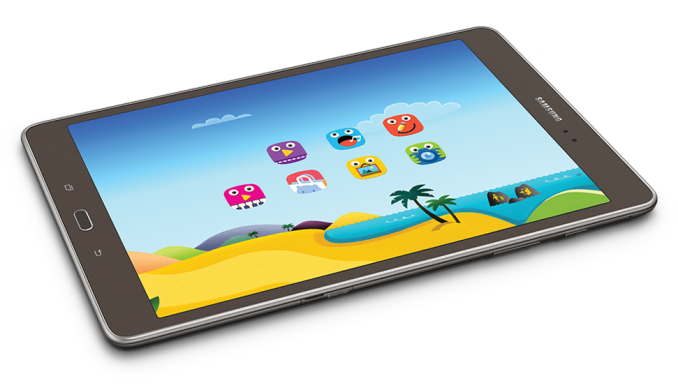 Today Samsung Electronics America announced two new tablets that are coming to market in the United States. Samsung's new Galaxy Tab A tablets come in 8.0" and 9.7" sizes, and Samsung is marketing them as tablets that are well suited for keeping in touch with friends and family. The specs of both tablets are laid out in the chart below.
Samsung Galaxy Tab A 8.0"

Samsung Galaxy Tab A 9.7"

SoC

Snapdragon 410 (APQ8016) 4x 1.2GHz Cortex A53,




400MHz Adreno 306 GPU

RAM/NAND

16/32GB NAND + MicroSDXC, 1.5GB RAM

Display
8.0"

1024x768 PLS LCD

9.7"

1024x768 PLS LCD

Dimensions
208.4 x 137.9 x 7.5mm, 313g

242.5 x 166.8 x 7.5mm, 449g

Camera
5MP Rear Facing, 2MP Front Facing
Battery
4200 mAh (15.96 Whr)

6000 mAh (22.8 Whr)

OS

Android 5.0 Lollipop

Connectivity

802.11 a/b/g/n + BT 4.0, microUSB2.0
Both tablets have very similar specifications. They are both distinctly mid-range tablets, with Qualcomm's Snapdragon 410 at their heart, 1.5GB of RAM, and a 1024x768 PLS display. They're really only differentiated by the size of their displays, and subsequently their dimensions and battery capacity. I think it may be difficult for Samsung to charge a price premium for the 9.7" model when it doesn't have any improvements to display resolution or internal hardware over the 8.0" model.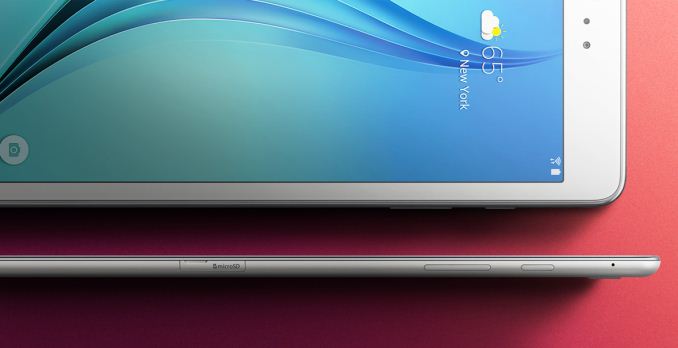 What makes these new tablets stand out from Samsung's previous tablet offerings are their sizes and their design. Both tablets have a 4:3 aspect ratio, which is a significant departure from the 16:10 tablets that Samsung has produced in the past. Both tablets also have a full metal chassis, which will be an enormous improvement over the plastic construction of Samsung's other tablets. I am very interested to see what Samsung can do with this type of design on a high end tablet with flagship specifications.
Update: This article previously stated that he Galaxy Tab A tablets have a metal chassis. According to Samsung this is not actually the case.
Both Galaxy Tab A models are available for preorder now, and they'll begin to ship on May 1st in the United States. Both models are available in white, titanium, and blue finishes. The 8.0" model costs at $229, while the 9.7" model costs $299. There will also be a version of the 9.7" model with Samsung's S-pen included for $349. Through Samsung's new app partnership with Microsoft, the new tablets will come with Microsoft's Office for Android applications preinstalled, and buyers will receive 100GB of OneDrive storage for two years.
Source: Samsung via Businesswire