Gaming Benchmarks
Intel's integrated GPUs don't have a big name in the gaming community. Once in a while, Intel throws in a surprise. In the Haswell family, CPUs with Iris Pro graphics gave a pleasant surprise to casual gamers. In this section, we will identify whether the Intel Iris Graphics 6100 in the Core i7-5557U can provide an acceptable gaming experience. It will also be interesting to find out how it compares against the HD 6000 in the Core i5-5250U and the HD 5500 inthe Core i7-5500U (BRIX s).
For the purpose of benchmarking, we chose four different games (Sleeping Dogs, Tomb Raider, Bioshock Infinite and DiRT Showdown) at three different quality levels. As someone focusing on HTPCs and multimedia aspects, I rarely get to process gaming benchmarks, even while evaluating GPUs. One of the aspects that I feared was spending lot of time in installing the same games again and again on different PCs under the review scanner. The solution was to go the Steam route. Unfortunately, Steam also likes to keep the game files updated. A quick online search revealed that Steam could make use of an external drive for storing the game executables and downloadable content. With the Steam drive on-the-go use-case being read-heavy, the Corsair Flash Voyager GS USB 3.0 128GB Flash Drive (with read speeds of up to 275 MBps) was ideal for use as a portable Steam drive.
Sleeping Dogs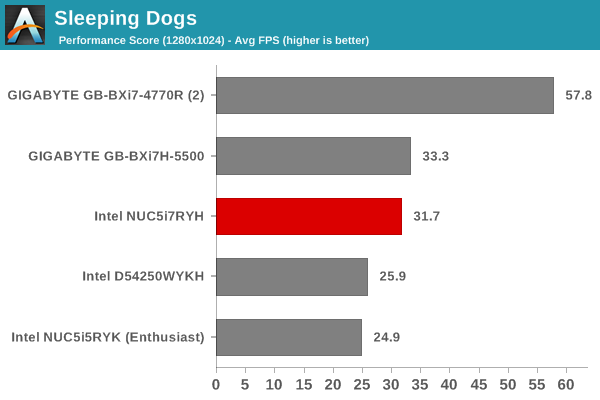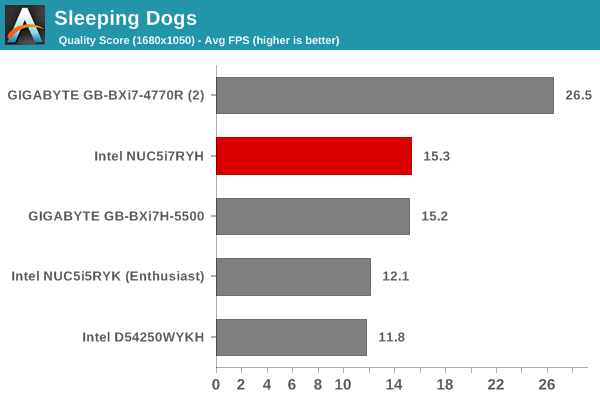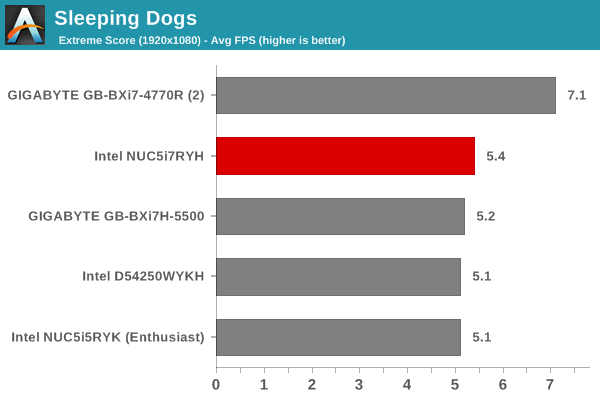 Tomb Raider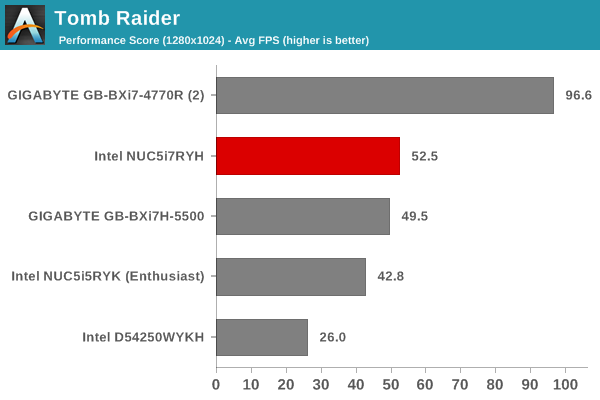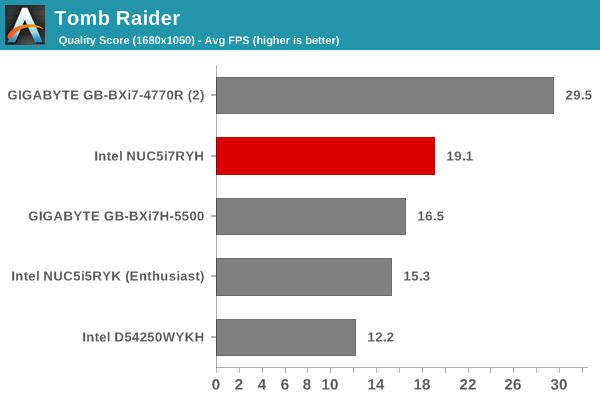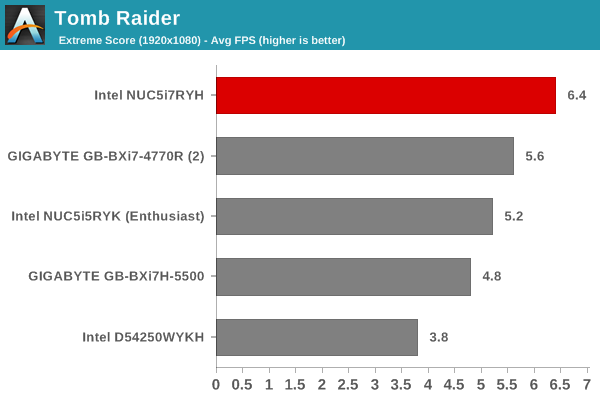 Bioshock Infinite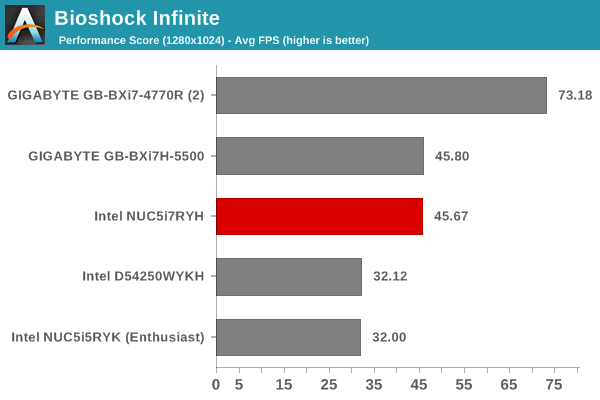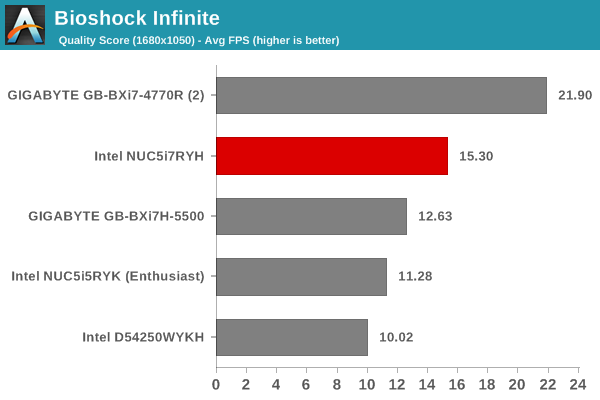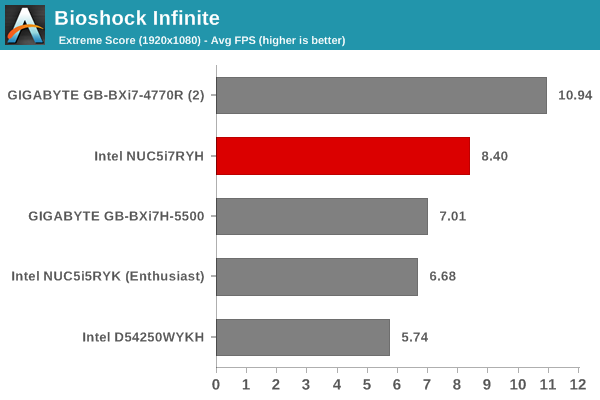 DiRT Showdown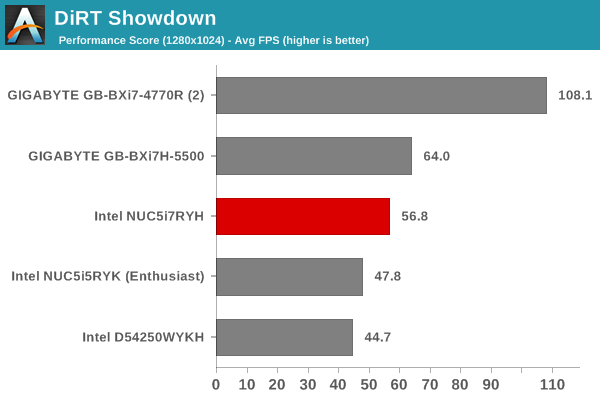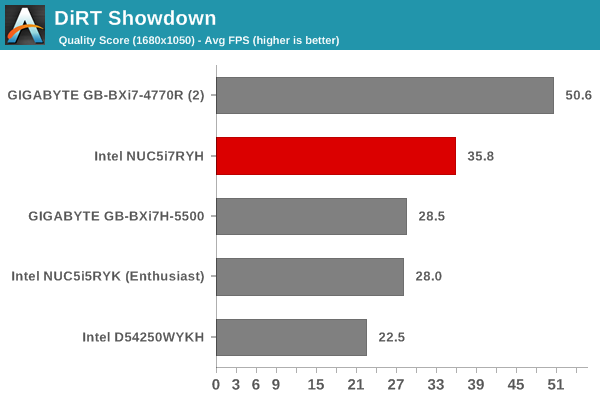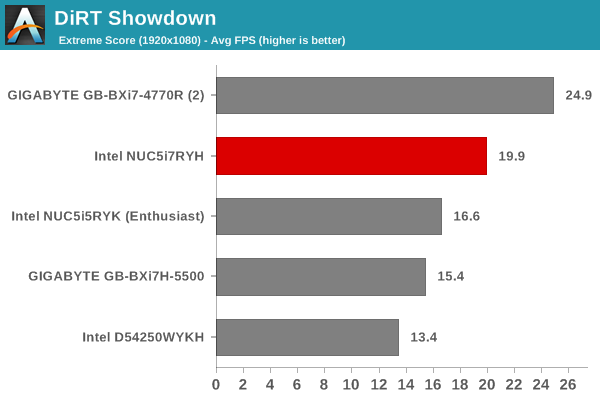 At lower quality levels, the HD 5500 in the Core i7-5500U can sometimes provide marginally better frame rates, but the Iris Graphics 6100 trumps other UCFF PCs in almost all other situations. The only exception is the Core i7-4770R-equipped BRIX Pro that is also equipped with Iris Pro Graphics. Despite belonging to the previous generation, the higher TDP (65W vs. 28W) allows for better GPU performance.However, at the 20W and lower TDP-point / acoustic profile / chassis size, it goes without saying that Iris Graphics 6100 possesses the best gaming credentials.