System Performance Cont'd: GPU Performance
As previously mentioned, the Galaxy S6 uses a Mali T760MP8 clocked at 772 MHz, which should provide a healthy improvement in GPU performance over the Exynos 5433. To test this, we run through our standard suite of game-style GPU benchmarks. However, there are still some CPU benchmarks present within these tests such as the 3DMark physics test. In general though, a strong GPU is needed to perform well in these tests. For those interested in an architectural deep-dive of the Mali T760, I would refer to Ryan's article on the Midgard architecture for more information.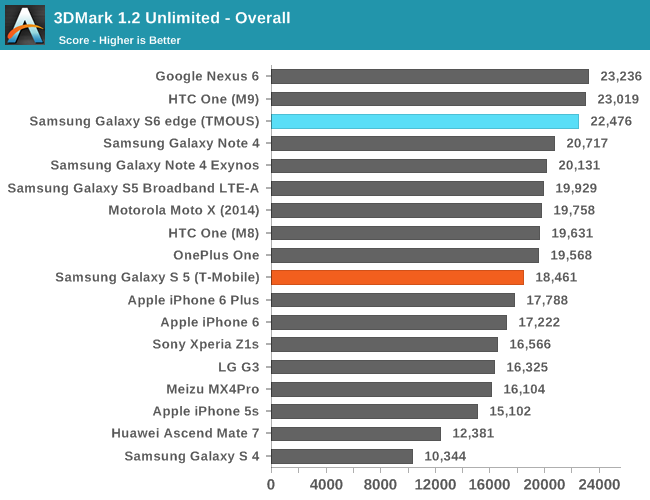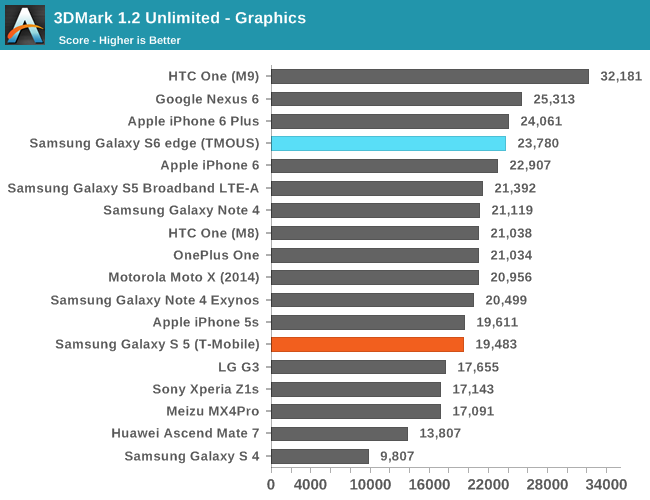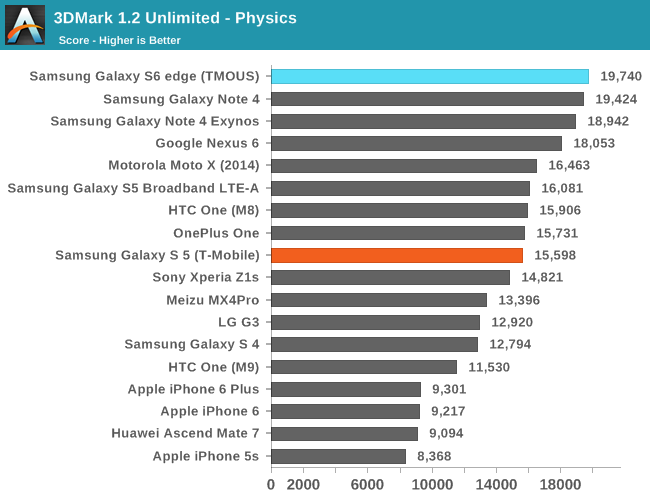 The Galaxy S6 starts out fairly strong in 3DMark. Overall performance is boosted by a chart-topping physics score, while pure graphics performance trails a bit. In this case the S6 is roughly on par with the iPhone 6 Plus, but would have to close quite a gap to catch up to the HTC One (M9).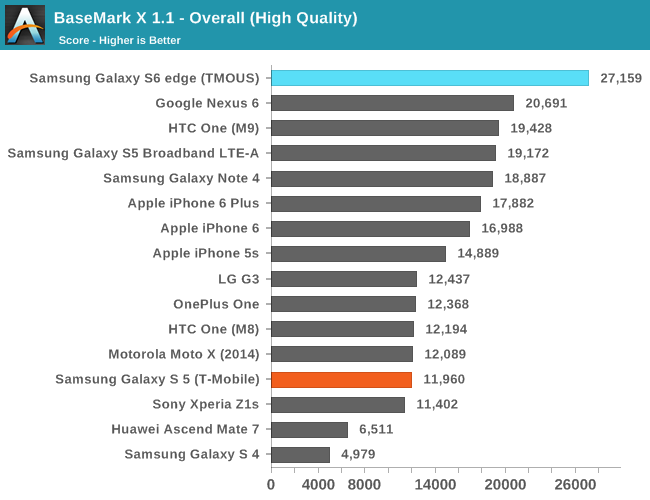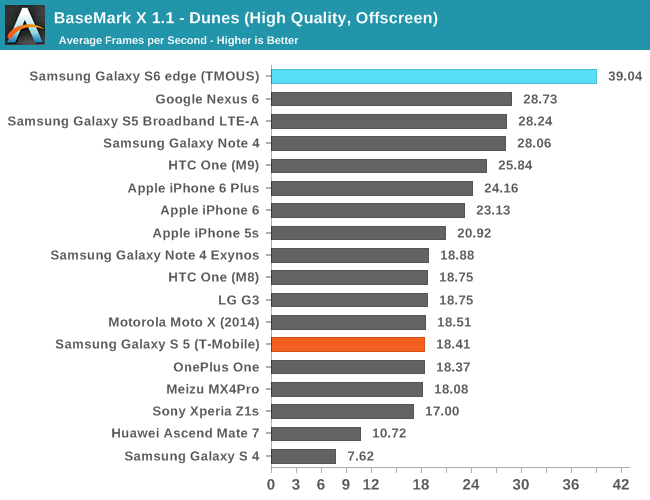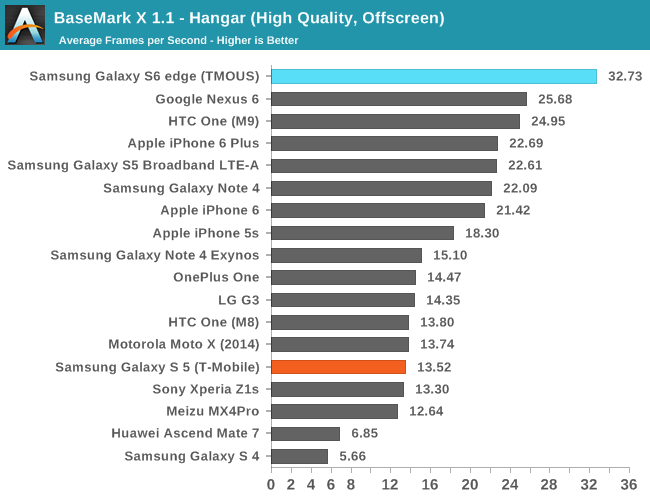 BaseMark X finds the S6 the runaway winner. The phone is well ahead in both the Dunes and Hangar test, beating the next-best phones (primarily Adreno 420/430 based) by 25% or more depending on the test. The increase over the S5 is especially remarkable; Samsung has more than doubled their performance in this benchmark in barely a year.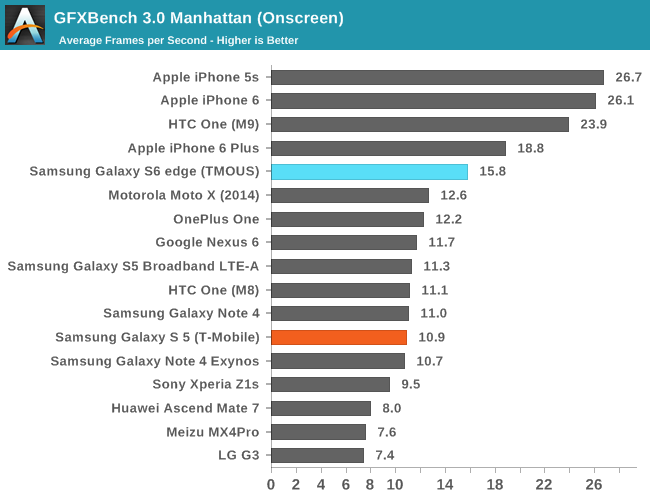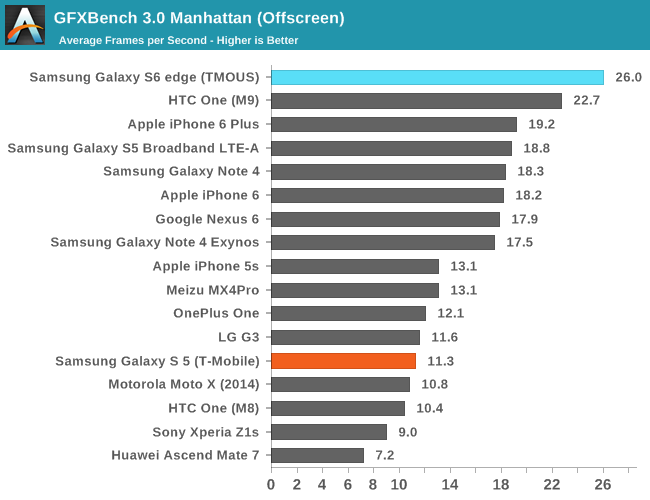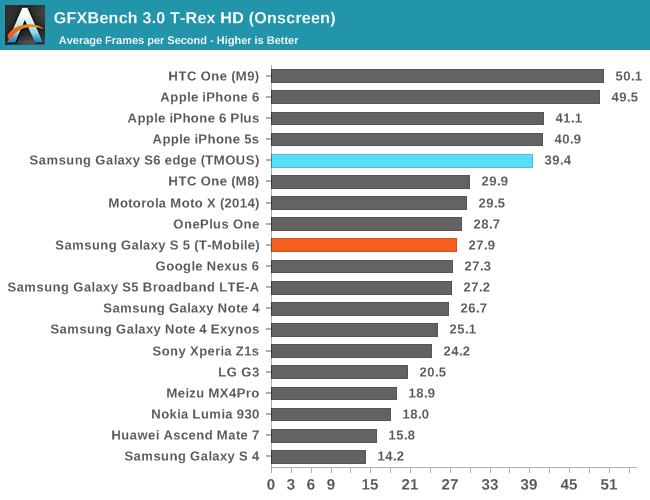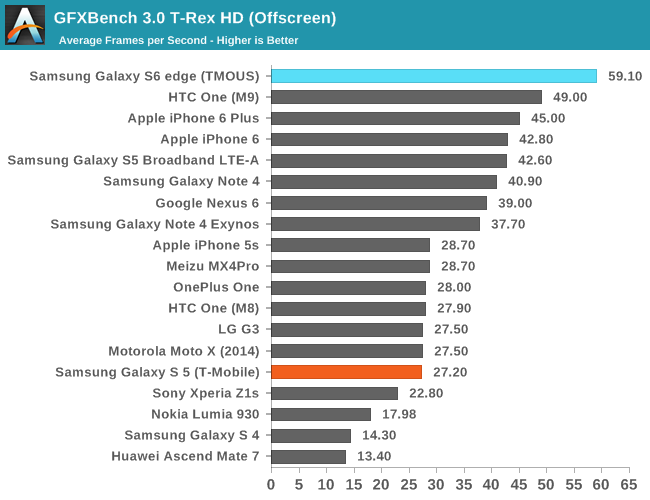 GFXBench 3.0 is another strong showing for the S6. In both offscreen tests it's 15% or more ahead of the next closest phone, which is once again the HTC One (M9). Meanwhile compared once more to the S5, Samsung's performance has more than doubled. Consequently even the onscreen tests show significant gains, as the GPU performance gain more than outstrips the additional performance required to drive the higher resolution 1440p AMOLED display of the S6.
Overall, as we can see the performance of the S6 is in line for what is expected from its Mali T760MP8 configuration. Interestingly though the phone's performance exceeds the scaling we'd expect from adding two shader cores and increasing frequency to 772 MHz, as compared to the Exynos 5433-powered Note 4 Exynos. This suggests that the Exynos 5433's GPU was bandwidth-limited to some extent, in addition to any possible thermal throttling that would occur over the course of a GFXBench run. But I suspect we'll have to save the deep dive for a future article as I can't take the review unit apart to find out.