Toshiba Chromebook 2 Battery Life
After looking at performance, I was hoping that battery life might be a saving grace for the Celeron N2840. Unfortunately, the rated battery life of "up to" nine hours is pretty much spot on. The battery capacity is slightly lower than on the Acer C720 and CB13, but there's just no getting around the fact that they beat the Toshiba CB35 by a decent amount. Here are the charts: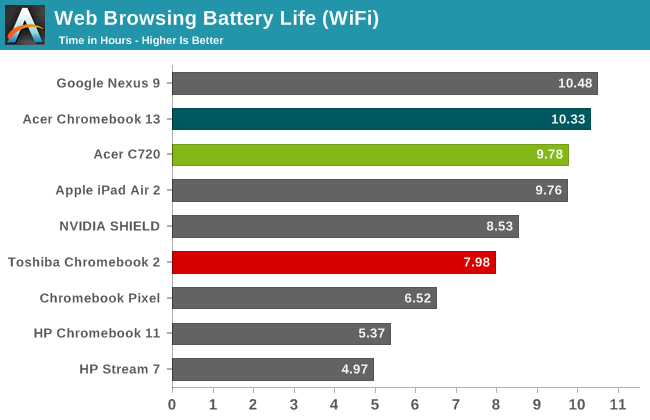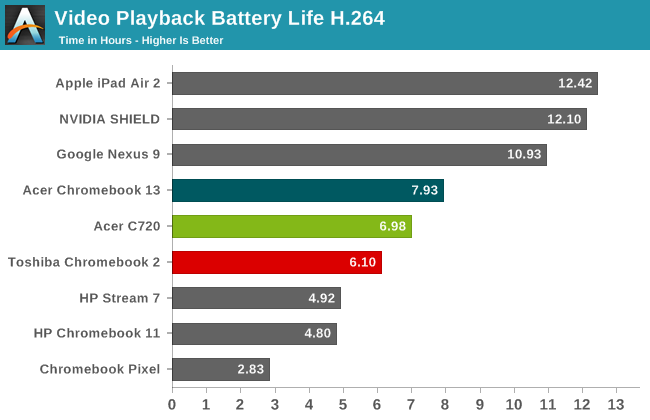 In our Internet battery life test, which is the same as our tablet WiFi battery life test, the Toshiba Chromebook 2 delivers just shy of eight hours of mobility. That would be great in the world of Windows laptops, but competing Chromebooks are now delivering closer to 10 hours of battery life. Video Playback (again, with the same 720p video we use for tablet testing) is likewise quite a bit worse than competing Chromebooks, coming in 0.9 hours short of the C720 result (though that has a smaller 11.6" display) and 1.8 hours less than the Acer CB13.
There's another way to look at things, which is the amount of power being consumed by the device. With a 44Wh battery, in our Internet test at 200 nits the Toshiba CB2 is only drawing around 5.5W for WiFi and 7.1W for 720p video, but that's almost a full 1W more than the Acer CB13 and C720 for WiFi and 1.5-2.0W more for video decoding. And then there are the tablets; the Apple iPad Air 2 draws about 2.8W in our WiFi test and the Nexus 9 just 2.4W; for video decoding, tablets (or at least, Android and iOS) fare even better, as they use even less power than in our WiFi testing – 2.3W for the Nexus 9 and 2.2W for the iPad Air 2. Both of course have significantly smaller displays, which helps tremendously, but if you're just looking for long battery life they'll win every time.
Battery life still ends up being respectable, however, as there are few times where people need an uninterrupted 8+ hours of battery life with no chance to plug in. If you're on a long flight it might be nice to get 10+, but otherwise there's usually some chance to recharge, and whether we're talking about eight, nine, or ten hours it's all still "all day battery life" at some level.