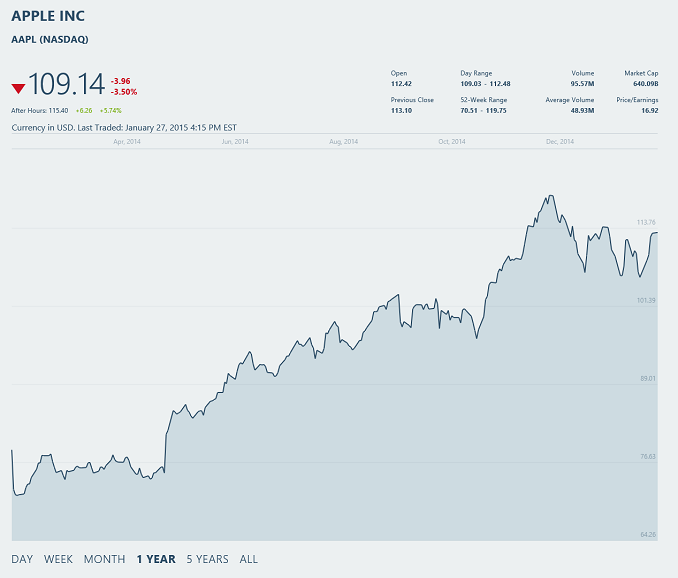 Apple announced its earnings today for their first quarter of fiscal year 2015, with the quarter ending on December 27th 2014. This was a huge quarter for them, with new iPads, iMac coming to market, and of course the iPhone which launched right at the tail end of their last quarter. New products plus the busy holiday season gave Apple its highest quarterly results ever, with a staggering $74.6 billion in revenue, and a net profit of $18 billion. That is a 29.5% growth in revenue year-over-year, and a 37.4% increase in net profit. Gross margin was up 2% to 39.9% as compared to Q1 2014, and earnings per share came in at $3.08, which was much higher than analysts' expectations.
Apple Q1 2015 Financial Results (GAAP)
Q1'2015
Q4'2014
Q1'2014
Revenue (in Billions USD)
$74.599
$42.123
$57.594
Operating Income (in Billions USD)
$24.246
$11.165
$17.463
Gross Margin (in Billions USD)
$29.741
$16.009
$21.846
Net Income (in Billions USD)
$18.024
$8.467
$13.072
Margins
39.9%
38.0%
37.9%
Earnings per Share (in USD)
$3.08
$1.43
$2.08
The story of Apple is the iPhone, which was updated in September with two new models with larger displays. Clearly the market wanted this, even if our own Ryan Smith still swears by his smaller iPhone 5 display. Sales of the iPhone for Q1 totaled 74.5 million units, with over $51 billion in revenue. Compared to Q4 2014, when the iPhone 6 and 6+ had just launched, that is a 90% increase in sales sequentially. The holiday quarter is always strong, but even year-over-year the increase in units was up 46%, with revenue up 57%. Average Selling Price (ASP) for this quarter's iPhones was $687.30, which is up significantly over last quarter's ASP of $602.92 and last year's $636.90. Clearly there was quite a bit of pent up demand for a larger iPhone.
Apple Q1 2015 Device Sales (thousands)
Q1'2015
Q4'2014
Q1'2014
Seq Change
Year/Year Change
iPhone
74,468
39,272
51,025
+90%
+46%
iPad
21,419
12,316
26,035
+74%
-18%
Mac
5,519
5,520
4,837
0%
+14%
Next up from Apple is iPad sales, which struggled over the last year. Last quarter, the Mac overtook iPad for revenue. The new iPads did reverse that trend, with a 74% increase in units sold since the last quarter. 21.4 million iPads were sold in Q1, with revenue coming in at $8.985 billion, which works out to a ASP of $419.49. While this was a big jump from last quarter, it was still down 18% year-over-year, and revenue was down 22% from Q1 2014. Sales are still good, but iPad sales have not followed iPhone sales with large growth with each new model.
The Mac had another good quarter, with a 14% increase in units sold year-over-year. Apple sold 5.5 million Macs in Q1, which was about the same as they sold in Q4 2014, but the ASP was up slightly which resulted in a 5% gain in revenue since last quarter. Year-over-year revenue was up 9%. These are great numbers, especially when the PC market as a whole has been pretty much flat for the year, and Apple has not really updated the Mac in the last couple of quarters other than the new 5K iMac.
Apple's iTunes, App Store, Mac App Store, iBooks, AppleCare, Apple Pay, and licensing fall into their Services segment, and this business line had modest growth of 4% quarter-over-quarter and 9% year-over-year, with it now pulling in almost $4.8 billion per quarter.
Other Products is the final category, and it includes iPod, Apple TV, Beats, and accessories. The lowly iPod, which vaulted Apple up through the 2000's, is no longer broken down by units sold. The Other Products category had a 42% sequential increase in revenue, and a 5% loss in revenue as compared to Q1 2014, with $2.689 billion this quarter.
Apple Q1 2015 Revenue by Product (billions)
Q1'2015
Q4'2014
Q1'2014
Revenue for current quarter
iPhone
$51.182
$23.678
$32.498
68.6%
iPad
$8.985
$5.316
$11.468
12.1%
Mac
$6.944
$6.625
$6.395
9.3%
iTunes/Software/Services
$4.799
$4.608
$4.397
6.4%
Other Products
$2.689
$1.896
$2.836
3.6%
Right now, the iPhone is Apple. It accounts for 68.6% of the company's revenue for this quarter, and iPhone revenue alone is about the same as Microsoft ($26.47B), Google ($16.52B), and Intel ($14.72B) combined. This has allowed Apple to return $57 billion to shareholders over the last twelve months, and they have declared a dividend of $0.47 per share, payable on February 12th. Looking forward, Apple is expecting revenue between $52 and 55 billion, and gross margin between 38.5% and 39.5% for the next quarter.
Source: Apple Investor Relations