Introduction
If you enjoyed part 1 of our CeBIT coverage you're definitely going to like this piece. We won't spend any time talking about the boring details so let's hop right into everything from more Hammer demos, to Intel's 845G, plastic heatsinks and more.
AMD
AMD presented their Athlon XP 2100+ (running at 1733MHz) and Athlon MP 2000+ (1600MHz) at CeBIT. These CPUs are the final incarnation of the Palomino core. They also introduced the Mobile Athlon 1600+, running at 1.4GHz.

Just like at IDF, the "really exciting stuff", the Hammer, was only displayed behind closed doors, and not shown to the public. The Hammer demo was identical to the one at IDF, of which Anand has already reported: Two machines, one running 64-bit Linux with the "bouncing balls" demo, and one running Windows XP. In addition to bouncing balls, the Linux machine was also running a web server - nevertheless, the system wasn't very busy; the 'top' command revealed that the CPU was running 99% idle. Once again, the clock speed at which the Hammer was running was not revealed.

The AMD "Solo" board was the same that was already displayed at IDF, with one minor exception: the "Intel Jingle" taunt was removed. At IDF, the board had the melody of the Intel jingle silkscreened on it. as you can see on the first image. On the CeBIT demo board (second image) this was scratched off and covered by stickers - because "the lawyers didn't find it that funny" (we did, though).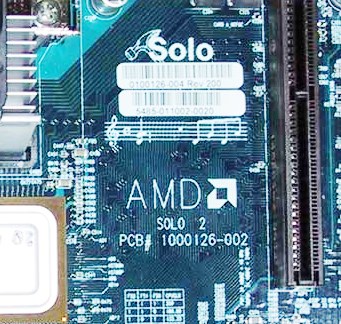 This was the Solo board from IDF, notice the musical notes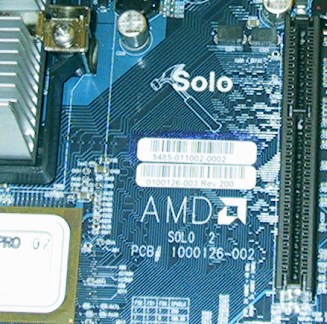 But at CeBIT, AMD's legal department rained on their parade - the notes are gone.