Twice the pin-count of Athlon
The first thing we noticed about the CPUs is that they look a lot like the Socket-478 Pentium 4 processors. In fact, AMD did borrow quite a bit from Intel in designing the packaging of the CPUs as both the ClawHammer and SledgeHammer parts feature integrated heat spreaders (IHS), a technology which Intel has been using for almost two years now. This means that there will no longer be any horror stories of crushed cores from poorly installed heatsinks or badly manufactured heatsink clips.
The next thing you'll notice, which is difficult to gauge using these words, is that the CPUs are very heavy. They are easily the heaviest socketed CPUs I've ever held, with the weight being due to the IHS; it's simply interesting that they are heavier than their counterparts from Intel.
Next you'll note that there are no capacitors on the bottom of the CPU package to aid in power delivery to the core; again there's not much information as to why this isn't necessary but it's interesting to note nonetheless.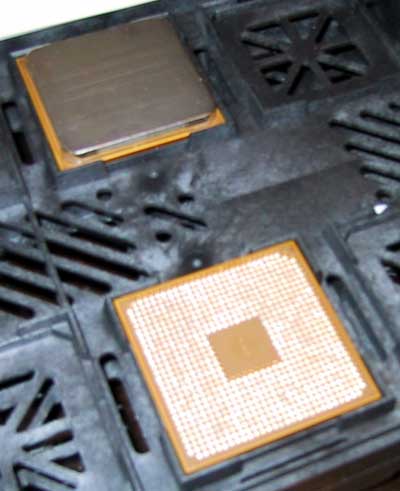 The 754-pin ClawHammer - Top featuring the IHS and bottom exposing the 754 pins.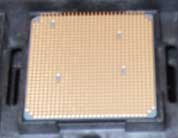 By far the most interesting thing about the CPUs from a physical standpoint is their pincount. The ClawHammer has 754 pins (up from 462 on the Athlon and even up from 603 on the Xeon) and the Sledgehammer has a whopping 940 pins which is just over twice as many as the current generation Athlon.
The majority of the pin increase when going from the ClawHammer to the Sledgehammer is apparently due to the two additional Hyper Transport links and the dual channel 64-bit DDR memory controller vs. the single channel controller on the ClawHammer. Needless to say that manufacturing these things should be interesting.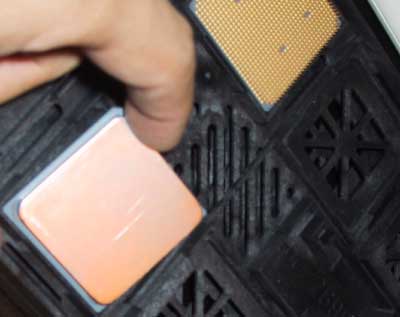 The two SledgeHammer samples
The CPUs both the same basic footprint with the difference being that the pin-side of the Sledgehammer is almost completely filled with pins while the ClawHammer has a bit of room in the center.