Flying Solo
AMD's reference board was present at the demonstration and like the ClawHammer CPU being run, the board featured A0 steppings of the two parts of the AMD-8000 chipset that was used. These chips were not more than a month old and were already up and running which is the type of accomplishment which is very rare for AMD, in fact this is a first. While we're almost used to seeing this sort of thing from Intel, it's definitely commendable to finally see it from AMD.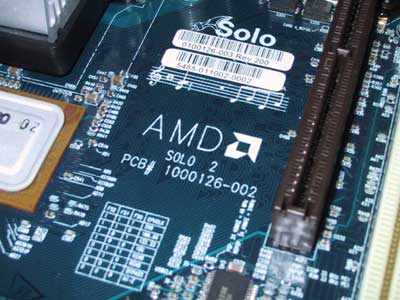 The AMD reference board goes by the name Solo, and is a pretty standard ATX motherboard. There is a single 754-pin Socket on the board for a ClawHammer CPU and it introduces what will most likely become the new (or something very similar to it) retention mechanism for AMD's Hammer line of CPUs. If you'll notice, it's again much like the Pentium 4 heatsink retention mechanism except it only uses a single clamp in the center instead of two along the sides.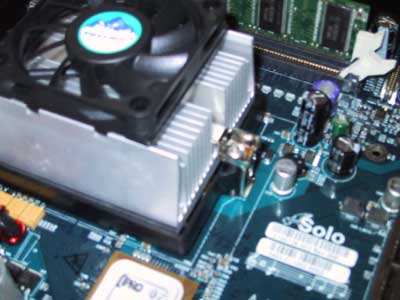 For the sake of not creating standards that unnecessarily compete with one another, we'd hope to see AMD just adopt similar specifications to what the Pentium 4 processors use so that the cooling manufacturers don't have to continue to make multiple lines of coolers.
You'll also notice that the board features an ATX12V power connector which was originally introduced with the first Pentium 4 platforms. It is still unclear as to whether or not this will become a requirement as it is on most Pentium 4 systems although it would make sense in order to prevent a repeat of what happened with the launch of the original Athlon and poor power supply support.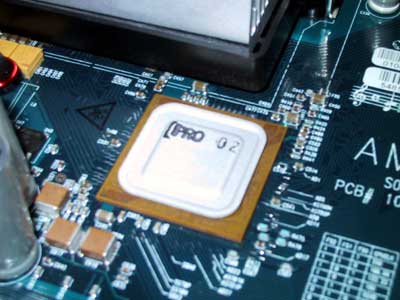 The AMD-8151 HyperTransport AGP3.0 Graphics Tunnel
There are two chips present on the Solo board that make up the AMD-8000 chipset; the chip closest to the CPU that looks like a mini-CPU is in fact the AMD-8151 HyperTransport AGP3.0 Graphics Tunnel with AGP-8X support while the chip in the position of a conventional South Bridge is the AMD-8111 HyperTransport I/O Hub. As you can clearly see in this picture, the 8-bit HyperTransport links make trace layout much simpler.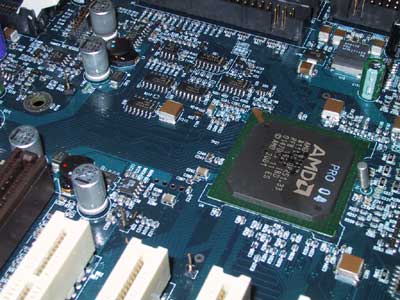 The AMD-8111 HyperTransport I/O Hub
The motherboard was outfitted with two DIMM slots and was built on a 4-layer PCB; it will shortly be making its way to Taiwan to be the basis for third party manufacturers to work off of.