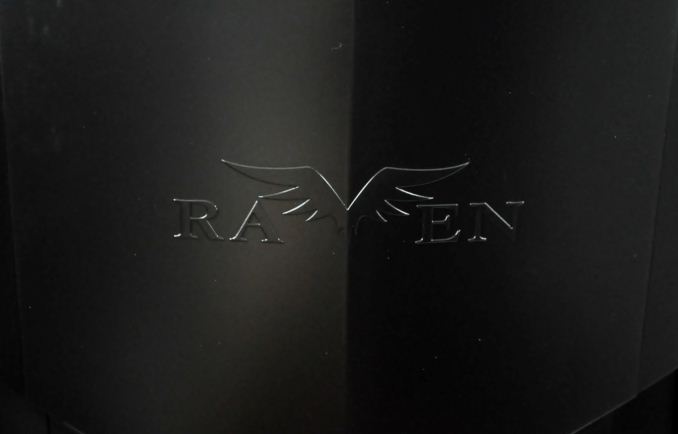 Introduction
SilverStone is a company known for their atypical, sometimes even strange case designs. The ML04 and ML05 that we reviewed several months ago are a good example, but the company offers dozens of small form factor and unique enclosures, each designed with specific applications in mind. Their designs often bend (or even entirely neglect) the ATX design guide rules. The cases of the Raven series are another example as well, with the 90° rotated motherboard design. We hosted reviews of the first Raven (RV01), the RV03 and the RV04 during the past years.
With the exception of the RV04, which does not share the 90° design, the cases of the Raven series were somewhat bulky and excessively long – features that did not make them very popular among users. In response to that, SilverStone has released the RV05, the most compact case of the Raven series to date. Despite the reduced dimensions of the case, SilverStone boasts that it retains outstanding thermal performance and usability. We will provide an in-depth look at the Raven RV05 in this review.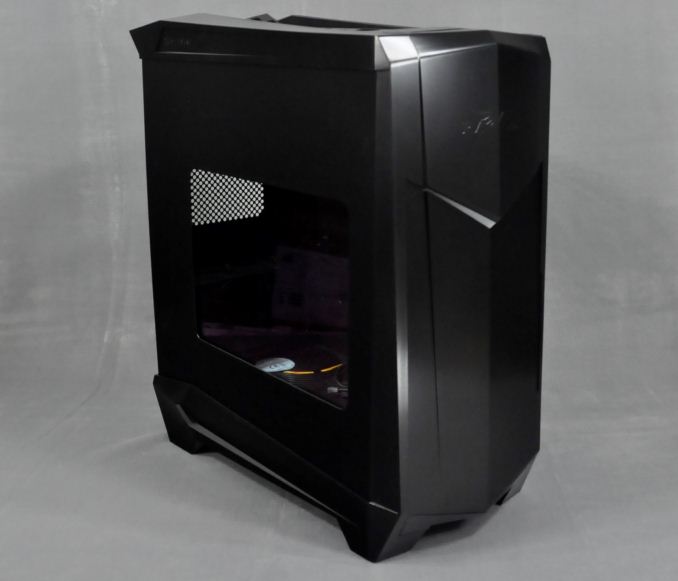 SilverStone Raven RV05 Specifications
Motherboard Form Factor
ATX, Micro-ATX, Mini-ITX
Drive Bays
External
1 x Slim Slot Loading
Internal
2 x 3.5" (front drive cage)
2 x 2.5" (rear of motherboard tray)
Cooling
Front
-
Rear
-
Top
1 x 120 mm (optional)
Left Side
-
Bottom
2 x 180 (included)
Radiator Support
Front
-
Rear
-
Top
-
Side
-
Bottom
240 mm / 280 mm
I/O Port
2x USB 3.0, 1x Headphone, 1x Mic
Power Supply Size
ATX
Clearances
HSF
160 mm
PSU
170 mm
GPU
310 mm
Dimensions
529 mm × 242 mm × 498 mm (H×W×D)
20.83 in × 9.53 in × 19.6 in (H×W×D)
Prominent Features
Signature RAVEN styling touches
Revolutionary 90 degree motherboard mounting from RAVEN RV01
Breakthrough 5.25 inch bay-free design for unprecedented power to size ratio
Two Air Penetrator fans included for great performance and quietness
Positive air pressure design for excellent cooling/quietness and dust-prevention
Quick-release latch for fast side panel removal
Front access to main filter for easy maintenance
Support for various liquid cooling radiator sizes
Price
$117 Including Shipping ($107 after rebate)
$115 for non-windowed version
Packaging and Bundle
We received the Raven RV05 in a colorful, sturdy cardboard box. The artwork is very aggressive and a bit chaotic, with pictures of the case mixed with the shadow of a raven and numerous abstract shapes. The lightweight case is very well protected inside the box, with thick Styrofoam slabs ensuring its safety during shipping.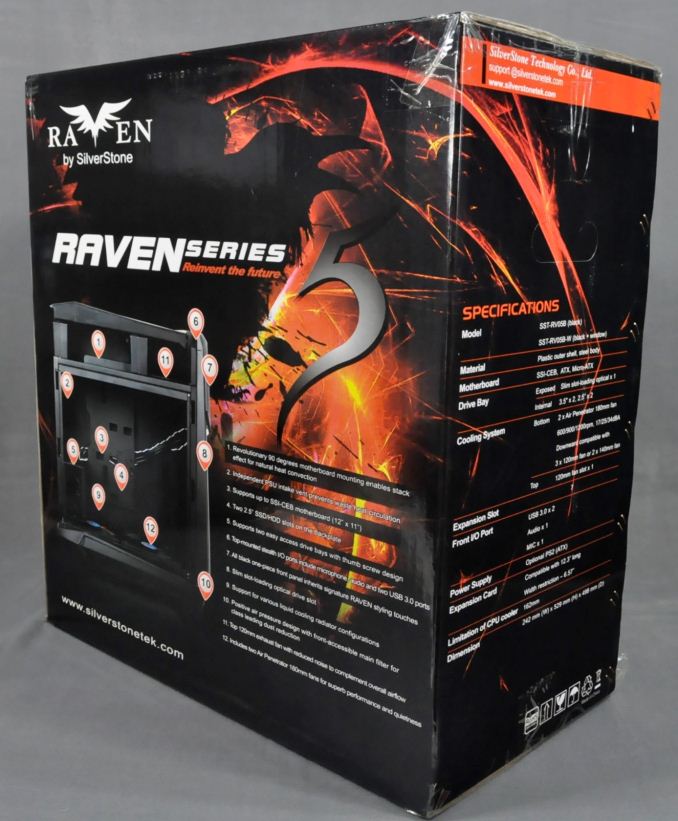 SilverStone supplies only the hardware essential for the installation of the components, a few simple cable ties, and a 120mm fan filter. There also is a very well written manual, but there are no extras such as cable straps or decorative stickers.