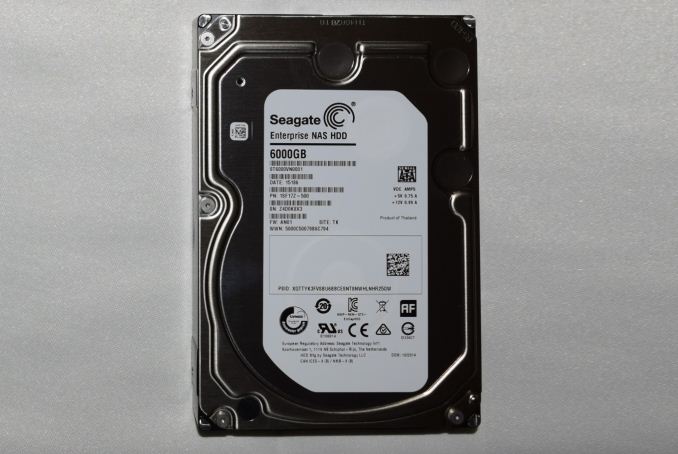 Introduction and Testbed Setup
Hard drives continue to remain the storage medium of choice for applications where capacity and cost factors outweigh performance requirements. Vendors have also realized that enterprise hard drives are an overkill for some applications, but the recently launched NAS-targeted drives do not deliver the necessary performance for those. In order to cater to that market, Western Digital introduced the WD Red Pro lineup a few months back. Last week, Seagate launched their competitor, the Enterprise NAS HDD.
We have already had comprehensive coverage of a number of 4 TB NAS drives and a few 6 TB ones. In this review, we will look at what the Seagate Enterprise NAS HDD (ST6000VN0001) brings to the market and how it compares against the other 6 TB drives that have been evaluated before.
The correct choice of hard drives for a NAS system is influenced by a number of factors. These include expected workloads, performance requirements and power consumption restrictions, amongst others. In this review, we will discuss some of these aspects while comparing the Seagate Enterprise NAS HDD against other drives targeting the NAS market. The list of drives that we will be looking at today is listed below.
Seagate Enterprise NAS HDD 6 TB [ ST6000VN0001-1SF17Z ]
Western Digital Red 6 TB [ WDC WD60EFRX-68MYMN0 ]
Seagate Enterprise Capacity 3.5 HDD v4 6 TB [ ST6000NM0024-1HT17Z ]
HGST Ultrastar He6 6 TB [ HUS726060ALA640 ]
Prior to proceeding with the actual review, it must be made clear that the above drives do not target the same specific market. For example, the WD Red targets 1- 8 bay NAS systems in the tower form factor. The Seagate Enterprise NAS HDD is meant for rackmount units up to 16 bays, but is not intended to be a replacement for drives such as the Seagate Enterprise Capacity v4 meant for higher-end enterprise use. The HGST Ultrastar He6 targets capacity-sensitive datacenter applications.
Testbed Setup and Testing Methodology
Our NAS drive evaluation methodology consists of putting the units to test under both DAS and NAS environments. We first start off with a feature set comparison of the various drives, followed by a look at the raw performance when connected directly to a SATA 6 Gbps port. In the same PC, we also evaluate the performance of the drive using some aspects of our direct attached storage (DAS) testing methodology. For evaluation in a NAS environment, we configure three drives of each model in a RAID-5 volume and process selected benchmarks from our standard NAS review methodology. Since our NAS drive testbed supports both SATA and SAS drives, but our DAS testbed doesn't, only SATA drives are subject to the DAS benchmarks.
We used two testbeds in our evaluation, one for benchmarking the raw drive and DAS performance and the other for evaluating performance when placed in a NAS unit.
AnandTech DAS Testbed Configuration
Motherboard
Asus Z97-PRO Wi-Fi ac ATX
CPU
Intel Core i7-4790
Memory
Corsair Vengeance Pro CMY32GX3M4A2133C11
32 GB (4x 8GB)
DDR3-2133 @ 11-11-11-27
OS Drive
Seagate 600 Pro 400 GB
Optical Drive
Asus BW-16D1HT 16x Blu-ray Write (w/ M-Disc Support)
Add-on Card
Asus Thunderbolt EX II
Chassis
Corsair Air 540
PSU
Corsair AX760i 760 W
OS
Windows 8.1 Pro
Thanks to Asus and Corsair for the build components
In the above testbed, the hot swap bays of the Corsair Air 540 have to be singled out for special mention.
They were quite helpful in getting the drives processed in a fast and efficient manner for benchmarking. For NAS evaluation, we used the QNAP TS-EC1279U-SAS-RP. This is very similar to the unit we reviewed last year, except that we have a slightly faster CPU, more RAM and support for both SATA and SAS drives.

The NAS setup itself was subjected to benchmarking using our standard NAS testbed.
AnandTech NAS Testbed Configuration
Motherboard
Asus Z9PE-D8 WS Dual LGA2011 SSI-EEB
CPU
2 x Intel Xeon E5-2630L
Coolers
2 x Dynatron R17
Memory
G.Skill RipjawsZ F3-12800CL10Q2-64GBZL (8x8GB) CAS 10-10-10-30
OS Drive
OCZ Technology Vertex 4 128GB
Secondary Drive
OCZ Technology Vertex 4 128GB
Tertiary Drive
OCZ Z-Drive R4 CM88 (1.6TB PCIe SSD)
Other Drives
12 x OCZ Technology Vertex 4 64GB (Offline in the Host OS)
Network Cards
6 x Intel ESA I-340 Quad-GbE Port Network Adapter
Chassis
SilverStoneTek Raven RV03
PSU
SilverStoneTek Strider Plus Gold Evolution 850W
OS
Windows Server 2008 R2
Network Switch
Netgear ProSafe GSM7352S-200
Thank You!
We thank the following companies for helping us out with our NAS testbed: