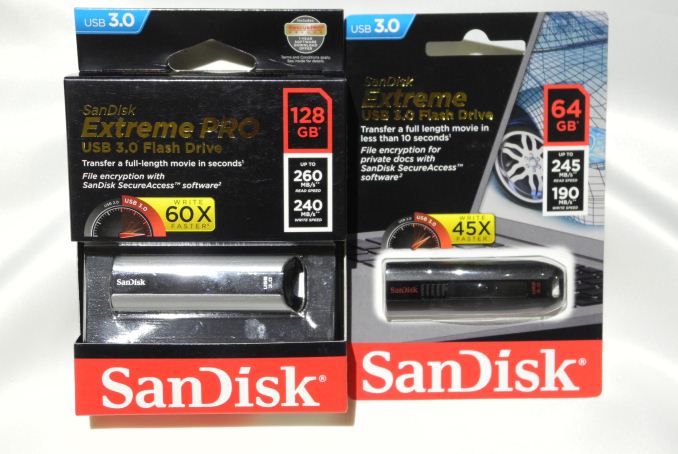 Introduction and Testing Methodology
The last few years have seen rapid advancements in flash technology and the rise of USB 3.0 as an ubiquitous high-speed interface on computers. These have led to the appearance of small and affordable direct attached storage units with very high performance for day-to-day data transfer applications. We have already looked at some flash drives with SSD controllers and a USB 3.0 - SATA bridge over the last couple of months. These include the Corsair Flash Voyager GTX 256GB using the Phison S9 controller and the Mushkin Ventura Ultra using the SandForce SF2281 controller respectively.
Today, we will be looking at what SanDisk brings to the market with the Extreme and Extreme PRO lineups. Unlike the other units we have looked at previously, these two don't use a USB 3.0 - SATA bridge, since the internal controller is native USB 3.0 and not a repurposed SATA SSD controller. CrystalDiskInfo gives us some insights into the units.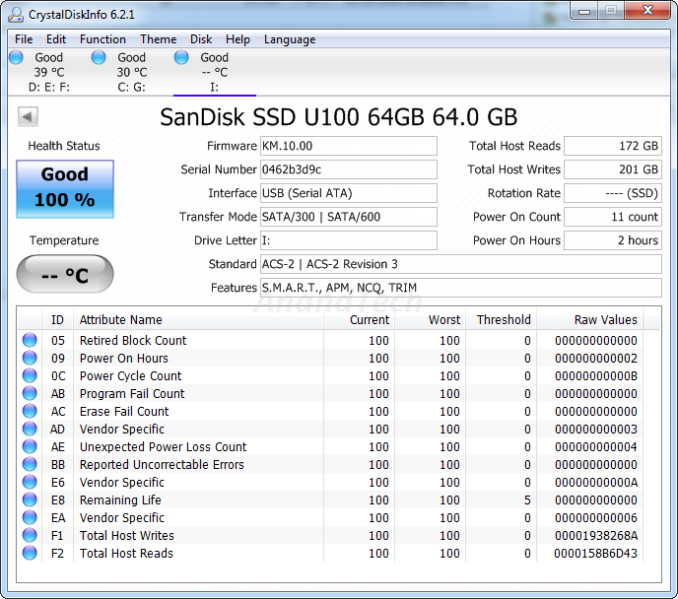 The SanDisk Extreme 64GB seems to be based on the U100 SSD with a SATA - USB 3.0 bridge. Even though TRIM is reported as supported, we were unable to get it to work through the bridge configuration. The information provided for the Extreme PRO, however, seems to be a bit off. The unit is definitely not a pSSD. Both sets of information need to be takn with a pinch of salt.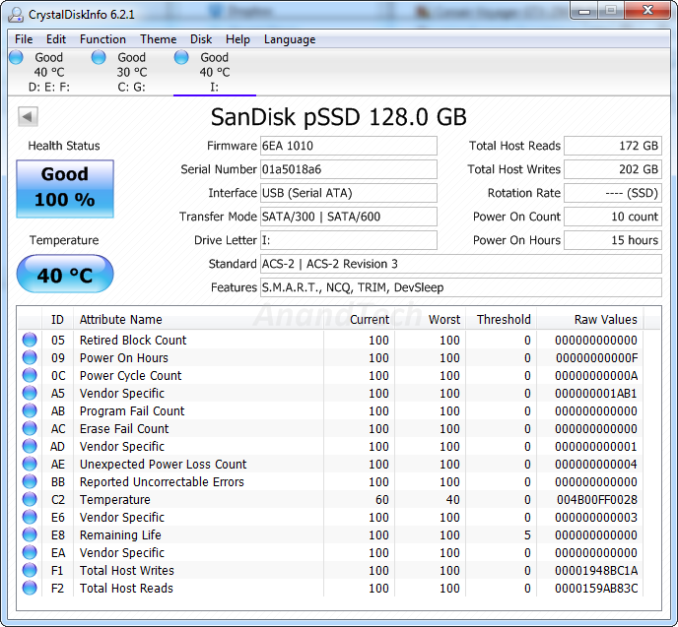 The Extreme unit comes with a maximum capacity of 64 GB, while the Extreme PRO update which came in earlier this year has a maximum capacity of 128 GB.
Both lineups use a retractable USB 3.0 connector. They come with a 1-year license for LC Technology's RescuePRO Deluxe data recovery software. Another important differentiation aspect is SanDisk's SecureAccess software that allows for creation of encrypted folders within the flash drive. It uses AES and is quite secure, but forum posts suggest that it is not very reliable. Additionally, the encryption is done in software. Performance would vary with the capabilities of the host system. Given these aspects, we don't believe it is worth the trouble and/or risk to utilize this feature. Users requiring encrypted flash drives are advised to look for ones with hardware encryption (which cost quite a bit more for the same capacity, though).
Testbed Setup and Testing Methodology
Evaluation of DAS units on Windows is done with the testbed outlined in the table below. For devices with USB 3.0 connections (such as the SanDisk units we are considering today), we utilize the USB 3.0 port directly hanging off the PCH.
AnandTech DAS Testbed Configuration
Motherboard
Asus Z97-PRO Wi-Fi ac ATX
CPU
Intel Core i7-4790
Memory
Corsair Vengeance Pro CMY32GX3M4A2133C11
32 GB (4x 8GB)
DDR3-2133 @ 11-11-11-27
OS Drive
Seagate 600 Pro 400 GB
Optical Drive
Asus BW-16D1HT 16x Blu-ray Write (w/ M-Disc Support)
Add-on Card
Asus Thunderbolt EX II
Chassis
Corsair Air 540
PSU
Corsair AX760i 760 W
OS
Windows 8.1 Pro
Thanks to Asus and Corsair for the build components
The full details of the reasoning behind choosing the above build components can be found here.
The list of DAS units used for comparison purposes in the rest of the review is provided below.
SanDisk Extreme PRO 128GB
SanDisk Extreme 64GB
Corsair Voyager GTX 256GB
LaCie Rugged Thunderbolt 500GB
Mushkin Atom 64GB
Mushkin Ventura Ultra 120GB
VisionTek Pocket SSD 240GB