AMD CrossFire Performance
Update, 10/24: Turns out there's a "hidden" setting in the configuration file that needs to be manually enabled for Mantle SFR rendering on CrossFire setups to work. Go to your configuration file (%homepath%\Documents\my games\Sid Meier's Civilization Beyond Earth\GraphicsSettings.ini) and change the one line to say "Enable MGPU=1". This will allow Mantle SFR to work properly. I had to retest CrossFire performance, and the updated results are below, with a more detailed explanation posted in a separate article.
Last but not least we have some early results for CrossFire performance. With the appropriate tweak to the configuration file, Mantle CrossFire support adds an interesting wrinkle to the mix. Regular CrossFire still works as usual, but minimum frame rates take a hit relative to single GPUs even while average framerates improve. Here are a couple graphs showing scaling of performance as we move through the various settings. I've included both single GPU and CrossFire results for the R9 280 and R9 290X, both with and without Mantle: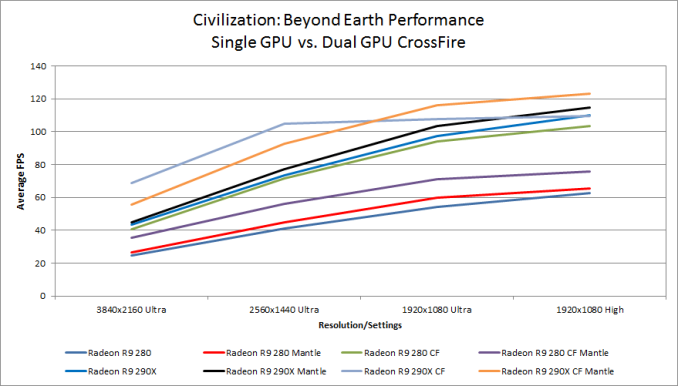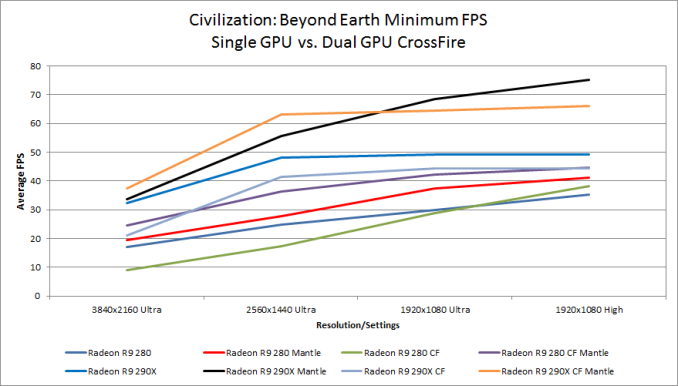 CrossFire 290X ends up pushing past the 60FPS barrier, even at 4K with 4xMSAA, so that's quite a feat. Except, minimum frame rates take a hit and go from 32FPS with a single 290X to 20FPS with CrossFire 290X. Enabling Mantle changes the story quite a bit; the CrossFire Mantle configuration can't quite push past 60FPS, but at 56FPS it's at least close and the minimum frame rate of 37FPS is better than both the single GPU and single GPU with Mantle figures.
We can also see quite nicely in this graph that the CPU bottleneck at High and Ultra settings is around 110-120FPS, even with a 4.1GHz Core i7-4770K, while our minimum FPS bottleneck is even lower: 65FPS for CrossFire Mantle and 49FPS with a single 290X (without Mantle).
As for the R9 280 CF configuration, the two Tahiti GPUs (without Mantle) come just short of matching the performance of a single R9 290X Hawaii card. Mantle again improves minimum frame rates, but the gap between R9 290X Mantle and R9 280 CF Mantle grows. This is one more reason why we generally prefer single GPU configurations, at least up to the point where you have the fastest GPU you can buy.