A true console's I/O
The GameCube has no built in hard drive, Ethernet or modem although there are expansion ports for all of these devices. Nintendo has already shown off what will become their Ethernet and modem adapters for the console but it is questionable how successful a major add-on product will be on a console. History has shown us that there is very little support for things like add-on storage devices mainly because of a lack of developer support. Developers are already limiting their options by releasing a title on a specific console, but they further limit themselves if they require the purchase of an add-on such as a hard drive or Ethernet adapter as well. This time around may be different, but based on things such as the Sega CD and the horribly executed 64DD drive we wouldn't expect too much potential from add-on products for the GameCube.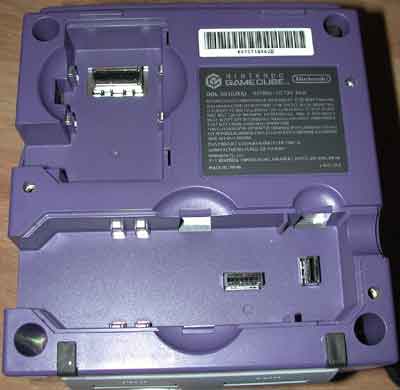 Click to Enlarge
The console does feature two serial ports and a high-speed parallel port for these future add-ons, all of which are driven by the Flipper chip which houses the IO controller for these ports. The two serial ports are proprietary designs (not USB like the Xbox) that can transfer at speeds up to 27Mbps. While this means that the Ethernet adapter will be limited to far below 100Mbps, 27Mbps is more than enough considering you won't be copying large files to anything on the Cube. The bandwidth is more than enough for the forthcoming 56K modem.
The high-speed parallel port is also a custom design capable of transferring data at up to 81MB/s (the same speed as the Cube's internal audio DRAM). This would be more than enough for a hard drive.
Save games are stored on memory cards that are not bundled with the system. These memory cards measure 512KB in size and are known as the Memory Card 59 because of their 59 save blocks. Most games take anywhere between 1 and 4 blocks for general saves although some take more like 10 or even up to 40 for saving a full season of Madden 2002. The benefit to these smaller cards (compared to Sony's 8MB card) is that they can be priced much cheaper at $15 for more than enough space for most users. Accessing the memory cards is considerably faster than accessing the PS2 memory card.
Again, it is questionable how successful these add-on parts will be over the lifespan of the Cube. With Xbox owners currently taking advantage of the integrated Ethernet (a very cheap thing to include), we'll just have to wait and see how the Cube fares online.