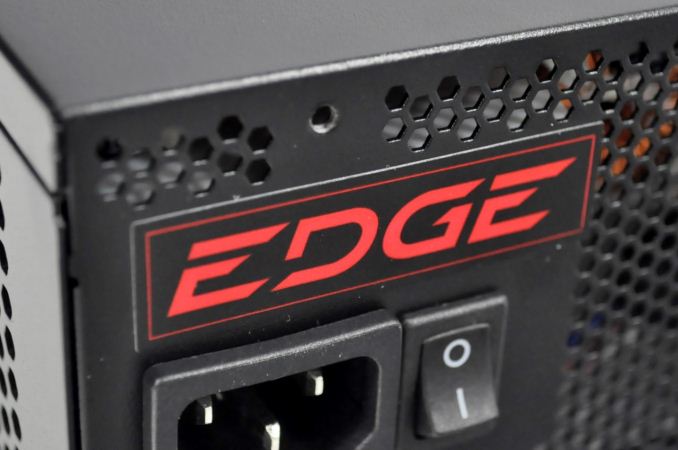 Introduction
Even though there are plenty of >1kW consumer power supply units available today, it is well known that these represent a very small portion of the actual market, as the power requirements of a typical home or office PC are far lower than that. After reviewing several top-tier products, such as the efficient Seasonic Platinum 1200XP3 and the ruthless Corsair AX1500i, today we will have a look at something a lot more sensible and appealing to the average user. In this review we examine the newest PSU series from Antec, the EDGE.
Antec is a company that has always been focused on efficient and practical products rather than developing numerous high output units. They do have one 1.3kW high performance PSU available but that's about it; the bulk of their PSU products exist in the 550W to 750W power range. This is the exact range of the newest EDGE series as well, which consists of three units starting at 550W and going up to 750W. We're looking at the least powerful model today, which still has ample power for the vast majority of home users and casual gamers.
Power Specifications ( Rated @ 50 °C )
AC INPUT
100 - 240 VAC, 50 - 60 Hz
RAIL
+3.3V
+5V
+12V
+5Vsb
-12V
MAX OUTPUT
20A
20A
45A
2.5A
0.3A
100W
540W
12.5W
3.6W
TOTAL
550W
Packaging and Bundle
We received the Antec EDGE 550W in a colorful cardboard box that clearly specifies the focus of the PSU: silence. The box is large and strong enough to adequately protect the unit during transport. For those that are shelf-browsing, the most important features are printed on the front and sides of the box, while details can be found on the rear side.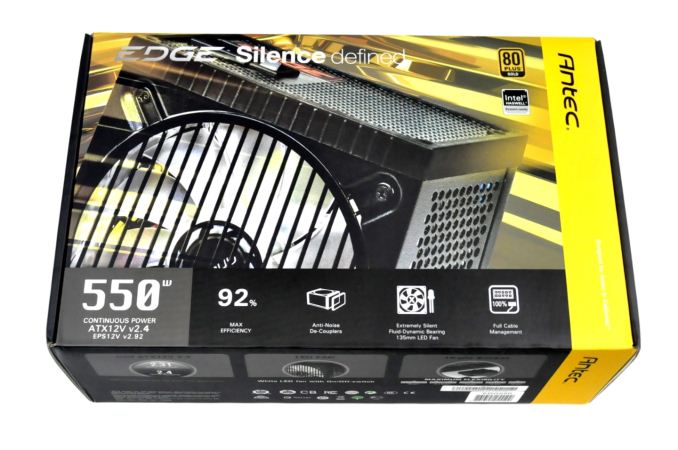 Antec kept the bundle relatively simple. Inside the box is an AC power cable, four mounting screws, a small leaflet with basic information about the unit, a very simple pouch, and anti-vibration dampers. It is noteworthy that Antec supplies two sets of dampers, one red and one black, allowing the user to select between an aggressive or subtle appearance.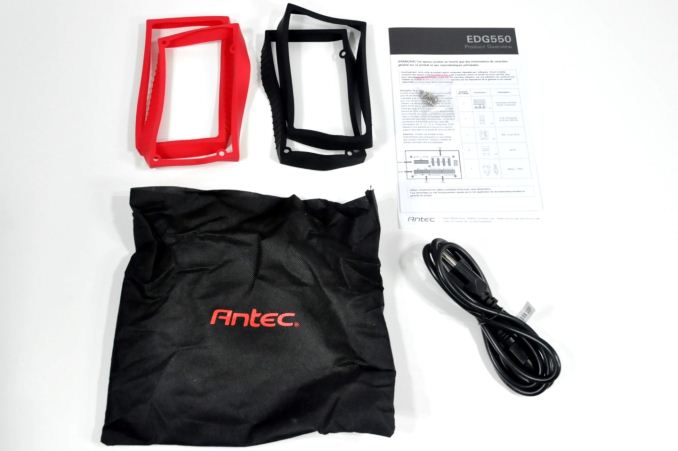 The EDGE series is fully modular and the cables are all supplied in a nylon bag. Only the few pictured cables accompany the 550W model, effectively limiting the user to just one GPU as there are only two 6+2 PCI Express connectors available. On the other hand, there are eight SATA connectors, which is quite a lot for a 550W model. With the exception of the ATX 24 pin connector cable, all of the cables are black, flat, ribbon-like cables. The 24-pin cable also makes use of all-black wires but they are covered with a normal black sleeving instead.