nForce in Action (continued) – The MCP-X
In spite of the Xbox's host CPU being an Intel processor, the IGP and MCP of the platform are still connected by AMD's HyperTransport bus.  The bus is of course processor independent and is still just as important in Xbox as it is on nForce.  The characteristics of this HyperTransport link are unchanged from the nForce platform; it still offers 800MB/s of bidirectional bandwidth between the IGP and MCP along with isochronous virtual channels that offer dedicated bandwidth to memory for things like the network controller and APU.  Again, we've already covered this in great detail here.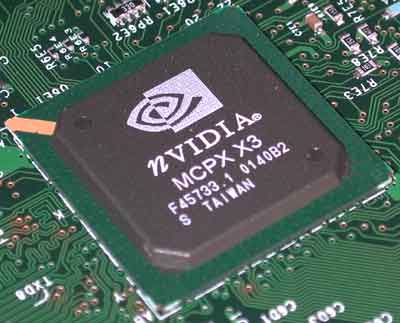 The Xbox Media & Communications Processor (MCP) is identical to the nForce's MCP-D with Dolby Digital encoding support.  The ability to do real time Dolby Digital encoding is very important on a console for many reasons including one of the most basic – it would be a pain to feature 6 analog outputs on the Xbox console itself as well as expect gamers to have a free set of 6 channel inputs on their receivers.  Xbox was designed to bring 5.1 channel gaming to the mainstream market and with Dolby Digital encoding and a single toslink optical audio cable coming out of the optional Advanced or HD A/V boxes, it has the hardware to do it. 
While 5.1 audio solutions have been around on the PC for years, games have yet to take full use of the capabilities.  However on Xbox, even the launch titles are making use of some of the 5.1 capabilities of the platform.  It is clear that there is much room to improve as titles such as Halo don't make proper use of the center channel in a 5.1 setup.
The integrated 10/100 Ethernet controller of the MCP-D makes the Xbox very internet-ready as it ships with a built in 10/100 Ethernet port.  Microsoft has yet to announce their official plans for taking the Xbox online and unfortunately by default the Xbox's Ethernet port is not set to receive an IP from a DHCP server so for now the only use for the Ethernet port on the unit is to link multiple Xbox systems together.  This is done through the use of conventional CAT5 crossover cables when going from system to system; Microsoft sells a system link cable for $15 that is nothing more than a conventional CAT5 crossover cable.  It's very interesting to note that Microsoft isn't charging a much higher price for the link cable considering that they could claim much higher profit margins on the relatively cheap part.