nForce in Action (continued) - The X-Motherboard
The motherboard itself is manufactured by Intel and is a 4 layer design.  Intel's trademark debug pins are also present on the motherboard although the pins themselves are missing.  For those of you that have never used an Intel motherboard before, shorting the debug pins allows you to enter the BIOS configuration utility.  We have yet to try shorting the debug pins on our unit but we'd be surprised if doing so didn't have a similar effect.  You shouldn't expect too much to be contained within the Xbox BIOS but it'd be something interesting to toy around with in any case.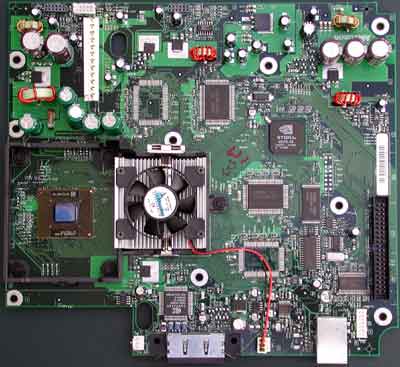 Click to Enlarge
The power connector on the board is reminiscent of an AT style connector in that it is a single row of 10 pins however it's clearly a proprietary power interface.  The power supply is not covered (the same is true for the PS2 PSU, it's done to save space) so you should exercise much caution when working on the inside of the Xbox.