Synthetics
As always we'll also take a quick look at synthetic performance. As we briefly discussed in our look at the GCN 1.2 architecture these tests mainly serve as a canary for finding important architectural changes, and one of these tests in particular has been significantly impacted by AMD's newest round of architectural improvements.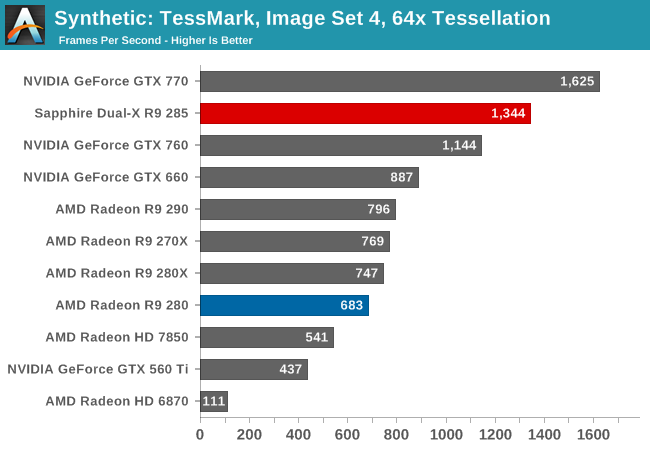 At the x64 tessellation factor we see the R9 285 spit out 134fps, or equivalent to roughly 1.47B polygons/second. This is as compared to 79fps (869M Polys/sec) for the R9 290, and 68fps (748M Polys/sec) for the R9 280. One of the things we noted when initially reviewing the R9 290 series was that AMD's tessellation performance didn't pick up much in our standard tessellation benchmark (Tessmark at x64) despite the doubling of geometry processors, and it looks like AMD has finally resolved that with GCN 1.2's efficiency improvements. As this is a test with a ton of small triangles, it looks like we've hit a great case for the vertex reuse optimizations.
Moving on, we have our 3DMark Vantage texture and pixel fillrate tests, which present our cards with massive amounts of texturing and color blending work. These aren't results we suggest comparing across different vendors, but they're good for tracking improvements and changes within a single product family.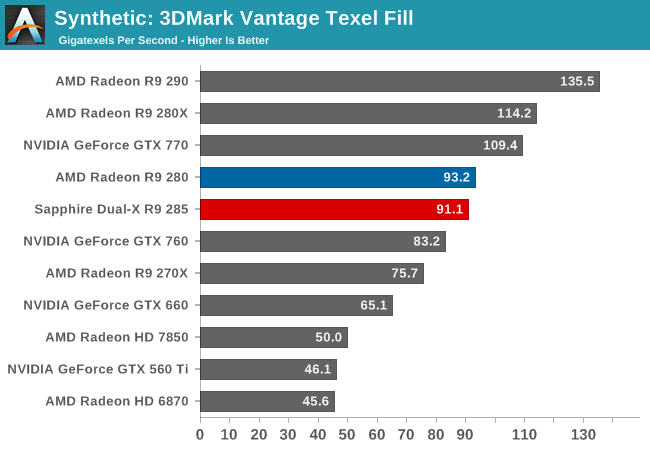 With AMD maintaining their same texture units and same tex:FP32 ratio for Tonga, the end result is that R9 285's texturing performance is virtually identical to R9 280's. Ignoring any possibility of caching or bandwidth bottlenecking for the moment, R9 285 can push texels just as well as R9 280 could.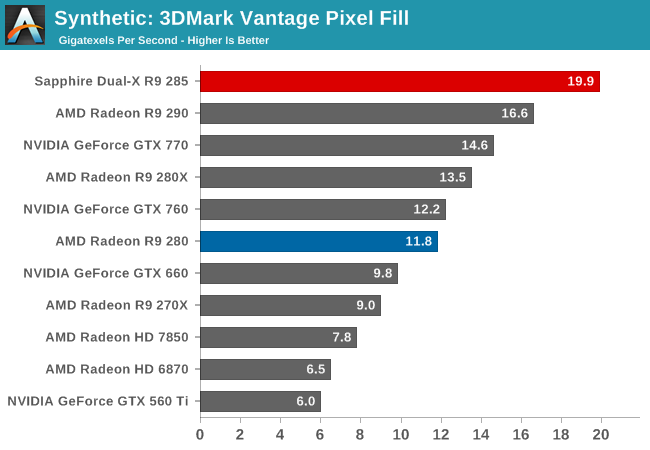 Unlike our texel test, AMD's delta color compression technology introduced on GCN 1.2 has an incredible impact on R9 285's pixel throughput. This pixel test is normally memory bandwidth bound, providing something that approaches a best case scenario for AMD's compression technology. As a result despite possessing nearly 30% less memory bandwidth than the R9 280, the R9 285 tops our charts at 19.9 GPix/sec, blowing past the R9 280 by 68%. Even the R9 290 with its 512-bit memory bus and doubled ROP count still falls short here by over 3GPix/sec, or 16%.
This benchmark in a nutshell is why AMD can deliver the average performance of the Tahiti based R9 280 without Tahiti's memory bandwidth. By improving their color compression to this point AMD can significantly reduce their memory bandwidth requirements on GCN 1.2, allowing them to do more with less. In real games the result won't be anywhere near this remarkable since this is a pure pixel fillrate test, but it goes to show that AMD has been able to neutralize their memory bandwidth deficit in graphics workloads.