Next Stop: the Uncore
Continuing with our review of Haswell architecture, let's again take a step back and use the Xeon 5500 as our reference point. The Xeon 5500 is based on the "Nehalem" architecture, and it helped Intel become dominant in the server market. Before the Xeon 5500, AMD's Opteron was still able to outperform the Xeons in quite a few applications (HPC and virtualization for example), even by significant margins. That changed with Nehalem, so the Xeon 5500 is a good reference point.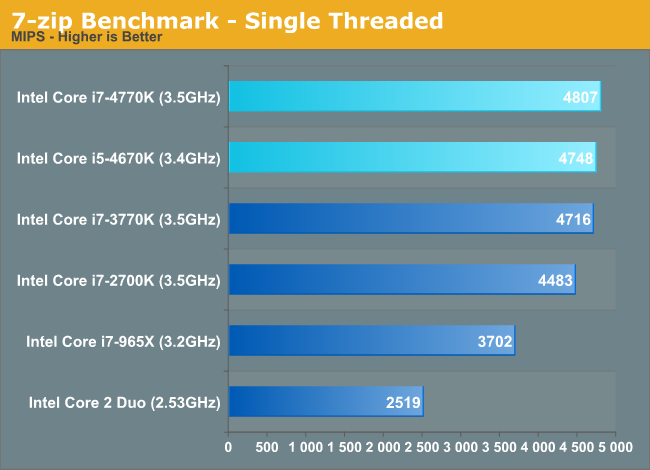 The 27% cumultative IPC (integer only) improvement of Haswell mentioned is more than just theory: Anand's review of the desktop Haswell CPUs confirmed this. The Haswell Core i7-4770k at the same clock speed is about 21% faster than Nehalem. Now that is below the promised 27% performance increase, but 7-zip is among the applications known to have very low IPC.
Let's go back to the server world. Instead of increasing the clock speeds, clock speeds have declined from 2.93-3.2GHz (Xeon 5500) to 2.3-2.6GHz for the latest high-end parts. However, when Turbo Boost is enabled, 2.8 – 3.1GHz is possible with all cores active. So the clock speed of the high end server CPUs is actually 5 to 20% lower and not 10% higher as in the desktop space. The gains Intel has made in IPC are thus partly negated by slightly lower clock speeds.
Clock speed has clearly been traded in for more cores in most of server SKUs. But the additional cores can prove extremely useful. The SAP S&D application – one of the best industry benchmarks – runs about three times faster (see further) on the latest Xeon E5-2699 v3 than on the Xeon 5500.
This clearly puts into perspective how important the uncore part is for Xeons. The uncore parts makes the difference between a CPU that is only good at running a few handpicked benchmarks (like SPECint rate) but fails to achieve much in real applications, vs. an attractive product that can lower the IT costs by running more virtual machines and offering services to more users.