Java Server Performance
According to the documentation, the SPECjbb 2013 benchmark has "a usage model based on a world-wide supermarket company with an IT infrastructure that handles a mix of point-of-sale requests, online purchases, and data-mining operations". It uses the latest Java 7 features and makes use of XML, compressed communication, and messaging with security. We tested with four groups of transaction injectors and backends.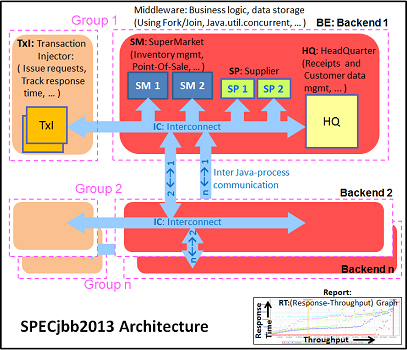 Several readers commented that we should try to optimize for lower response times instead of just optimizing for maximum throughput, so we have changed our relatively basic tuning. We left out "+AggressiveOpts" as this is still somewhat a risk for stability and the performance does not increase tangibly, and we used "-XX:+AlwaysPreTouch". Also we are more generous with the amount of allocated memory. These results are thus no longer comparable to our previous results. Our full parameters are:
"-server -Xmx8G -Xms8G -Xmn4G -XX:+AlwaysPreTouch -XX:+UseLargePages"
With these settings, the benchmark takes about 47GB-52GB of RAM. The first metric is basically maximum throughput.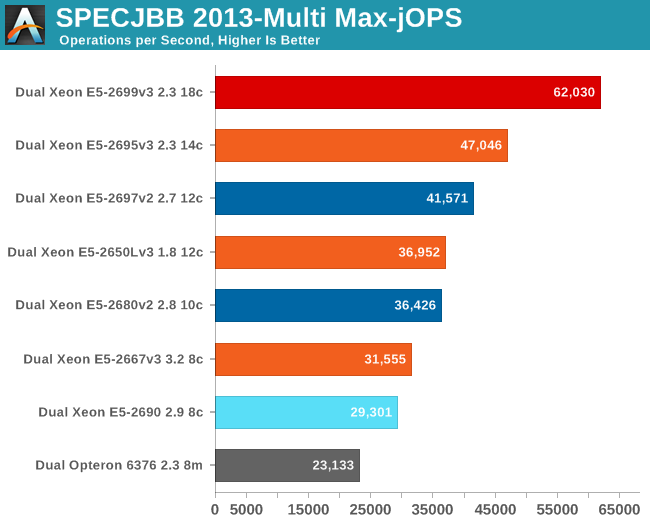 Our new tuning has resulted in higher results, and all of the new Xeon scale well. However, if you start looking at it from a performance/watt perspective, the results are good but not spectacular. The power consumption of the Xeon E5-2695 v3 is similar to the Xeon E5-2697 v2, and the former has a 13% performance advantage.
The Critical-jOPS metric, is a throughput metric under response time constraint (SLA).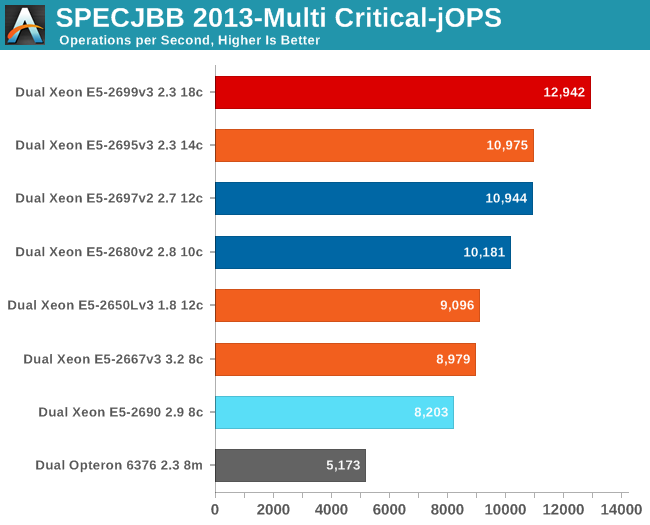 With our new tuning, the critical jOPS make a lot more sense, so we believe we have taken a step forward. Notice that the Xeon E5-2695 v3, despite its clock speed disadvantage (2.3 at least, 2.8 at the most), is capable of keeping up with the Xeon E5-2697 v2 (2.7 at the least, 3GHz at the most). The improvements in Haswell are measureable.
However, it must be said that while this is a step forward if you're buying a server, it's not a large one. You get 13% more throughput and the same response time for a few hundred dollars less (Xeon E5-2695 v3 vs E5-2697 v2).