SAP S&D
The SAP S&D 2-Tier benchmark has always been one of my favorites. This is probably the most real world benchmark of all server benchmarks done by the vendors. It is a full blown application living on top of a heavy relational database. And don't forget that SAP is one of the most successful software companies out there, the market leader of Enterprise Resource Planning.
We analyzed the SAP Benchmark in-depth in one of our earlier articles:
Very parallel resulting in excellent scaling
Low to medium IPC, mostly due to "branchy" code
Somewhat limited by memory bandwidth
Likes large caches (memory latency)
Very sensitive to sync ("cache coherency") latency
Let us see how the new Xeon E5 fares in this ERP benchmark.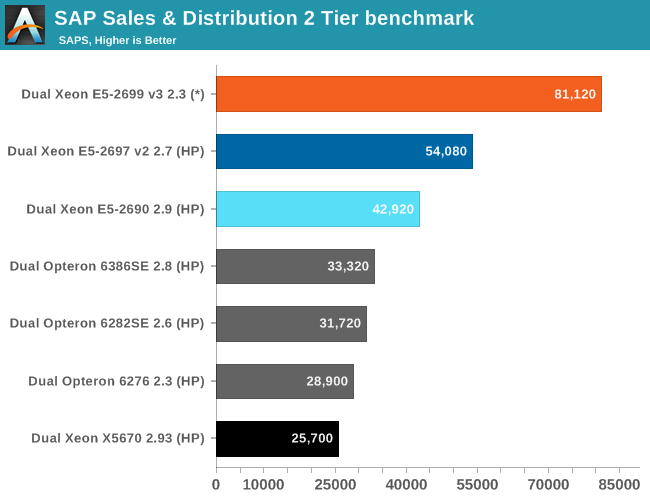 (*) Preliminary data
The SAP application is very well optimized for NUMA, so the Cluster On Die snooping mode gives a small but measureable boost (about 5%). The huge L3 cache is a blessing for SAP S&D, as it misses the L2 cache more often than most server applications. Last and but not least, once you have the caching part covered, SAP S&D scales well with more cores and it shows. Intel has been able to almost double SAP performance in about 2.5 years with one "tick-tock" cycle.