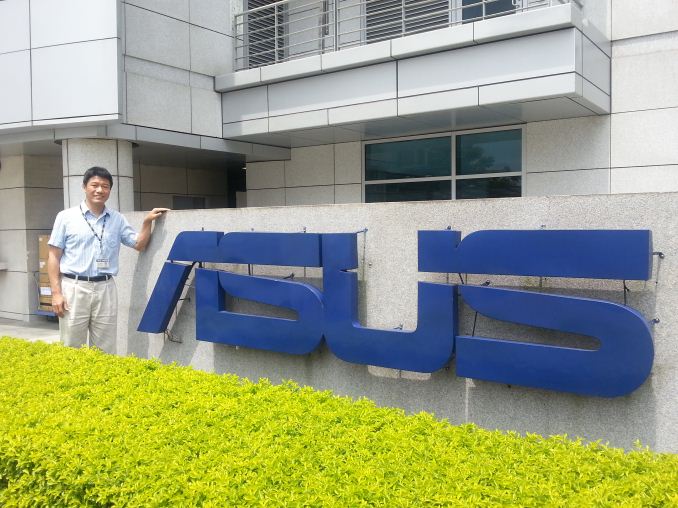 Following our interviews previously with Rod O'Shea at Intel UK, Kris Huang at ASUS and Jackson Hsu at GIGABYTE, I was offered the opportunity to spend some time with Dr Albert Chang, the Senior Division Director in R&D for the entire Motherboard Business Unit at ASUS. The motherboard design and testing facilities span several floors of their headquarters, which we toured during Computex. I would like to thank ASUS and Dr Chang for their time and this opportunity.
Ian Cutress: Everyone sees a corporation, but there are always interesting people to talk to. Everyone has a back story and it is always interesting to hear how people have risen to where they are. Your business card says 'Division Director' – what exactly does a Division Director do?
Albert Chang: I am the ASUS motherboard R&D head, so I have three major teams. One of these is in Taiwan, with two others in China. The team in Taiwan focuses on ROG, with the other two in China for channel motherboards and SI customer designs.
IC: What is your typical day?
AC: Usually I have to review all the projects. We usually have 20-30 projects running at the same time. Being one person it can be hard to review all details, but I have staff that report to me and then I can discuss any problems in case any department needs assistance or approval.
IC: How long have you been in this position at ASUS?
AC: I have been Division Director for two years and at ASUS since 2002 straight after finishing my PhD from the National Taiwan University. I started as an engineer, checking datasheets and layouts. At ASUS, as a motherboard engineer, you are the project owner and you have to discuss everything with the Product Manager (layout, engineering) and others like the power and layout engineers. We had to design based on the specification sheets and confirm with layout engineers. I managed a couple of people at that time, and a lot more now!
IC: With regards to your education, what were your courses?
AC: I majored in Electrical Engineering, with a focus on Power Electronics. I finished my PhD at 28 and joined ASUS at that time.
IC: In your position, do you work a '9-to-5', or do you have to come in on weekends?
AC: Sometimes at weekends, especially to have meetings with either North America or Europe, or to fix major issues that rise up. I have a family, but they are not too keen on me coming in on weekends! I sometimes have to buy cake or a gift when I get home!
IC: As Division Director, do you get final say on what happens with the motherboards?
AC: On the engineering side, yes, but there are also the firmware and software teams.
IC: Does the sales department ask you to do certain designs?
AC: All requests of that nature go through the product managers, who relay information through to R&D. So for ROG, Kris Huang (we interviewed him in 2012) is the product manager.
IC: How does user demand get fed back into designs?
AC: Typically I will speak to our product managers (both sales and marketing), or our technical marketing teams directly who monitor the forums and produce reports about user experience. Sometimes I like to hear direct from the teams gathering this information and interacting directly with the users, especially with our major regions such as North America. We have to look at the global market, and decide on ideas or features that benefit everyone.
IC: In terms of ideas for future platforms, who gets them/where do they come from?
AC: We initially look at our competitors' product, to see which direction they are going, and also examine media reviews to see which options they like or want to see improved. Features like the OC Panel come from the engineers in the ROG team. Because I am only one person, we encourage every engineer to share any ideas in meetings so we can discuss them. There are multiple streams – some from in-house engineers, some from feedback, and some from product managers.
IC: What percentage of users need to request a feature before it is implemented?
AC: If a request comes up repeatedly, we evaluate the idea based on relevance and increased cost on the motherboards. For example, adding DC and PWM fan control on the motherboard came from a core group of users that wanted to be able to have the control. It also helps if the media notice the new feature as well, and can help relay this to other users.
IC: How is market research for new ideas performed?
AC: We have the forums, but also social media plays a role. We sometimes give users a choice between two features (for example, audio codec A or B), and even if we only get 40 or so responses, we weigh up the percentages. The product managers for each region that understand their customers can also have input on new ideas.
IC: At what point in the product cycle to you start looking at the next generation of motherboards? If you released a motherboard today, how far back would you have to start planning for it?
AC: At least nine months, in terms of the start point in thinking about what we want to do.
In the first three months, we will start analyzing the new major features for the CPU and chipset generation from the CPU manufacturer guidelines, paying attention to the differences to the old platform. We also look over bugs from the old generation, or ideas that we could not implement in the last generation. We also check the competitors' products for the last generation, including the feedback from their users. At that point we talk to the major IC vendors (Renesas, ASMedia, Qualcomm Atheros) for their plans and roadmaps for the next 6-9 months so we have the latest for launch.
In month four, we finalize the segmentation for the product line, including form factor, and start the circuit design. We also work with Intel with early samples which can have a lot of bugs, so we report back to Intel in terms of processor and chipset evaluation for their PVT/first stepping samples. The microcode gets revised several times. We take 4-6 weeks for the circuit design before we get the first motherboards ready for testing, and by this time we have those Intel CPU samples for testing.
We build 60-100 boards for a sample run when the design is coming together, for validation, reliability, checking the power and everything. This includes the aging tests, such as high temperature stress testing. Typically our rule is a 12 hour test at this point, and if there are any errors in those twelve hours for these pre-production models, we then have to check it. The process of testing, changing and retesting can take up to three months to catch any bugs. At every change or iteration due to hardware bugs, we need to retest and revalidate.
At 7.5 months, we are at PVT stage before mass production. We ensure all the third party IC orders are in and will work with the motherboards. We work with factories in China for mass production and place our orders with them to build our motherboards. We have to check the production quality of the factory output. We typically send project managers or leaders to manage production and work with the factories in terms of managing the schedules as well as quantity.
Mass production starts about a month before launch, and in that time we also distribute hardware around the world. This also involves the sales teams talking to their local regional SIs, as well as inviting media to preview events. Typically the media receive samples from the first mass production batch.
IC: So by the timeline, users and media need to start asking for certain features around 5-8 months before a launch! We normally do not know that there is a launch until it almost happens.
AC: Yes, sometimes changes late in the day are difficult to do. But we keep the ideas generated throughout the generation and see what we can apply next time around. But for example, with the memory design, we do not always follow Intel guidelines. We have our own memory team and do a lot of simulations based on layout and tracing to find the best way to get the most out of the memory. We want to better than the reference design, and ROG team is the best at pushing the new designs. So if we want the best memory records, we need to have the best design.
IC: How long is the lead time, from placing an order to receiving stock, for the controllers?
AC: For the testing motherboards, we usually can get stock within a week or two. For the mass production, if it works in our design, it is more like 4-6 weeks. This includes other things like the PCB, which can sometimes be over 6 weeks.
IC: When do you start designing the additional materials (box, foam inserts, manuals)?
AC: We go through a lot of internal discussions, and there are a lot of revisions when it comes down to design. The design teams talk to sales and see what the competition are doing, but early design talks can be 6-9 months away from a launch, as the tracing teams are designing the motherboards.
IC: When you mention 60-100 motherboards for a sample run, is that 100 motherboards for every SKU? So for the seven Z97 channel motherboards, you would have almost 700 samples?
AC: Yes, every SKU, of course!
IC: In terms of product production goals, what would be your main goals in the next twelve months?
AC: In the first two months of a launch, we check to see if our features meet the customers' needs. After that, we start to study the next generation. For me, I hope that each generation we can make the boards that everyone likes, because this is my product line at ASUS.
IC: How about the next five years?
AC: I will still be at ASUS, and I want to help expand PC applications in the home. Our chairman Jonney Shih has mentioned at Computex that this is a primary focus for ASUS.
IC: What do you think are the most important innovations that ASUS has created in the motherboard segment recently?
AC: Too many, cannot pick! Our ROG features span so many projects, for example. We have made our overclocking features easier to use than before, especially with automatic overclocking in BIOS and software, but also with the ROG OC Panel. Not many users know how to overclock, so we want to make it easier with our Auto Tuning, especially with voltages and stress testing. But we also cater for the extreme tweakers that use ROG.
IC: What element or feature from the ASUS Motherboard Business Unit do you think users need to know more about?
AC: We use separate components on the motherboard to help manage features like overclocking, but not many users know that we also do the same for other features like power saving. This is separate from the CPU and chipset, for example our Dual Intelligent Processors design. This is our own custom designed chip for our motherboards, not something off the shelf, which users may not realize.
IC: Do you see a gap in the market that ASUS or the Motherboard Business Unit should move in to?
AC: Gaming and small form factor markets are growing, and other ultra-small form factors like the NUC and Chromebox are interesting. We announced the GR8 at Computex, which is a combination of this for around 1.5 liter of volume. The sub 1-liter market should be a focus in the future.
IC: A question I like to pose in our interviews – what advice would you give to a high school student wanting to work for ASUS or to be in the position where you are today?
AC: The best thing is to be interested in electronics and computers. An engineer has to be familiar with this industry, especially the DIY market. Part of being an engineer is building PCs every day, up to 20-30. At the start of my career I had to build every machine by myself. At university, studying electronics or electronic engineering is vital. Out of the ~100 engineers on the fifth floor of HQ, the motherboard engineering floor, three or four have PhDs, most (70%+) have a Master's and the rest have a Bachelor's degree.
IC: If you were not working at ASUS, what would you be doing now? Would you still be in engineering?
AC: I would enjoy trying my hand at marketing! I like to promote the products.
IC: To what extent do you look at your competitors' products?
AC: Our competitors are very aggressive and focused. We use our testing and validation processes on their products to see if they qualify.
IC: What has been your best day working at ASUS? Is there one specific moment that stands out compared to any other?
AC: When I started at ASUS, there was (still is) a philosophy of doing it right first time. Any engineer that produced a product that did not need a second revision (or a revision 1.01) who achieved this got a small bonus, something like 10000NT$ (~$300). In the R&D team, I was the first person to get this award, and it was in my second project ever at ASUS, just after I had started. Normally there might be some layout bug, or signaling bug, but I was very pleased to get it right first time so early in my career.
IC: Do you remember the model name?
It was an AMD motherboard, the SK8V. (We actually reviewed this, back in 2003)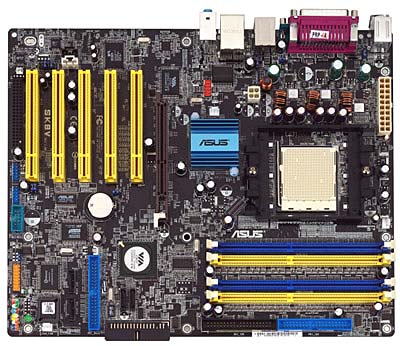 Many thanks to Dr Chang for his time!