Web infrastructure Power consumption
Next we tested the system under load.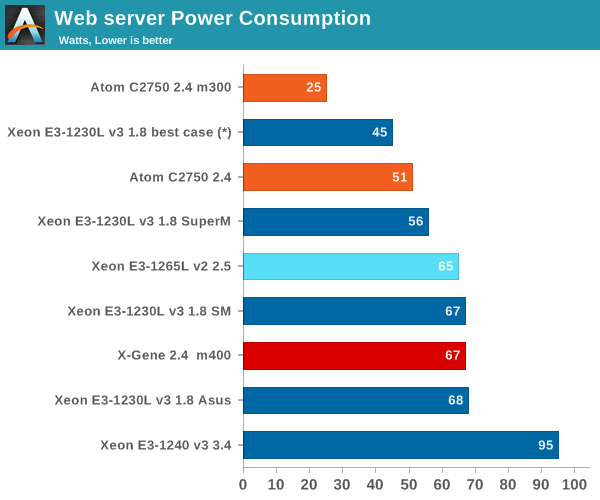 (*) measured/calculated to mimic a Xeon-E3 "m300-ish" board.
Notice how much difference there is between a feature rich motherboard and a micro server cartridge. The ASRock board consumes about twice as much as the HP m300 cartridge and the Supermicro node is in between. In both cases the cost of cooling is not included. Of course, we should not compare the ASRock board and the m300 cartridge directly as they target different markets, but it shows that the energy efficiency of a scale-out server infrastructure depends a lot on the server chassis used. HP's Moonshot really nailed it.
Power efficiency is not the forte of the X-Gene at the moment. The Xeon E3-1230L v3 is able to outperform it by a large margin and consumes a lot less power in the process. Even in combination with our most feature-rich boards such as the ASUS P9D-MH, a Xeon E3-1230L v3 does not consume more than an X-Gene with a much more efficient cartridge.