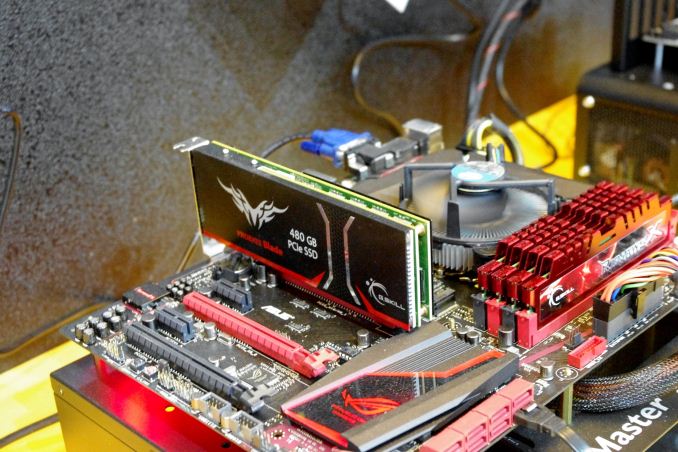 In the initial days of SSDs, G.Skill, the DRAM manufacturer, used to sell 2.5-inch SSDs. These were SATA 3 Gbps devices mostly, with the latest ones utilising SandForce controllers under the G.Skill Phoenix branding to hit 550 MBps sequential and 85k/60k random IOPS. G.Skill's SSD manufacturing went quiet for around a year or two until this latest Computex where it showed of its latest storage product: the Phoenix Blade.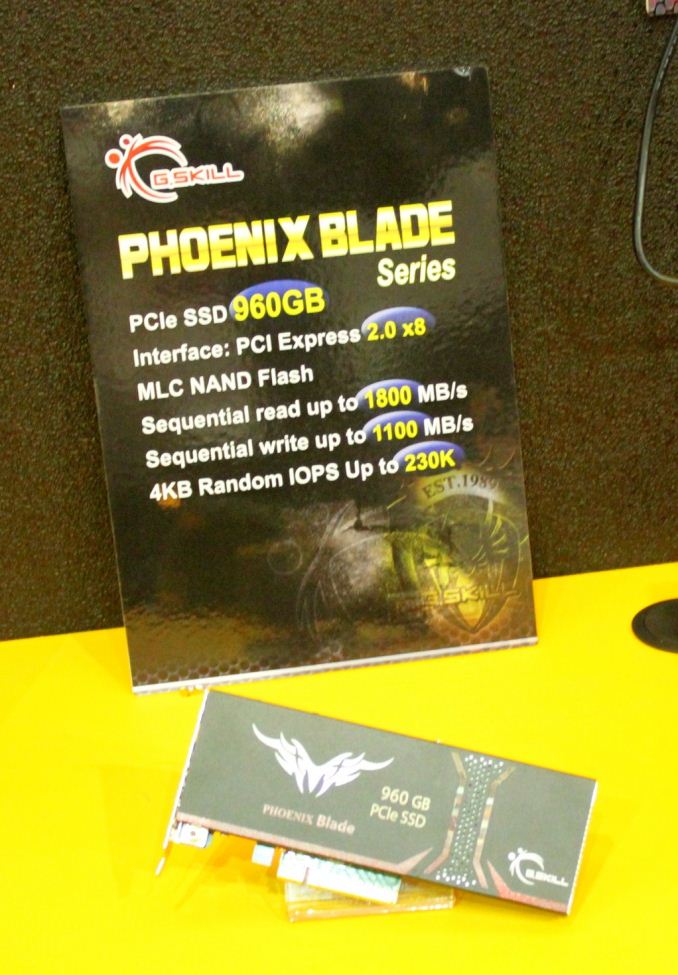 The Phoenix Blade is a PCIe 2.0 x8 SSD using MLC NAND and will come in 480GB and 960GB models. The 480GB model is listed as up to 1900 MBps read, 950MBps write and 275K random IOPS, compared to the 960GB model with 1800 MBps read, 1100 MBps write and 230K random IOPs. Given the drop in the random specifications moving to the higher capacity model, I would assume that this is a series of controllers in a RAID-0 configuration with a PCIe conversion module. At this point we are unsure if this is several SF-2281 under a RAID layer or two SF-3700 with an x8 to dual x4 RAID layer, although one SF3700 should manage these R/W speeds let alone two, suggesting it is more a SF-2281 platform.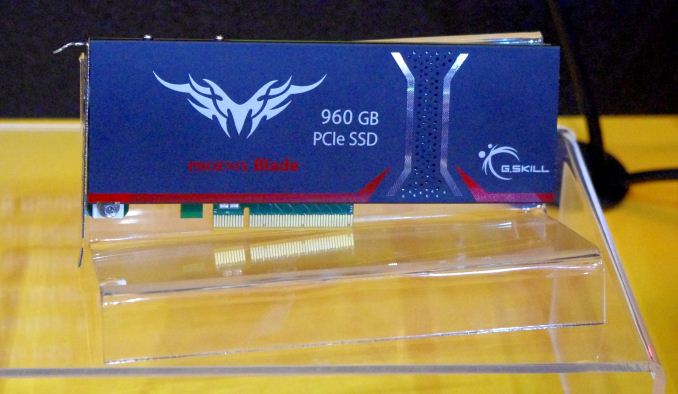 Unfortunately we were not able to take one of these devices apart to confirm, and G.Skill is still in the process of developing the hardware. If we get more information we will let you know. If G.Skill wants to tackle the SSD market properly rather than as a reselling partner, they have to offer something new and different – perhaps joining branding with their memory and producing PR that shows why their SSD business is better than any of the others (some steps they could take are extra validation, higher frequency controller, optimized for certain workloads etc).
It might also be worth mentioning the size. When M.2 devices come to market, a 480GB device capable of PCIe 2.0 x4 bandwidth, like the Samsung XP941 we have already tested, can hit around 1100 Mbps in a much smaller form factor. Users interested in this device must have a high demand for sequential and IOPS to consider a drive at this size.