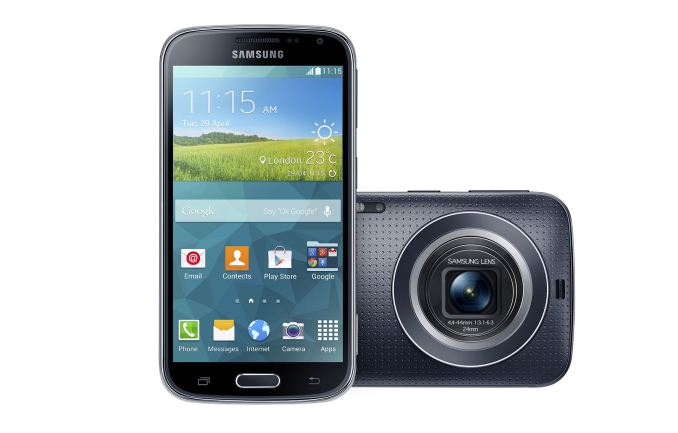 In June of last year Samsung released the Galaxy S4 Zoom. The phone was related most closely to the Galaxy Camera and the Galaxy S4 Mini. While its specifications were seen as a step down from the Galaxy Camera, it was equally as much a smartphone as it was a camera and it included support for voice calling and SMS. Today Samsung has revealed the first device in a new lineup of camera-centric smartphones. It is a successor in form but not in name; it is called the Samsung Galaxy K Zoom. Like its spiritual predecessor, there's a big focus on the camera, with the phone packing a new 20.7MP sensor with support for 1920x1080 video recording at 60fps. The full specifications are below with the previous Galaxy S4 zoom and the Nokia Lumia 1020 alongside it for comparison as all three are devices with a heavy focus on the camera.
Samsung Galaxy S4 Zoom
Samsung Galaxy K Zoom
Nokia Lumia 1020
CMOS Resolution
16.3MP
20.7MP
41.3MP
CMOS Format
1/2.3", 1.34 micron pixels
1/2.3", 1.12 micron pixels
1/1.5", 1.12 micron pixels
Optical System

Focal Length: 4.3 - 43mm (35mm equiv: 24-240 mm) F/3.1-F/6.3 aperture

10x zoom + OIS

Focal Length: 4.4 - 44mm (35mm equiv: 24-240 mm) F/3.1-F/6.3 aperture

10x zoom + OIS

Focal Length: 7.2mm (35mm equiv: 25mm) F/2.2 aperture

OIS

Dimensions

125.5 x 63.5 x 15.4 mm, 208g

137.5 x 70.8 x 16.6mm (20.2mm max), 200g

130.4 x 71.4 x 10.4 mm, 158g

Video Recording

1080p30 max

1080p60 max
1080p30 max
Display

4.3" 960 x 540 Super AMOLED

4.8" 1280x720 Super AMOLED
4.5" 1280x768 Super AMOLED
SoC
1.5 GHz Exynos 4212

1.7GHz/1.3GHz Exynos 5 Hexa (5260)

1.5 GHz MSM8960 Qualcomm Snapdragon S4
Storage

8GB + MicroSD

8GB + MicroSD

32/64GB
Battery

2330 mAh (8.85Whr)

2430 mAh (9.23Whr)

2000 mAh (7.6 Whr)

OS
Android 4.2.2
Android 4.4
Windows Phone 8
Connectivity

2G / 3G (Intel XMM6262)

802.11a/b/g/n, NFC, BT 4.0, GPS/GNSS

2G / 3G / 4G LTE (Intel XMM7160 Category 4 LTE)

802.11a/b/g/n, NFC, BT 4.0, GPS/GNSS

2G / 3G / 4G LTE (Qualcomm MDM9x15 Category 3 LTE)

802.11a/b/g/n, NFC, BT 4.0, GPS/GNSS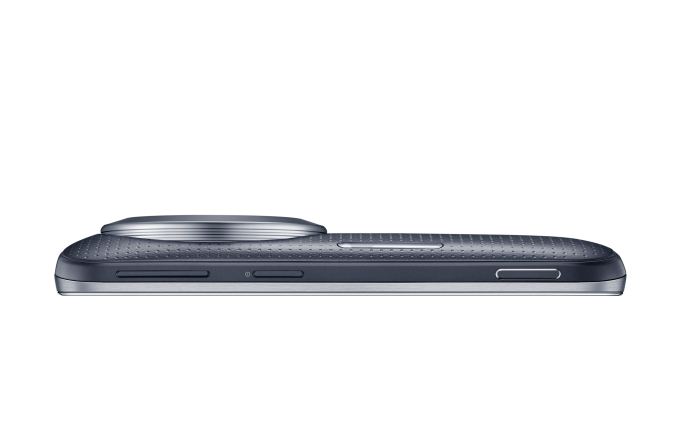 On the outside we see that the Galaxy K Zoom has a similar outer shell to the Galaxy S5. It is made of dimpled plastic that mimics the feel of leather. On the back we have a 4.8" display that matches the 1280x720 resolution of the Galaxy Camera 2, although it is an AMOLED panel while the Galaxy Camera 2 sports a Super LCD display. On the front we have the camera lens and a Xenon flash. The lens protrudes a few mm farther than Samsung has listed as the average thickness of the phone and the phone is actually 20.2mm thick at its thickest point. In comparison the Nokia Lumia 1020 is only 14.5mm at its thickest point. The device also sheds a tiny bit of weight, dropping from 208g to 200g.
On the inside we have Samsung's Exynos 5 Hexa (5260) SoC which employs ARM's big.LITTLE architecture and has support for HMP (Heterogeneous Multi-Processing) to take advantage of all six cores simultaneously. It sports two ARM Cortex-A15 cores with a max frequency of 1.7GHz and four Cortex-A7 cores with a max frequency of 1.3GHz. There's also ARM's Mali-T624 GPU and 2GB of RAM.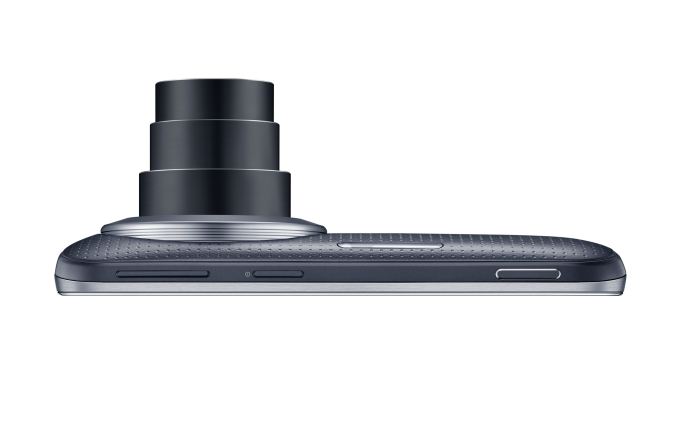 For the camera itself it looks like Samsung has stuck with 1/2.3" for their sensor format but has increased the resolution from 16.3MP to 20.7MP. While keeping the same sensor format as the Galaxy S4 Zoom was likely done to maintain device size and thinness, the increase in resolution results in smaller pixels and a corresponding decrease in low light sensitivity. With the rumors that Samsung would outfit the Galaxy K Zoom with a 20.7MP sensor I had hoped that they would at least increase the sensor size to maintain similar low light performance. The camera still includes OIS (Optical Image Stabilization) to reduce shake when taking photos and videos.
Like the Galaxy Beam, the Galaxy K Zoom doesn't quite have the mass market appeal that Samsung's flagship smartphones have. However, Samsung does not appear afraid to to take risks in entering new subcategories of smartphones and they seem confident that they will be able to market these devices. Clearly there is an appeal to camera oriented smartphones and manufacturers like HTC, Nokia, and Samsung are all going with a different approach to bring high quality photography to the smartphone form factor. For now we'll have to wait and see how things evolve before we can decide which approach to the problem was best.
Source: Samsung Mobile Press