ASUS' New Products
The ASUS set of images came about via a leak at an APAC event. Apparently one media representative invited to that event (and should have been under NDA) took pictures and then distributed them via Weibo in spite of the NDA. At this present time ASUS has not officially released any other pictures of its range, so we are left to decipher these blurry photographs.
The whole range seems to have removed the mustard color and gone for a more subtle dull metallic gold. The iconography is around the livery and a chipset heatsink with a circular image.
First up is the mini-ITX model: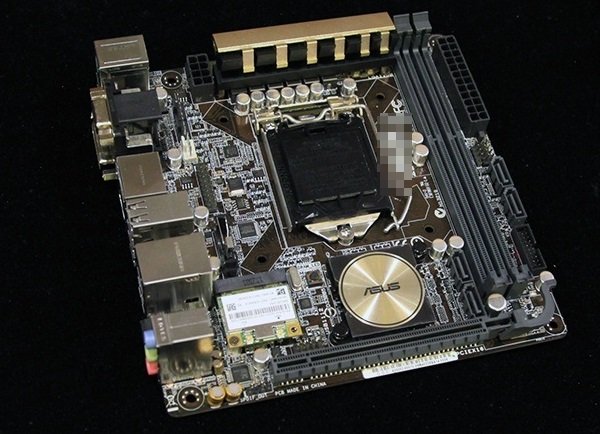 Here ASUS have put the 24-pin ATX power connector outside the DRAM slots and the CPU power connector is in an easy to reach place on the top. The socket area is more central, meaning the chipset is squashed down towards the PCIe slot. The SATA ports are spread out such that two are near the 24-pin ATX (along with a USB 3.0 header) and two are inside the DRAM slots at the bottom.
On the high end of the market is the Deluxe: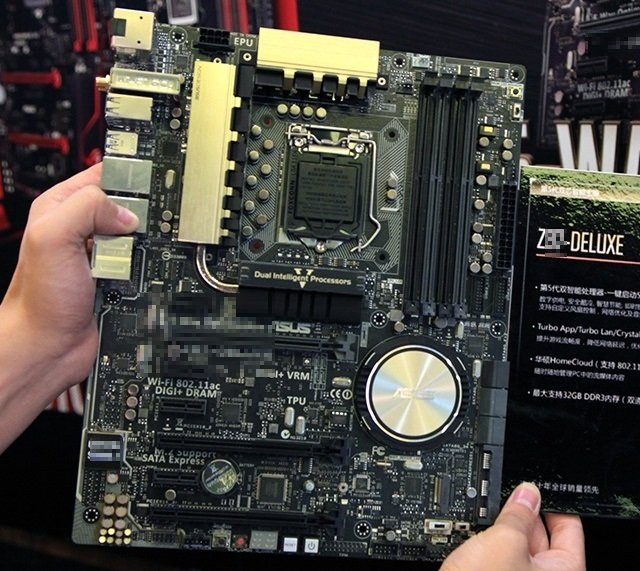 The styling is easier to see here, especially with the power delivery heatsink reaching around three sides of the CPU socket. On the right there are some SATA Express ports, with an M.2 just between the chipset heatsink and what looks like the TPU switch. As the Deluxe is high up the scale of the board list, we see two USB 3.0 headers near the 24-pin ATX connector as well as an 802.11ac WiFi module on the rear IO. It looks like the audio also has had an update, and we move to Dual Intelligent Processors V (five).
The workstation model was also on display: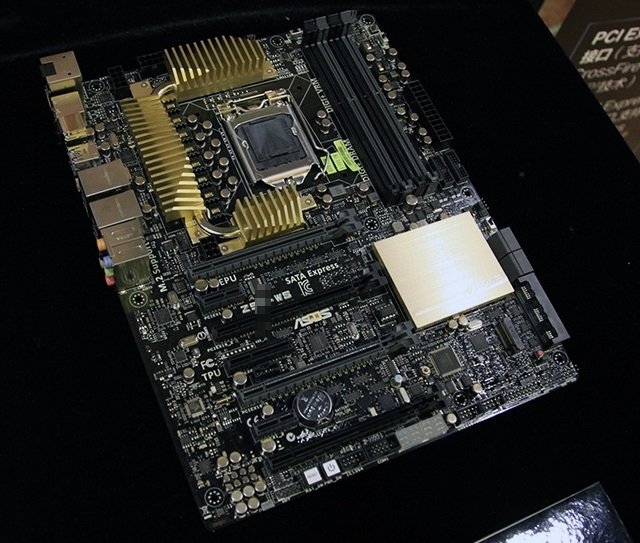 Despite the small grainy picture, we see four PCIe slots and a heatsink exactly where a PLX8747 would be, suggesting an x8/x8/x8/x8 PCIe layout for four-way SLI. It is perhaps interesting that we see this on the WS and not on the Deluxe. Like the Deluxe we have dual USB 3.0 headers, SATA Express ports and an M.2 slot. There are dual two-digit debugs at the bottom for enhanced error reporting, and the chipset heatsink is larger than the others, perhaps to accommodate a controller or two.
There is also an image of three ROG motherboards being released, including the Hero, Gene, and the Ranger which is new to the brand.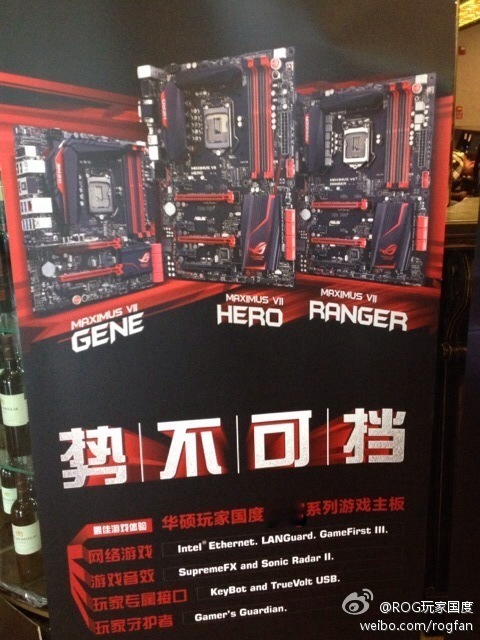 TUF gets some love as well with the Sabertooth: