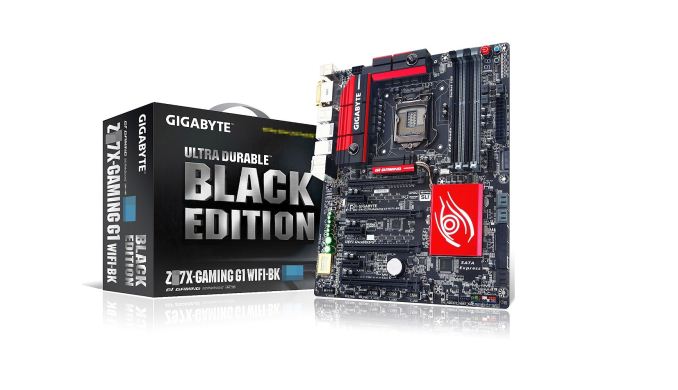 Intel has recently been awash with news about upcoming processors. In March, Intel released information on an upcoming unlocked Haswell Pentium processor, an upcoming Haswell-K processor with overclocking enhancements, an unlocked Iris Pro processor coming to Broadwell, and some details regarding an 8-core Haswell-E processor due later this year. This is a bit of an odd article – various motherboard manufacturers have posted new product images online for an upcoming platform, with all the juicy bits redacted. Here is our analysis of some of those products.
So What Are We Looking At?
The motherboards we are detailing today come from multiple sources. In the case of GIGABYTE and MSI, both of these companies released edited images on their social media pages and gave copies to the press. In the case of ASUS, a leak from an ASUS APAC event provided small blurry images. ASRock provided some media with its image deck, only to have them leaked – we subsequently got the go ahead to publish them today. We should see a full range of images and motherboard specifications at launch.
The motherboards all use the 1150 pin socket designation, which suggests they are for Haswell processors. However the images have the chipset blurred out, but 'Z_7' is clearly visible giving us an overclocking chipset. On several of the motherboards we have M.2 slots as well as SATA Express, although without looking closer it is hard to see how these are configured (either via the chipset or a controller). Kristian looked at SATA Express earlier this year with a beta motherboard supplied by ASUS. mSATA seems to have disappeared almost entirely.
A lot of the motherboards adorn their name with some form of WiFi or AC, with text on the PCB all pointing towards 802.11ac 2T2R solutions. Given our past experiences, these are either Broadcom or Intel modules, with the Intel side of the equation being more expensive. Audio seems to get a revision change from Z87 across most of the manufacturers as well.
Technically the launch date of these products is under NDA. The NDA is such that we can't even mention the chipset by name, even if it is visible on some of the images we are sharing today. MSRP is still being decided on most fronts. Haswell processors were launched in June 2013, and all expectations for Broadwell are putting it at the end of the year, perhaps Q4 or later. Thus it should be straightforward to expect that this is a refresh, updating the mainstream platform to newer technology like M.2 and SATA Express. It also gives the motherboard manufacturers and system integrators a chance to upgrade their lines and offer the potential for new sales. Given that Intel has already announced an upcoming Haswell-K processor for 'mid 2014' and prices for Haswell refresh processors have already been leaked, it is not hard to put two and two together.