MSI GT70 GTX 880M: Battery Boost
After the gaming potential, the next most interesting aspect of the GT70 – and the GTX 880M – is going to be NVIDIA's new Battery Boost technology. Battery Boost is part of the GeForce Experience software package, and it's currently only available with GTX 800M GPUs. It's a single setting that you can either enable or disable, with a target frame rate slider ranging from 20 FPS to 50 FPS. Given this is a work in progress, you can expect changes to the feature over the coming months, but let's just start with what we have right now.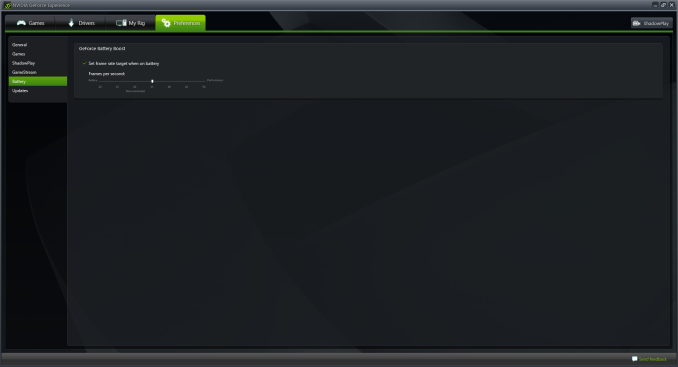 We'll need to spend additional time investigating the quality, performance, and battery life tradeoffs that are available, but for the time being we ran some tests with three games, choosing a specific quality setting for each and testing without Battery Boost and with Battery Boost using both 30FPS and 40FPS targets. We'll also repeat our discussion of gaming performance on AC power as a reference point, and as you'll see even without Battery Boost enabled, at least on the MSI GT70, there's a rather large loss in performance that comes with the removal of AC power. The three games and settings we used are Batman: Origins at our "Enthusiast" settings (1080p, 4xMSAA, and everything else maxed out with the exception of PhysX, which is left off), Tomb Raider (1080p and "High" defaults), and Bioshock Infinite (1080p and "Medium" defaults).
There are many things we can look at with Battery Boost: average frame rates, minimum frame rates, battery life, GPU core/RAM clocks, and GPU utilization are all potentially interesting. Something else that came up during testing that's also worth a short discussion: game/level load times. You wouldn't think that would be much to talk about, but at least in our initial testing – and keep in mind that we're using a notebook with pure HDD storage – we found level load times could be almost unbearable with Battery Boost set to 30FPS in some games. We've mentioned this to NVIDIA, and they were able to reproduce our longer load times, but the 5+ minute load times in Batman Origins were not something they could recreate; most of the other games I checked took 25-50% longer to load with Battery Boost at 30FPS compared to running off the battery without Battery Boost. This should be fixed in a future update, either to the drivers, or GeForce Experience, or both.
As for reporting the other figures, we're going to hold off on that for a bit longer while we run additional testing. We're working on a lengthier analysis of Battery Boost, and we'll cover such things as minimum frame rates, average power use, etc. in a future article. For now, let's just focus on the battery life as well as the average frame rates (though we won't have graphs for the latter). We used the "Balanced" power profile with the display at 200 nits (70%) and timed how long it took before the system shut down. To keep things repeatable and consistent, we just loaded a save on each game and left it running, so there are no level loads (other than the initial startup of a game) or any "real" gameplay, but there is a constant load on the system during the testing.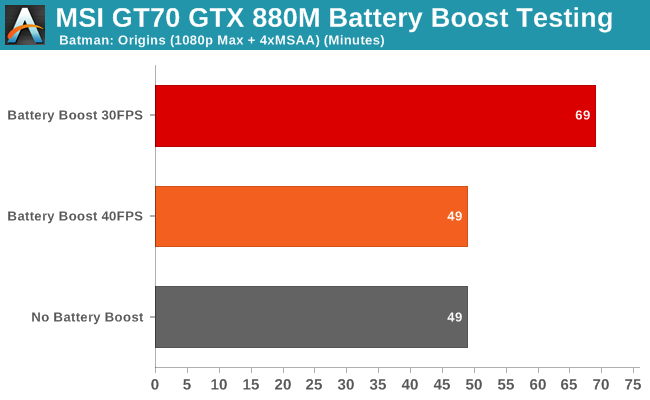 Starting with Batman, if you focus solely on the percent increase in gaming battery life, Battery Boost looks pretty promising. In Batman: Origins, there's a 41% increase in gaming time at the 30FPS target. Unfortunately, setting the target to 40FPS, there appears to be no change at all in battery life, likely because average frame rates even without Battery Boost are only 44FPS at the selected settings. As we're using our Enthusiast settings, the average frame rate under AC power for our particular save is only 65FPS. Since Batman was the first game we tested (and one of the few games that clearly breaks 60FPS average at maximum quality settings on AC power), we decided to drop to slightly lower quality settings for the next two games.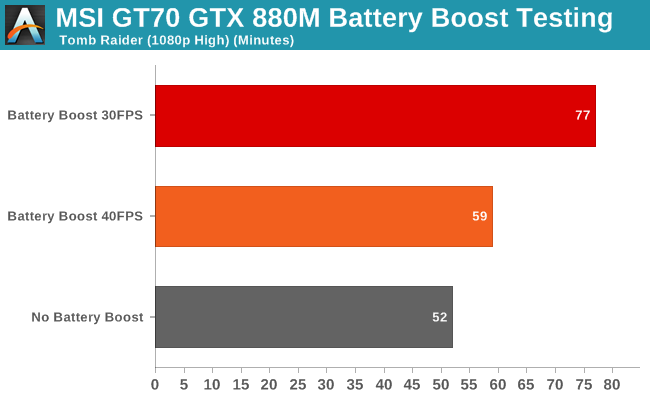 Dropping the quality settings a bit, Tomb Raider at High detail shows an improvement in battery life both at the 30FPS and 40FPS targets, but not surprisingly the boost is larger with the lower frame rate. The increase in battery life is 48% at 30FPS compared to just 13% at 40FPS. Average frame rates without Battery Boost are 63.9, so despite NVIDIA's claims to the contrary, it seems like most of the increase in battery life comes by capping the frame rate – in fact, the loss in average frame rate is greater than the increase in battery life (though obviously there are other factors at play). Frame rates on AC power for this particular scene average 88FPS.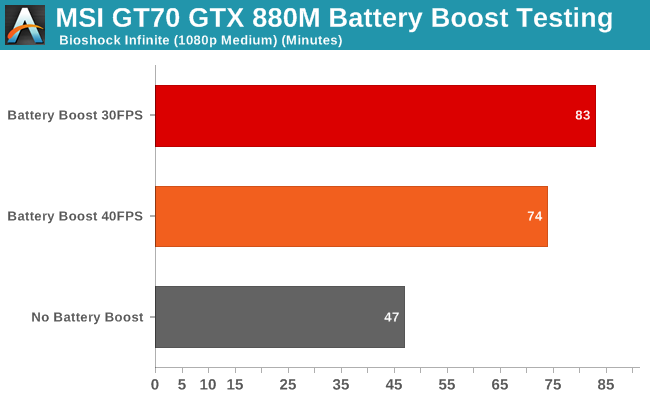 Given that higher base frame rates appear to result in a larger improvement in battery life, for our third test we decided to drop down to medium quality in Bioshock Infinite. Here we see the largest increase in battery life of our testing: 77% additional battery life with a 30FPS target, and a still sizeable 57% increase with a 40FPS target. The non-Boost framerate is 63FPS, so again we see a very strong correlation between frame rate targeting and Battery Boost. Interestingly, however, at 40FPS we see a greater benefit compared to Tomb Raider, so at least we do have some evidence that there's more than just frame rate targeting coming into play. AC frame rates at our test settings, incidentally, are 123FPS.
As noted, there are a lot of potential items to discuss with Battery Boost, and I'm not going to spend too much more time on the subject here. The technology does work, but the gains are going to be heavily influenced by your choice of game as well as graphics settings. My recommendation is to generally shoot for Medium to High detail at 1080p (at least on the GT70), as that still provides a decent quality level while allowing the GPU to rest a bit (i.e. average frame rates without Battery Boost will typically be north of 60FPS).
Besides the odd behavior with level/game load times taking longer with Battery Boost – sometimes substantially longer – there's one other piece of information I need to quickly mention: minimum frame rates. With Battery Boost at 30FPS, the minimum frame rates can periodically dip well below 30FPS – sometimes even into the teens or single digits on some titles. This appears to be buggy behavior, as at 40FPS the minimum frame rates are often close to 40FPS, but right now there are at least a few games where using a 30FPS target will result in a rather poor gaming experience; targetting 35 or 40 FPS currently results in a much better experience.