GIGABYTE F2A88X-UP4 In The Box
At $105, motherboards in this price range tend to have very little in the box to help the user set up their system or enhance the experience. This is countered by the positioning for the F2A88X-UP4 in the product stack, which sits at the top of the GIGABYTE FM2+ range.
In the box we have:
Driver CD
Rear IO Shield
Manuals
Four SATA Cables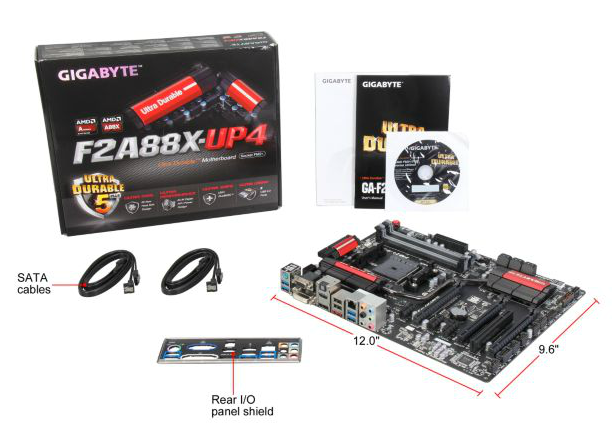 In order to keep the price of the package down, GIGABYTE has gone with a minimal amount of box contents. The power delivery used is not cheap, and in order to remain competitive some decisions, like this, are made.
GIGABYTE F2A88X-UP4 Overclocking
Experience with GIGABYTE F2A88X-UP4
Unlike our other FM2+ reviews that had power delivery temperature issues, due to the component choice by GIGABYTE we managed to remain confident through our overclock testing. Overclocking Kaveri on its new silicon production process (28nm SHP) means our ceiling of overclocking on the APU is lower than on Richland. But by using GIGABYTE's BIOS, which we are accustomed to over a couple of chipset generations, our APU hit 4.3 GHz, 300 MHz above stock. Our system booted at 4.4 GHz, however there was a reduction in results suggesting that the platform was overheating and reducing frequency to compensate.
Methodology:
Our standard overclocking methodology is as follows. We select the automatic overclock options and test for stability with PovRay and OCCT to simulate high-end workloads. These stability tests aim to catch any immediate causes for memory or CPU errors.
For manual overclocks, based on the information gathered from previous testing, starts off at a nominal voltage and CPU multiplier, and the multiplier is increased until the stability tests are failed. The CPU voltage is increased gradually until the stability tests are passed, and the process repeated until the motherboard reduces the multiplier automatically (due to safety protocol) or the CPU temperature reaches a stupidly high level (100ºC+). Our test bed is not in a case, which should push overclocks higher with fresher (cooler) air.
Manual Overclock:
Our results are as follows: