Iwill KK266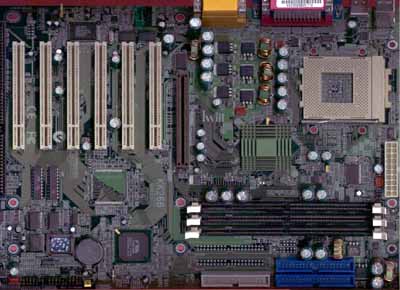 Click to Enlarge
Iwill KK266

CPU Interface

Socket-A

Chipset

VIA KT133A
VIA 8363A North Bridge
VIA 686B South Bridge

AMI AG 80649 IDE RAID (Optional)

Form Factor

ATX

Bus Speeds

100 - 166 MHz (in 1MHz increments)

Core Voltages Supported

1.525 - 1.850 V (in 0.025V increments)

I/O Voltages Supported

Auto Detect / + 5% / +10%

Memory Slots

3 168-pin DIMM slots

Expansion Slots

1 AGP Slot
6 PCI Slots (3 full length)
1 ISA Slot

On-board Audio

C-Media CMI-8738 3D 4.1 Hardware Sound

BIOS

Award Modular BIOS 6.00PG

Iwill is one of the smallest motherboard manufacturers in Taiwan which explains why a lot of people have not heard about them before. But that's all changing now as Iwill has begun producing a number of top notch boards. A prime example of this is their KT133A solution, the KK266, which shows everyone that even a small company can make something outstanding.
The success of the KK266 lies not only in the mostly jumperless design, but also in the excellent overclocking ability. The only jumper on board is the 100/133MHz setting, which may in fact cause problems in certain cases, so make sure you read our KT133A Chipset Issue article. The layout of the board is very similar to that of the ABIT KT7A-RAID, which is a very decent one, as we have discussed previously.
All the overclocking features can be found inside the BIOS. Multiplier ratio settings are implemented nicely, and FSB speeds are available from 100MHz to 166MHz in 1MHz increments. Iwill also includes the appropriate range of CPU core and I/O voltages in the BIOS.
Like the ABIT KT7A-RAID, the KK266 features six PCI slots and one ISA slot, showing that Iwill is still gearing their products more towards hardware enthusiasts rather than OEM builders.
Performance of the board is very good - among the top boards here - and more importantly, the board overclocks extremely well. We were able to reach FSB speeds as high as 161MHz, a substantial 21% overclock. This is so far the best overclocking result we have seen among all KT133A motherboards.
Furthermore, the board was very stable as well, tying with the ASUS A7V133 for the top spot by not crashing a single time in 48 hours of our stress tests. Even at FSB speeds of 162MHz, the board was able to maintain the same level of stability.
Iwill also offers another version of the board, the KK166-R that adds integrated IDE RAID. Unlike most other manufacturers here, Iwill is the only one going with AMI's Ultra ATA 100 IDE RAID controller. The RAID controller supports the three most popular modes of operation, RAID 0, RAID 1, and RAID 0+1.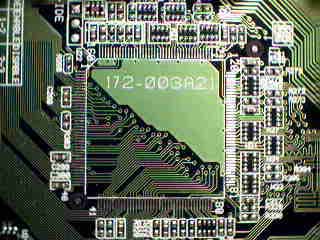 The silkscreen for AMI IDE RAID controller found on the KK266-R
The Iwill KK266 is clearly one of the best KT133A motherboards on the market, if not the best. The KK266 should show the world just how good a small manufacturer like Iwill can be. It offers an almost jumperless design, all the required overclocking options right inside the BIOS, excellent performance and overclocking, and it is also one of the most stable boards we have seen so far. What more can you ask for?