Introduction
The show is just getting started, but we've already seen enough to give you guys a bit of brief live coverage, as well as some information on what to expect from the rest of the show.

Over the course of this week we will be bringing you even more live coverage, including full reviews of some of the products being introduced at this year's Computex. Among those are NVIDIA's Crush and AMD's 760MP chipset. So keep on checking back throughout the week for more information on those technologies and much more.
Politics at Computex 2001
One of the least fun, but sometimes most interesting, facets of this industry is a lot of the political happenings that take place behind the scenes. While we usually refrain from reporting on them, we were witness to something at Computex that was worthy of sharing.
Much like last year's Computex, VIA has a very noticeable presence on the show floor. While there aren't many new products from VIA this year, VIA's message was present almost everywhere - mainly in the form of VIA DDR balloons above various motherboard manufacturers' display booths.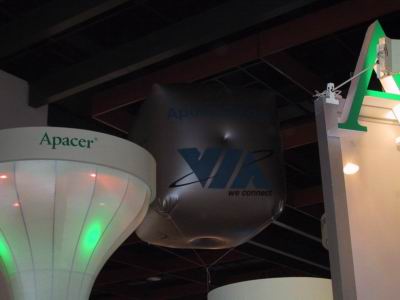 However, at the request of Intel, many of the top tier motherboard manufacturers promptly removed the VIA DDR balloons. In one situation, a VIA balloon was cut loose and became stuck at the top of the convention hall while others were simply pulled down.
Since we were present when all of this was going on we saw the almost immediate transition from VIA DDR balloons to Intel Pentium 4 advertisements and promotional material.
As far as both AMD and VIA have come in recent times, it is still quite obvious that they still haven't reached the marketing muscle of Intel. While this situation had no bearing on the actual products seen at Computex, it was an interesting display of strong arming marketing tactics at their worst.
But now onto the actual products...