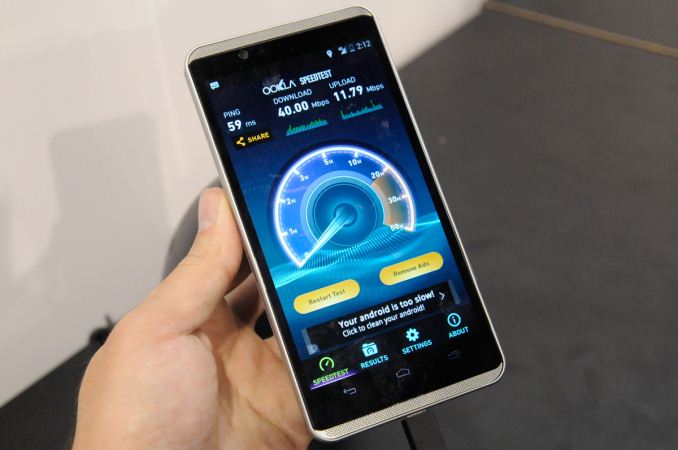 Last year at CES we took a look at Broadcom's LTE modem portfolio, where the company showed off a Cat 4 LTE baseband doing 10+10 MHz carrier aggregation, before being formally announced at MWC. Since then a number of things have changed, including Broadcom's acquisition of LTE and SoC related Renesas Electronics assets, and subsequent restructuring of Broadcom's LTE modem plans. Its own LTE modem which we saw last year has been shelved in favor of a plan forwards with an M320 SoC with multimode capabilities and an upcoming standalone LTE modem.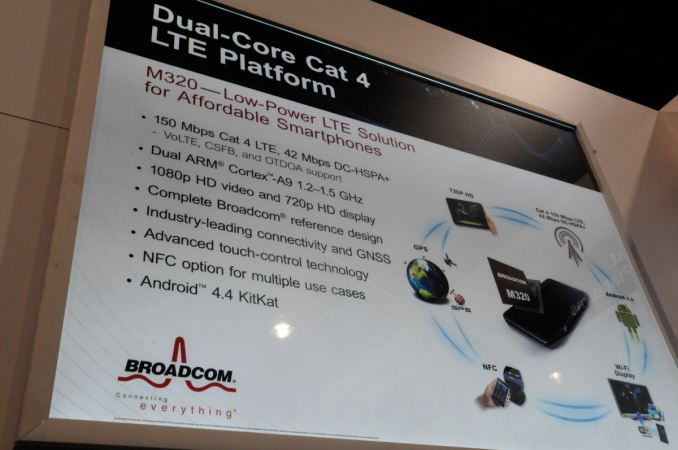 At CES 2014, Broadcom showed off its M320 SoC which was based on the Renesas SoC platform. M320 combines two ARM Cortex A9 CPUs clocked between 1.2 and 1.5 GHz, PowerVR 5XT GPU, and Cat 4 LTE modem with DC-HSPA+ and GSM multimode capabilities. Broadcom prepared a reference design turnkey phone based on the M320 platform and showed it attached to AT&T and T-Mobile LTE on the show floor, and allowed me to run a few speedtests. The platform is already slated to be productized by Samsung in an upcoming smartphone which was under development even before the acquisition completed.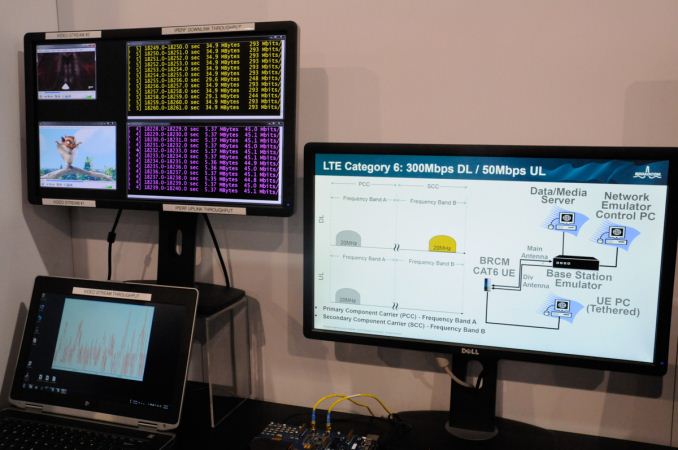 In addition, Broadcom teased an upcoming Cat 6 (300 Mbps) LTE modem cabled up to an Anritsu base station emulator showing 20+20 MHz carrier aggregation and delivering the expected 300 Mbps speeds on the downlink. Just like last year, it's easy to speculate that Broadcom might formally announce the name and details of this upcoming multimode LTE modem around MWC, although Broadcom isn't saying anything specific.